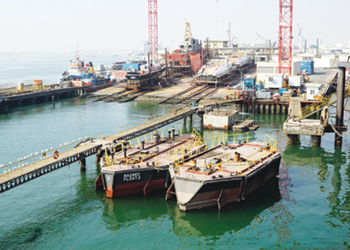 Basrec completed several ISO audits in 2020
The firm took swift measures to cope with the prevailing situation and improve its competitive position in the ship repairing market, leading it to make a handsome profit, which was in excess of the anticipated forecast
Bahrain Ship Repairing & Engineering Company (Basrec) scored a splendid year in 2020 despite the world being taken over by the pandemic.
Swift measures taken by the management to cope with the prevailing situation and improve the company's competitive position in the ship repairing market led it to make a handsome profit, which was in excess of the anticipated forecast.
Basrec also distributed dividends, representing 50 per cent of the paid up share capital for 2020, amongst its shareholders, one of the few in the country to do so despite a challenging year.
Similar to other companies, Basrec benefited from a raft of financial support measures by the government of Bahrain, including wage subsidy of Bahraini employees, waiver of lease payments and electricity and water.
In the words of Basrec Director and CEO, N E Saadi: "Ever since it was incorporated in 1963, the ongoing global Covid-19 pandemic was the first remarkable event Basrec has faced. It brought with it a time for Basrec to exert further efforts and work harder to maintain its global position and prove it could stand in the face of such adversity."
It was obvious that addressing challenges during such a difficult time would naturally take priority over any vessel berthing at Basrec. Thus, health and safety measures recommended by the government were strictly applied, and additional precautionary actions were put in place.
The shipyard continues to be in compliance with Integrated Management System (IMS). The recertification audit for ISO 9001:2015 (Quality Management System) was successfully completed in March 2021. Additionally, surveillance audits for verification of compliance towards ISO 14001:2015 (Environmental Management System) and ISO 45001:2018 (Occupational Health & Safety Management System) were also successfully completed in the same month. These audits were carried out by LRQA (LIoyd's Register Quality Assurance).
Furthermore, Basrec continued to upgrade the skills of its workforce, and well recognises the role of young people in the growth and development of the company. Its strong local workforce serve at various positions within the company.
Meanwhile, in recognition of its long serving employees (20 years or more), Basrec held a ceremony attended by Saadi, where employees received their token recognition awards.
Saadi emphasised the company's relentless pursuit to provide permanent support to employees and to help them continuously develop their professional skills.
Basrec is one of the leading facilities in ship repairs and conversions in marine and offshore engineering in the Middle East. The yard is situated at a proximity to the port of Bahrain.
Basrec operates two slipways each 60 m in length and having a capacity of 1,000 tonnes, in addition to a floating dock 120 x 22.5 m with lifting capacity up to 3,600 tons. Two repair quaysides have 8 m minimum water depth and can accommodate vessels up to 150 m in length.
Basrec offers all kinds of engineering services, diesel engine overhauls, steel and aluminum fabrication, piping, welding, alignment, machine workshops, chock fasting, Helifusion welding, Meta-lock repairs, propeller repairs, Bollard pull tests, etc. It is a one-stop-shop for ship owners and can repair all kinds of boats like FRC, RHIBs and other craft from 3 to 15 m range, inspecting and repairing of containers, servicing and repairing of industrial pumps through associate companies and subsidiaries.