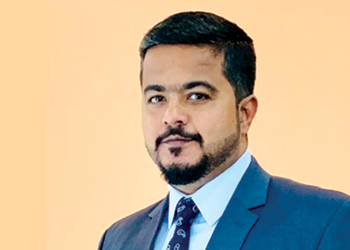 Kuruvilla ... long-term protection
Hempel's experts work closely with customers to understand their expectations and then recommend the right coating system, Jacob Kuruvilla, General Manager Kuwait and Oil and Gas Segment Leader for the Middle East, tells OGN
Protecting oil and gas assets from corrosion is crucial to their longevity. For that Hempel offers engineered coating solutions that have undergone rigorous development and testing to protect assets for 20 years and more.
According to Jacob Kuruvilla, General Manager Kuwait and Oil and Gas Segment Leader for the Middle East: "An effective management of corrosion can help the owner/operator achieve several benefits, including increased plant availability leading to continuous production; reduction in unplanned maintenance thus increasing revenue; statutory or corporate compliance with safety, health and environmental policies; reduction in leaks and deferment costs."
What makes Hempel special is its dedicated team of sales experts, who work closely with asset owners/operators to understand their lifecycle/durability expectations and then recommend the right coating system and the right application setup.
"Our experts refer to the ISO 12944 and Norsork standard to ensure proper corrosion protection guidelines are adhered too. The ISO 12944 is the main international standard for corrosion protection of steel by paint," Kuruvilla says.
Additionally, Hempel's 600 FROSIO/NACE certified coating advisors globally ensure customers receive the precise application advice as per their projects and conditions for these coatings to perform better.
Hempel's extensive product range offers advanced protection for all primary asset elements within the oil and gas industry. Some of these solutions include:

• Avantguard: These are activated zinc primers based on Hempel's patented activated zinc technology. Avantguard zinc epoxy primers deliver significantly higher galvanic corrosion protection than normal zinc epoxies without Avantguard.
• Hempaline Defend: In aggressive service environments, the Hempaline Defend tank lining solution provides protection against extreme pH swings, high temperatures, abrasion and a wide range of chemicals and solvents.
• Versiline CUI 56990: This coating provides long-term protection for hot pipework, equipment and other hot surfaces. Its excellent heat-resistant properties make it extremely resistant to micro-cracking even at extreme temperatures. In addition, carefully selected barrier pigments make it highly effective against corrosion under insulation (CUI), especially under cyclic conditions.
Furthermore, considering the oil and gas industry's susceptibility to fire, explosion and blasts, Hempel has solid plans to introduce new solutions for hydrocarbon fire protection during Q3 2021, to cater to this segment.
When it comes to sustainability, Hempel wants to grow while reducing its environmental footprint. Kuruvilla says the company's strategy to double by 2025 makes its commitment to sustainability even more important.
This strategy, he says, includes Hempel's aspiration to become carbon neutral in its own operations by 2025; introducing a five-year plan for reducing and phasing out hazardous raw materials; accelerating efforts towards biocide-free products in all segments; and working towards achieving zero waste to landfill by 2025.
Last year when the pandemic struck, Hempel made the safety and health of its employees a top priority. A coronavirus working group, including representatives from Hempel's seven geographical regions, was established to approach the crisis applying Hempel's values. The company also ensured its customers continued to receive seamless supply of products and services.
As a leading player within GCC, Hempel is actively involved in all key projects, including Marjan Field Expansion Project in Saudi Arabia, KIPIC Al Zour Refinery in Kuwait, Upper Zakum Project in the UAE, Duqm Refinery and Petrochemical Project in Oman, and the Bapco Modernisation Programme in Bahrain.