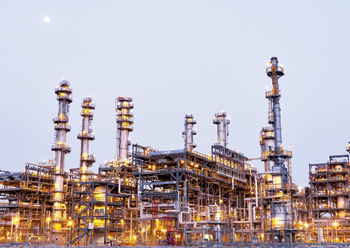 Sadara has seen a turnaround thanks to improved market conditions
A key debt restructuring agreement and pandemic-driven demand, which has pushed up global petrochemicals market and prices, has helped the petrochemcial giant record its a first historic net profit, writes Abdulaziz Khattak


Amid an increase in demand for petrochemicals, major players like Sadara Chemical Company (Sadara) have reported a surge in profits supported by price increases due to pandemic-driven demand, supply disruptions, and an upward trend indicating a post-Covid economic recovery.
Last month, the Jubail-based petrochemical complex announced SR4.4 billion ($1.17 billion) in Q1 2021 revenues, more than 80 per cent higher than the same quarter last year. It also recorded its first historic net profit of over SR1.6 billion compared to net losses of more than SR1.27 billion in the same quarter of 2020. The Sadara complex consists of 26 manufacturing units that produce more than 3 million tonnes per year (tpy) of chemicals and plastics.
Sadara is among nine Saudi petrochemical companies that have seen a turnaround thanks to improved market conditions. The Saudi petrochemicals sector reported overall, net profits of SR8.5 billion in Q1 compared with collective losses of SR3.2 billion over the same period in 2020, according to Argaam.
Analysts see the rising trend to continue throughout 2021 especially as demand grows for packaging, medical goods, and protective equipment, vital in the fight against the relentless pandemic. All this signals more profit for petrochemical companies.
The improved performance of Sadara, a joint venture between Saudi Aramco (60 per cent) and Dow Chemical (40 per cent), was bolstered by higher selling prices, continuous financial discipline, and a modification gain of SR1.05 billion from debt reprofiling, the company said in a Tadawul filing.
In March, Sadara signed an agreement to restructure its debt repayment, which was aligned to match expected future cash flow generation. Accordingly, debt maturity has been extended from 2029 to 2038. Furthermore, Saudi Aramco and Dow have pledged to approve a total of $3.7 billion of senior debt principal as per their ownership interests in Sadara respectively.
Dr Faisal Al-Faqeer, Sadara's CEO, said debt reprofiling was an essential move that positioned the company us well for the long term in both local and global markets. He said: 'The company marked many milestones and achievements in various areas as a world-class organization since it reached full operations, reflecting our continuous commitment to our shareholders and stakeholders.'
Aramco has also agreed to allocate more natural gas feedstock to Sadara, further enhancing its cracker's flexibility and improving its position on the global manufacturing cost curve.
In April, Sadara completed an unplanned maintenance on its 1.5 million tpy ethylene cracker and 400,000 tpy propylene cracker after reports of problems with the compressor.
The same month, Sadara signed a long-term agreement to supply feedstock chemicals to SADIG Industries and ILCO Chemicals (SADIG-ILCO), a Saudi-German joint venture focused on the manufacture of a wide range of specialty chemicals.
SADIG-ILCO is building a chemical manufacturing facility in Jubail's PlasChem Park at an investment of $70 million.
According to the terms of the agreement, SADIG-ILCO's new PlasChem Park facility will receive ethylene oxide (EO) and propylene oxide (PO) from Sadara through its new under construction EO/PO pipelines.
Separately, Sadara has agreed to give SABIC marketing rights to its products. This comes after an agreement between Aramco and Dow to market the finished products produced by Sadara in line with their equity ownerships, beginning mid-2021. Aramco last year acquired a 70 per cent stake in SABIC.
Currently, Sadara markets its products within a geographically restricted region, while Dow markets it elsewhere globally.
Effective July 1, Sadara will cease marketing activities and will instead pay marketing fees to Aramco and Dow. The transition of marketing rights will gradually increase over the next five years.
By marketing Aramco's share of Sadara's products, SABIC expects to 'drive further supply chain efficiencies, strengthen its brand and combined product and services offering, and help to maintain competitive preference in the global chemicals industry,' SABIC said.

SUSTAINABILITY GOALS
Despite the challenges posed by the pandemic, Sadara has taken a series of proactive and preventive measures to ensure the health and safety of its employees, as well as maintaining sustainability goals.
These were recognised through an award from the Gulf Petrochemicals and Chemicals Association (GPCA), which declared it an Operation Clean Sweep (OCS) Partner
The OCS initiative, which involves the participation of more than 60 countries, is designed to help plastics industry operations reduce the accidental loss into the environment of pellets, flakes and powder throughout processing facilities and across the entire supply chain.
Al-Faqeer proudly said Sadara is the first in the GCC to receive the OCS recognition since the program was adopted in the Gulf by GPCA in late 2020, adding it recognizes the company's enduring commitment to sustainability and environmental protection in its operations regionally and internationally.