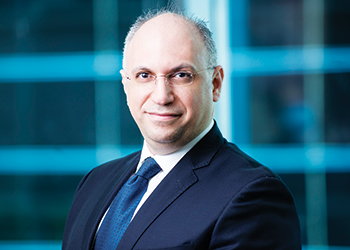 Salem ... committed to region's power industry
With the establishment of its GTCC business in EMEA, the company gets a step closer to helping the world transition to cleaner, more sustainable, and affordable energy, Khalid Salem tells OGN
As a provider of the world's most efficient gas turbines operating today, and a leader in hydrogen-fueled turbine technology for 50 years, Mitsubishi Power recognises that highly efficient energy generation technologies can play a crucial role in helping countries across the EMEA region meet ambitious net zero carbon emissions targets.
With the establishment of its Gas Turbine Combined Cycle (GTCC) business in EMEA, the company says its step closer to helping transition the world to cleaner, more sustainable, and affordable energy.
In an exhaustive interview with Abdulaziz Khattak of OGN, Khalid Salem, President of Mitsubishi Power Mena, describes the technology brought into the region with the aim of transfer of technology, localisation efforts, key projects, technology of the future, and the company's efforts of supporting the region on its path to decarbonisation.

In June 2021, Mitsubishi Power expanded its operational footprint across EMEA with the establishment of a GTCC EMEA Business Unit in Dubai, UAE. How will this unit help the region in its energy transition goals?
Headquartered in Dubai, UAE, this new business unit is a testament to our continued and deep commitment to the region's power industry.
JAC gas turbines ... the most successful in the industry
Our core expertise is providing reliable, innovative, and environment-friendly energy solutions to our customers.
This is especially important as accelerated evolution of hydrogen technology, along with the optimisation of the hydrogen supply chain, has prompted governments and organisations in the Middle East and North Africa (MENA) region to prioritise hydrogen in their energy strategies.
As a prime testbed for hydrogen, the region has a unique opportunity to be in the driver's seat of hydrogen development since its physical and economic ecosystem features ample low-cost land, stable economic climates, low cost of capital, existing industrial capacity, while also serving as an excellent source of renewable energy, particularly solar.
The UAE is updating the 2050 strategy and there is potential for hydrogen to play a greater role in the national move towards decarbonisation.
The new business unit will focus on the sale of the most successful gas turbines in the industry – the J-Series Air Cooled (JAC) gas turbines – which boasts world-class reliability of 99.6 per cent, and efficiency of approaching 65 per cent.
Capable of operating on a mixture of up to 30 per cent hydrogen and 70 per cent natural gas, the gas mixture can be increased to 100 per cent hydrogen in the near future.
Our gas turbine combustion cycle technology leads the market in delivering a low carbon, stable power supply, when it is needed.

The business unit focuses on promoting only the J-Series Air Cooled gas turbines. Will you add more systems in the future?
Mitsubishi can increase gas mixture to
At Mitsubishi Power, we are always looking to better serve our customers by identifying market gaps, providing business solutions and finding innovative ways to help them reach their goals.
We focus on helping customers maximise their asset value by offering total turnkey services including training, emergency service, preventive maintenance, and support for operation and maintenance (O&M) with state-of-the–art ICT technology.
In addition, we are constantly seeking new opportunities to grow our presence and offer our innovative energy solutions across the world.
Our gas turbine combustion cycle technology leads the market in delivering low carbon, stable power supply, when it is needed.
For large gas turbines like the J-series, we aim to achieve 100 per cent hydrogen-firing capability by 2025, followed by commercialisation thereafter.
Our natural gas fired gas turbines can be upgraded to burn hydrogen fuel with minimal modification to convert existing power generation facilities.
In addition, since hydrogen can be used in Mitsubishi Power' large-capacity gas turbines, application of these technologies can help stimulate large-scale hydrogen demand.
The establishment of this new business unit will enable us to partner more closely across the value chain to provide high quality, reliable solutions that further enable the rapid transformation of the region's power supply.

What other notable key projects and partnerships does Mitsubishi Power have underway in the region?
Currently, our leading JAC-class gas turbine is set to power a 2.4-GW gas-fired Fujairah F3 power plant being built in the UAE.
The $1.14-billion plant will use an efficient combined cycle technology in the region and will be the largest natural gas fired GTCC facility in the UAE, playing a crucial role in the country's power generation sector while also contributing to the GCC's power grid.
Another key Mitsubishi Power project in the region is the construction of a 1,026.3-MW gas turbine GTCC power plant in Sharjah, UAE.
The plant, to be fired by natural gas, will centre on two M701F gas turbines in a project underway by the Sharjah Electricity and Water Authority (SEWA), in the coastal city of Layyah.
Our aim is to contribute to a stable electricity supply in Sharjah through the provision of our F Series gas turbines.
In June 2021, we also signed contracts for three long-term service agreements (LTSA) for six gas turbines in Egypt.
The three contracts cover the Sidi Krir, El-Atf and Cairo North power plants, all of which are combined-cycle generators (CCGT) power plants.
Our role here is to ensure stable, high-availability operation of facilities by providing maintenance, management, parts supply, parts repair and remote monitoring service for the gas turbines.
Mitsubishi Power is also a key technology partner to Saudi Arabia's power sector, and an important provider of power for both utility and industrial power producers in the Kingdom.
We have a corporate procurement agreement with Saudi Arabia's state-operated oil firm, Aramco.
Other key stakeholders we have deep relationships with are the Ministry of Energy, Saudi Electricity Company (SEC), and Saline Water Conversion Corporation (SWCC).
From having a key share in the installed power base in the Kingdom, we move on to build a key contribution to Saudi's local industries and local economy, and foremost, to local skillsets and local talent development.
In 2019, our leadership launched the National Program that aims to expand Mitsubishi Power's presence and contribution in Saudi Arabia, in line with both the Vision 2030 and Saudi Aramco's In Kingdom Total Value Add (IKTVA).
As Mitsubishi Power trains and builds capabilities of the young Saudi population, our National Program for KSA is focused on localising the manufacturing of gas turbines and services in the Kingdom, built, and serviced by Saudi hands and expertise.
To date, Mitsubishi Power has achieved 51 per cent of our Saudi talent development plan and is looking forward to accomplishing our Saudisation target of 60 per cent by 2023.
We deploy training and development programs structured as a mix of classroom and on-the-job training, both in Saudi Arabia and in Japan.

Do you have any projects in Kuwait? Please elaborate size, scope and completion, etc.
Our expansion into Kuwait was synonymous with the establishment of the state in 1970. Since then we have formed a long-standing alliance and partnership with the Ministry of Electricity and Water (MEW) in the country.
As an instrumental power supplier for the country's energy sector, Mitsubishi Power provides 45 per cent of Kuwait's power supply.
Currently, we supply a majority share in Kuwait's installed power capacity, as well as powering major installations in the oil and gas industry in Kuwait (Mina Al-Ahmadi and Mina Abdullah refineries), while also supplying major equipment for Kuwait's desalination stations.
We aim to extend this success by furthering this collaboration with our local partners in the country and providing best-in-class technology, enabling secure and optimum power for Kuwait's future power needs.
Our technologies are installed in many major power plants, including the 2.4-GW Doha West, 2.4-GW Sabiya, 2.5-GW Az-Zour South, 0.5-GW Shuaiba South B, and others, bringing Mitsubishi Power's total installed capacity to 8 GW.
The company was also engaged in commissioning the Doha West Power Station in 1980 and continues to maintain the plant's life extension to this day.
We are constantly optimising the performance of power-generating facilities such as the Az-Zour South Power Plant, which was first commissioned in 1986, and the Sabiya power plant, both of which have paved the way to provide impeccable and seamless operation in the country.
Looking to the future, we hope to play a vital role in further shaping and diversifying Kuwait's energy landscape by responding to the region's robust power demand with highly advanced power systems, thereby contributing to further economic development while also easing environmental burdens.

How does Mitsubishi Power plan to further build its presence in the region over the next few years?
Throughout the years, we have provided innovative energy solutions and services to enable major plant rehabilitation, and overhaul power plants across the region.
With our strong heritage and industry-leading power technology, Mitsubishi Power is well prepared to facilitate the region's power infrastructure expansion, and its evolution towards smarter and cleaner power.
Looking ahead, we anticipate steady growth in the gas turbine market in the Middle East.
Even with the expansion in renewable energy, we expect steady growth in demand for GTCC systems as a stable energy source.
We are already moving forward with proposals for large gas turbines with better ramp rate performance, as well as small and mid-sized gas turbines for distributed power supply.
As we continue to expand the offering of our world leading GTCC business in EMEA, we are also working towards adding new services and local capabilities to support our customers in the region that help achieve network stability and energy-efficient power generation.

What energy trends do you see emerging across the region, and how is Mitsubishi Power aligning itself to capitalise on those trends?
The Middle East, like many other regions of the world, is witnessing a growing demand for energy, driven by rapidly growing population and urbanisation, and an increase in industrial and construction activities.
Interestingly, the evolution of hydrogen technology and the associated supply chain has caught the attention of governments and organisations in the region, making hydrogen a key consideration for future energy plans.
However, for hydrogen to take center stage as a fuel source, the infrastructure to make, move, store, and utilise large quantities of hydrogen requires significant investment.
By providing a major new market for stored hydrogen, as well as the means to produce green hydrogen from renewable energy, the power generation industry can serve as the springboard to a new energy economy in the Mena region.
Ultimately, the hydrogen economy could transform many critical sectors in the region such as transportation, manufacturing, construction and more.
With significant investment, hydrogen production could become cost competitive in the next five years.
Mitsubishi Power has long pioneered hydrogen fuel combustion technologies, and our recent large-scale and ambitious projects demonstrate our commitment and accumulated expertise in this field.
Our aim is to leverage this global expertise in the Mena region by partnering with key public and private sector stakeholders to deploy similar cutting-edge energy solutions.
These solutions are going to be pivotal in demonstrating how hydrogen can competitively fulfil clean energy expectations in countries across the region and enable a low carbon society.
We are also witnessing that big data is paving the way to the future.
Utility executives, who have witnessed big data's transformative impact across industries, are now asking for similar digital-powered insights on operating and maintaining plants.
Such insights are critical for the power sector's larger goal – developing innovative power generation technology and solutions to enable the decarbonisation of energy and deliver reliable power everywhere.
Mitsubishi Power, which pioneered monitoring and diagnostics for decades, has expanded its capabilities today beyond the power island, leveraging artificial intelligence (AI), sensors, and analytics to improve the reliability of all systems in the plant, not just the gas or steam turbines.
Our new Tomoni Hub employs a suite of intelligent solutions enabled by decades of O&M and plant knowledge.
Our solutions use advanced analytics and are driven by customer collaboration to deliver powerful financial and environmental advantages.

How can pioneering projects kick start clean hydrogen adoption at scale, and why collaboration between industry, utilities and various partners in the region is key?
The Middle East is already at the forefront of scaling hydrogen projects. Saudi Arabia is already pursuing what has been reported to be the world's largest green hydrogen project.
A joint venture between Neom, Air Products and Acwa Power will integrate 4 GW of renewable power from solar, wind and storage into the production of 650 tons per day of hydrogen by electrolysis; production of nitrogen by air separation; and production of 1.2 million tons per year of green ammonia.
Mitsubishi Power has long pioneered hydrogen fuel combustion technologies, and our recent large-scale and ambitious projects demonstrate our commitment and accumulated expertise in this field.
In partnership with Magnum Renewable Development, we are currently building the world's largest renewable energy storage project, called the Advanced Clean Energy Storage in Utah, US. The largest of its kind, this project will develop 150,000 MW hours of 100 per cent clean energy storage.
In this region, we continue to engage with key stakeholders on ambitious and strategic projects such as Neom, to demonstrate our capabilities across different power solutions.
One such solution is our ability to offer hydrogen-based green renewable energy, amongst others, that are envisaged to contribute to the Kingdom's Vision 2030 and its energy targets.

Can you provide details on the T-Point 2 power plant? Already the worlds' smartest plant, how long before it becomes the world's first autonomous power plant?
T-Point 2 represents the leadership our company has in the digital transformation taking place in power generation.
This plant builds on early Mitsubishi Power digital initiatives, moving the vision of a smart power plant to operational reality.
At the heart of T-Point 2 sits Tomoni, which employs cutting-edge, AI-enabled analytics to automate a wide range of operational processes.
Much of the TOMONI suite of digital solutions were first proven at the original T-Point power plant, which was commissioned in 1997, for long-term combined cycle verification.
At T-Point 2, we have created an increasingly smarter power plant.
Each energy producer has a different strategy when it comes to plant operations, the use of AI and the level of autonomy they wish to achieve.
We are creating intelligent solutions that boost plant efficiency, increase the flexibility and responsiveness of the plant, assist in achieving decarbonisation objectives, and drive O&M improvements.
The transition to the "power plant of the future" will not happen overnight but in steps, whose cadence will be shaped by the stage of digital transformation that plants are in, today.
The investments being made at T-Point 2 truly reflect this recognition, that digitalisation is imperative to enable the decarbonisation of energy and deliver reliable power everywhere.