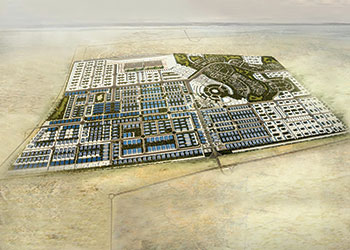 The Spark masterplan
The King Salman Energy Park is a thoughtful masterplan that blends work with living, and by aligning the present and the future, it will revolutionise the way we view cities, writes Abdulaziz Khattak
King Salman Energy Park (Spark), the region's only integrated energy hub, is gearing up to see the completion of work on the SR6-billion ($1.6 billion) first phase of infrastructural development of the massive 50-sq-km site.
The fully-integrated industrial city is being developed with a vision to become the leading gateway to the regional energy sector, offering a complete spectrum of services to support business growth in the kingdom.
Spark is strategically located in the Eastern Province of Saudi Arabia between Dammam and Al-Ahsa. The first of the three phases of the development, which is more than 90 per cent be complete, consists of infrastructure, roads, utilities and real estate assets over 14 sq km, in addition to a dedicated 3-sq-km logistics zone and dry port.
The city offers infrastructure built to international specifications for global investors in crude oil and gas industry and refining, petrochemical industries, electric power, and water production and treatment. It will comprise five focal areas: upstream, downstream, petrochemicals, conventional power, and water and wastewater.
The core project objectives of Spark include diversifying the Kingdom's sources of revenue; improving the security and cost of supply chains for major energy companies in the Kingdom; improving the Kingdom's trade balance; and supporting new sectors that contribute to energy transition and digitalisation.
The energy hub has already attracted a large number of tenants and investors, exceeding the plan for its initial land/facility offering, and accelerating future development, according to the developer.
Spark has seen impressive growth since December 2018, when HRH Prince Mohammed bin Salman bin Abdulaziz, Crown Prince, Deputy Prime Minister and Minister of Defence laid the foundational stone for what is designed to become a global centre for the energy industry and technology.

SUSTAINABILITY & TECHNOLOGICAL ADVANCES
Sustainability remains at the heart of Spark, which keeps reiterating its commitment to environmental, social and corporate governance standards in all its operations.
Already recognised as the first industrial city in the world to obtain Leed (Leadership in Energy and Environmental Design) Silver certification from the US Green Building Council (USGBC), Spark is deploying innovative construction solutions that promote sustainability – many of which being adopted in Saudi Arabia.
The construction approach adopted by Spark is in line with the circular carbon economy, a concept championed by Saudi Arabia to reduce, reuse, recycle and remove carbon emissions, as part of ongoing efforts to mitigate climate change and create climate-friendly energy systems that support sustainable development.
Spark aims to achieve net zero for Scope 1 and 2 emissions by 2040.
Spark is pioneering the use of multiple cutting-edge technologies, ensuring that sustainability remains at the heart of the development. In particular, the park will feature two hubs focused on non-metallic materials and digital technology.
In non-metallics, Aramco is already working with local and international suppliers and research institutes to accelerate development of solutions such as non-metallic pipelines and flowlines in the oil and gas sector.
Similarly, the digital hub reflects the importance of technology development for the energy sector. It will host data centres and advance cutting-edge technologies that are expected to have significant benefits for the industry, from artificial intelligence and big data analytics to 3D printing and process automation."
Spark aims to further drive the localisation of manufacturing and promoting of circular economy through the establishment of national capability centres.
Last year, the city signed an MoU with the National Industrial Development and Logistics Program (NIDLP) to establish an advanced manufacturing institute that will act as a national capability development centre and fuel the adoption of 4IR technologies across four key high-growth sectors in Saudi Arabia, including industrials, mining, energy, and logistics.

INVESTORS
According to Spark officials, Some 40 local and international investors have already set up base at the park or have confirmed to do so. These include big names in the energy sector like Schlumberger, Baker Hughes, GE, and Halliburton, in addition to Yokogawa, Oilfields Supply Company Saudi (OSC), and Photocell who were amongst the first tenants.
Among other majors are National Petroleum Services Company (Napesco), Target United Energy (TUE), Al-Rushaid Group and Sawafi-Borets.
In June last year, ENEX Group KSA, a leading Saudi industrial manufacturer, agreed to develop a power isolator manufacturing centre in Spark's Digital Hub. The agreement represents a total investment of approximately $5 million in Phase One.
And in August 2022, Mubarak AlSuwaiket and Sons Oil & Gas Services Company (MASO&G) said it would invest SR40 million to develop a factory to produce corrosion protection tapes made of polyisobutylene (PIB) and oil tool equipment, and a service centre.
The latest tenant is Emerson, which will break ground in January 2023 on a state-of-the-art manufacturing hub to further expand its local capabilities. This is one of Emerson's most significant investments in the Middle East and Africa region.
In December 2022, SPARK Utilities, a wholly owned subsidiary of Spark and the Kingdom's third biggest power producer and supplier, signed an operational and maintenance services contract with Miahona, a leading developer and operator of sustainable solutions in water and wastewater projects, to provide convenient and reliable utility services to tenants at Spark.
Spark Utilities is the third company in the Kingdom to have been awarded a license to distribute and sell power by the Water and Electricity Regulatory Authority (WERA).
To date the amount of investment that has flowed into the national economy exceeds SR10 billion ($2.66 billion) out of the total expected direct investment of over $ 3 billion.
Once complete, Spark will have 350 factories, contribute $150 billion by 2050 to the Kingdom's GDP and provide 100,000 new jobs, making the city a key enabler of the country's Vision 2030.

GLOBAL MARKETS ACCESS
As part of a leading global system in the heart of energy markets, Spark's design guarantees investors easy access to global markets.
The city contains the largest dry port in the region with a capacity of 10 million tonnes, and providing all the necessary services to facilitate exports and imports. The 3-sq-km dry port will target growing demand for logistics services for energy-related products in the Middle East and beyond while also serving neighbouring industrial cities.
To manage and operate the post in accordance with the highest international standards, a joint venture was formed with Hutchison Ports. The company will provide an advanced and fully automated logistics area supported by a dry and multimodal inland port of class global, warehouses, and support services.
Spark has also initiated talks with Saudi Railway to discuss the future connectivity of the industrial park through a railway system.
Beside the industrial zones, the energy park will also boast residential compounds featuring hotels, schools, hospitals entertainment centres.

LIVEABLE CITY
The non-industrial zone is a 7-sq-km site which includes office and administrative buildings, a digital hub, housing and accommodation, as well as commercial and municipal infrastructure. The city will have 50,000 residents on project completion.
In December 2022, an agreement was signed with Affordable House Company, a subsidiary of Abdullah M. Bin Saedan & Sons Real Estate Group (Saedan), to build a residential complex and workers village within the key industrial facility located in the Eastern Province.
Spanning a 30,000 sq m area, the housing complex will offer a wide range of fully furnished long-term accommodation to the residents. Phase 1 of the two-phased development will be ready in 2025.
The company also broke ground on a new state-of-the-art workers village following an agreement which they had signed early in 2022. The workers village will be built in three phases over an area of 110,000 sq m with Phase 1 set for completion in 2025. The development will have a capacity of over 8,000 beds and will include a complete range of amenities.
To ensure the highest quality facilities management, Spark has appointed Engie Cofely to provide administrative services and maintenance to tenants.