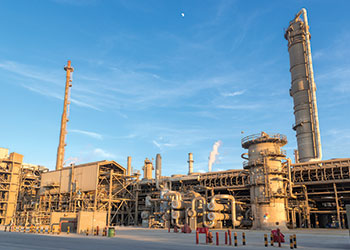 A Sabic manufacturing plant ... chemicals and petrochemicals are key elements of Vision 2030
Saudi Arabia is rapidly transforming to expand its economy beyond its traditional reliance on hydrocarbons, as a need rather than a want, but the journey is challenging
The very ambitious Vision 2030 plan envisioned by the Kingdom of Saudi Arabia is a lot of hard work, and additionally, requires extraordinary amounts of investment, something the country will have to look for in places other than its coffers.
The main goal of the national plan is to reduce economic dependence on hydrocarbons. Yet it is inextricably linked to money from hydrocarbons, of which the country is a major producer.
Nevertheless, the target is to considerably increase the share of non-oil exports to 50 per cent in 2030. In 2016, non-oil exports were 16 per cent of the total national exports.
Of this, petrochemicals make up almost 60 per cent, making the industry vital to the Kingdom's non-oil economy and a key element of the National Industrial Development and Logistics Program (NIDLP).
The rollout of Vision 2030 has led to significant project announcements across various sectors, including financial, health care, housing, and infrastructure, by the National Investment Strategy, a key enabler to deliver on the vision. Inevitably, petrochemicals and oil and gas will also see increased spending in the medium- and long-term.
Overall, the strategy involves investments of about SR12 trillion ($3.2 trillion) into the national economy by 2030. It is part of the mammoth Shareek programme, which will attract $7 trillion of investments over the next decade
And while the Shareek programme shows the government's seriousness of pursuing Vision 2030, it also highlights the amount of investment needed, and likely beyond what the government, the Public Investment Fund (PIF), banking sector and foreign direct investment (FDI) alone can generate, according to an S&P Global Ratings analysis.
It is expected that Saudi Arabia's debt capital market will grow and take on a larger role in financing Vision 2030.
"We think banks will continue to play an important role in financing Vision 2030, but foresee an increased role for the local capital market," said S&P Global Ratings Credit Analyst Timucin Engin in the report titled 'Vision 2030 Will Push Forward Saudi Arabia's Debt Capital Market'.
"What's more, we understand an increased amount of the funding will be pushed off the central government and onto the balance sheets of government-related entities and broader private sector," he says.
Coming back to the energy sector, it will remain a substantial contributor to the government's revenues, which have benefitted from high oil and gas prices. This windfall will help fund the government's share of investments despite its heavy capital expenditure (capex) burden, says S&P Global Ratings.
The government is also increasingly investing in the chemical sector to promote its growth by expanding and developing its hydrocarbon and gas production.
Saudi Aramco is focusing on upstream and downstream investments including expanding its crude oil production capacity to 13 million barrels per day (mmbpd) by 2027 and boosting gas production by more than 50 per cent by 2030, in addition to the long-term goal of up to 4 mmbpd liquids-to-chemicals, all of which requires continuous capex. Similarly, investment in the domestic petrochemical sector is expected to ramp up.
• Sustainability is at the heart of Vision 2030. The country announced a $190 billion spending plan to reach net-zero greenhouse gas emissions by 2060.
By 2030, Saudi Arabia aims to generate half its power through renewables and the other half from gas. The Kingdom today today generates half of its electricity from gas assets and the other half from oil.
Utilities face a mammoth task of reducing Saudi Arabia's fossil fuel dependency. This will see more public-private partnerships (PPPs) and significant investments in the country's grids.
Partnering in this endeavour are the Kingdom's ACWA Power and PIF, who have signed for nearly 42 gigawatts of renewable power plants worth $30 billion.
The program aims to meet 70 per cent of the country's renewables target by 2030, although that is unlikely.
A GlobalData report has, however, indicated Saudi Arabia will miss its 2023 renewables target by nearly 26 GW at the current pace of capacity addition, while the 2030 target shortfall will top 40 GW.
This emphasises the need for the Saudi government to fast-track the development of renewables and provide incentives in support of small-scale installations.
Saudi Arabia is also working on becoming a major supplier of hydrogen worldwide. A consortium comprising ACWA Power, Air Products, and Neom expects to close the $5-billion NEOM Green Hydrogen Project in Q4 2022. It will be the world's largest commercial hydrogen facility entirely powered by wind and solar energy and will aim to export green ammonia.
• Localising the workforce: One of the key expectations of Vision 2030 is reducing the unemployment rate, which was 9.7 per cent as of Q2 2022, to 7.0 per cent.
Saudisation and women's participation in the work force present opportunities for economic growth, with new jobs to be created under Vision 2030.
Despite significant changes in recent years, more than 60 per cent of the female workforce is still outside the labour market and most men are employed by the public sector, according to the Ministry of Economy and Planning's Q3 2022 report.
The vision's targets are ambitious. But even if they are not fully met, Saudi Arabia will definitely make good progress. The productive capacity of the non-oil economy could potentially increase as a result, and put Saudi Arabia in the list of the top competitive economies in the world.

By Abdulaziz Khattak