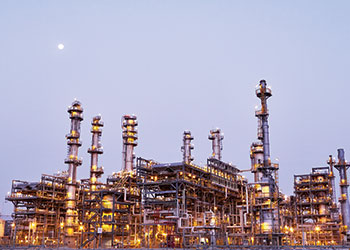 Aramco seeks to expand its liquids to chemicals capacity to up to 4 million barrels per day by 2030
Saudi national oil company Aramco is pursuing a strategy of integrating its refining and petrochemical platforms and expanding its petrochemical operations from low-cost feedstock and, therefore, contributing to the Vision 2030 by creating jobs and bringing in new high-added-value technologies.
Three such projects were announced in December 2022; the first was the construction of a $11-billion world scale petrochemical facility in Saudi Arabia jointly by Aramco and TotalEnergies, and owned 62.5 per cent and 37.5 per cent respectively.
Both parties made the final investment decision for the 'Amiral' complex, which will be owned, operated, and integrated with the existing Satorp refinery located in Jubail.
The petrochemical facility will enable Satorp to convert internally produced refinery off-gases and naphtha, as well as ethane and natural gasoline supplied by Aramco, into higher value chemicals, helping to advance Aramco's liquids to chemicals strategy.
Aramco seeks to expand its liquids to chemicals capacity to up to 4 million barrels per day by 2030.
The project will help Aramco expand its value chain by producing advanced chemicals more efficiently than ever before, accelerating industrial progress in the Kingdom.
Aramco said the complex will comprise a mixed feed cracker capable of producing 1.65 million tonnes per annum of ethylene, the first in the region to be integrated with a refinery.
It will also include two state-of-the-art polyethylene units using advanced Dual Loop technology, a butadiene extraction unit, and other associated derivatives units.
Construction on the Amiral complex is scheduled to begin during Q1 2023 with commercial operation targeted to start in 2027.
According to Amin Nasser, Aramco President and CEO: "Our long-standing relationship with TotalEnergies has been further strengthened by this important project, which represents an opportunity for us to showcase the potential for cutting edge liquids to chemicals technologies that support the circular economy."
SATORP is one of the world's most efficient integrated refining and petrochemicals platforms and benefits from the combined expertise of Saudi Aramco and TotalEnergies. It produces high-value-added products from heavy crude oil.
Patrick Pouyanne, TotalEnergies Chairman and CEO said the Amiral complex fits with their strategy to expand sustainably in petrochemicals by maximizing the synergies within our major platforms.
"It also deepens the exemplary relationship between our two companies over many decades in the Kingdom of Saudi Arabia."
Furthermore, the complex will supply feedstock to other petrochemical and specialty chemical plants in the Jubail industrial area. These plants will be built, owned and operated by globally renowned downstream investors, and will bring in estimated additional $4 billion worth of investments.
All this will give rise to manufacturing industries such as carbon fibres, lubes, drilling fluids, detergents, food additives, automotive parts and tyres.
The overall complex, including adjacent facilities, is expected to create 7,000 local direct and indirect jobs.
Also in December, Aramco, China Petroleum and Chemical Corporation (Sinopec) and Sabic said they will explore setting up a petrochemical complex to be integrated with an existing refinery in Yanbu and in addition build a greenfield project in Gulei, in China's Fujian Province.
A memorandum of understanding (MoU) to study the feasibility of the Yanbu project was signed, as was an agreement for the China project.
The greenfield project in China includes a 320,000 barrels-per-day refinery and 1.5 million tonnes-per-year petrochemical cracker complex. It is expected to commence operations by the end of 2025.
Mohammed Y Al Qahtani, Aramco Senior Vice-President of Downstream, says: "These projects represent an opportunity to contribute to a modern, efficient and integrated downstream sector in both China and Saudi Arabia. They also underpin our long-term commitment to remain a reliable supplier of energy and chemicals to Asia's largest economy."