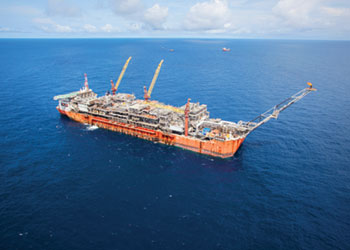 FLNG capacity to increase by 18.3 1 mmpta
Investments in the floating liquefaction natural gas (FLNG) segment is expected to increase, largely driven by the need for gas to meet the immediate and medium-term energy demand.
In view of FLNG investments in 2022 and planned investments expected over the 2023-2027 period, Westwood anticipates 18.3 1 million tonnes per annum (mmpta) of additional FLNG capacity onstream by 2027, with an associated engineering, procurement and construction (EPC) award value of $13 billion.
A further 36.5 mmpta is anticipated onstream post-2027 from FLNG units sanctioned over 2023-27, with an EPC value of $22 billion.
Africa will account for 56 per cent (10.2 mmpta) of additional FLNG capacity onstream over the 2023-27 period. Four FLNG units destined for the region are currently under construction/reactivation.
The Golar LNG-owned Golar Gimi FLNG unit destined for BP's Tortue project offshore Mauritania is scheduled to be the first unit delivered in the region over the forecast period and will commence production in 4Q 2023.
In the US, Delfin Midstream plans to install four floating vessels producing up to 13.3 mmpta.
In Canada, 17.5 mmpta of LNG capacity is in the planning phase across three projects. However, Westwood does not anticipate any Canadian projects to commence commercial production before 2028.
In other regions, the use of an FLNG unit is being considered for Chevron's Leviathan gas field offshore Israel and Transborder Energy's LNG project off the coast of Australia.
Overall, LNG supply growth is expected to rise significantly, especially from the US and Qatar. The current risk is that this will lead to an oversupply in the market and push out riskier and higher cost projects.