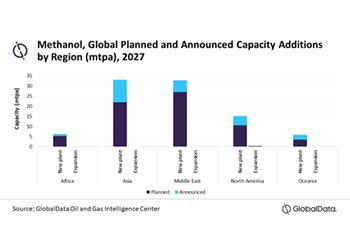 Asia will be a key contributor to global methanol industry capacity additions with a share of 26.7 per cent by 2027, as the region gains capacities from new-build projects between 2023 and 2027.
A report by GlobalData's reveals that the total methanol capacity in Asia is expected to reach 33.01 million tonnes per annum (mtpa) by 2027 from 26 planned and announce projects.
The methanol industry growth in Asia will be driven by expanding automotive industry and increased application of methanol in polymers and resin synthesis.
Nivedita Roy, Oil and Gas Analyst at GlobalData, said: "The major capacity addition in Asia will be from an announced project, Reliance Industries Jamnagar Methanol Plant, which is expected to come online by 2026. It is anticipated to add a capacity of 3.60mtpa. It is followed by a planned project, Ningxia Baofeng Energy Group Yinchuan Methanol Plant 3, which is anticipated to add a capacity of 2.38mtpa. It is expected to come online by 2023."
China is the major country in Asia in terms of methanol capacity additions. The total capacity addition in the country would be 18.66mtpa from 14 announced and planned projects.
Nivedita concludes: "Within Asia, Indonesia and India follow next in terms of capacity additions. Indonesia is expected to add a capacity of 7.33mtpa from six announced and planned projects, while India is anticipated to add a capacity of 5.33mtpa from five planned and announced projects."