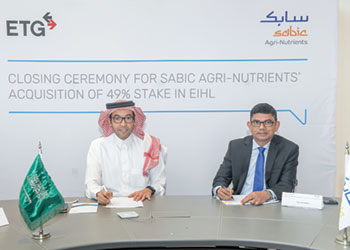 SABIC Agri-Nutrients Company (SABIC AN), majority SABIC owned and a leading global fertiliser producer, has completed its acquisition transaction with the ETC Group (ETG) to acquire 49 per cent stake in the ETG Inputs Holdco Limited (EIHL).
The acquisition is part of SABIC AN's strategy to integrate the value chain and include the blending and distribution of agri-nutrients in the global markets.
SABIC AN will also benefit from EIHL's presence across Sub Saharan Africa through distribution and blending of fertilisers, seeds, and crop protection items, and help it to move closer to farmers and end-customers.
Commenting on the milestone, Abdulrahman Shamsaddin, SABIC AN CEO, said: "This move will help us reinforce and expand our footprint in Africa and take advantage of the prevailing and evolving growth opportunities. It will help us keep abreast with key developments in the industry and position the company as a leading player in the global agri-nutrients industry, with the best-in-class capabilities in manufacturing, operation, supply chain, and aftermarket services.
The partnership will further strengthen SABIC AN's position in the regional market by capitalising on our partner's strong presence in the region throughout the agri-nutrients value chain. This is clearly aligned with its vision to move closer to the end users and to respond promptly to the changing needs of its customers.
Ashish Lakhotia, EIHL CEO, said: "We are proud of this agreement which will further consolidate our long-standing relationship. EIHL gains from an assured and reliable supply from a global AN leader with a strong global brand. The partnership will also allow us to expand our market reach across Africa and even other continents."
SABIC Agri-Nutrients Company adopts a distinct operating model that focuses on a number of pillars to ensure sustainable growth and offer more differentiated agri-nutrients solutions.
The focus areas include a more effective agri-nutrients business strategy, fully focused research and development programs, sales and supply chain and talent attraction and development.