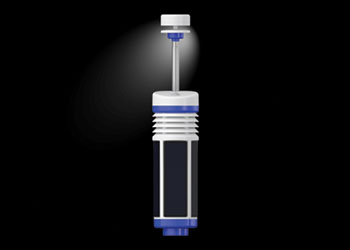 The methane point instrument is a first-of-its kind 'plug-and-play' solution
SLB has introduced solutions for a carbon storage screening and ranking, and methane measurement.
The carbon storage screening and ranking solution is designed to increases confidence in site selection decisions based on scientific analysis of the long-term integrity and economic potential of an asset.
The solution helps customers avoid suboptimal storage sites with risk factors that can waste valuable time and resources as well as decrease the probability of a carbon capture, utilisation and storage (CCUS) project reaching final investment decision (FID).
"CCUS is one of the most immediate opportunities to reduce emissions, but it must scale up by 100-200 times in less than three decades to have the expected impact on global net zero ambitions," says Frederik Majkut, Senior Vice-President of Carbon Solutions for SLB's New Energy business.
"Ensuring that a storage site is both safer and economical is crucial for the speed, scale and investment needed to meaningfully drive CCUS growth for a low carbon energy ecosystem."
The screening and ranking solution uses both technical and nontechnical data to provide a detailed assessment of the capacity and economic viability of storage sites, while identifying potential risks. A benchmark comparison, pulling from successful storage projects globally, is created to provide a relative basis for ranking each site.
SLB uses proprietary tools, augmented by advanced digitally enabled workflows, to provide a fast, traceable and consistent process to validate the data, with an emphasis on risk identification using sensitivity and uncertainty analysis.
Separately, the methane point instrument, launched by SLB's End-to-end Emissions Solutions (SEES) business, represents a step change in methane measurement technology, providing operators with industry-leading leak detection sensitivity in a small, durable, first-of-its kind 'plug-and-play' solution.
The technology automates continuous methane monitoring—eliminating the need for manual data collection during typical intermittent site visits, which only offers producers a small sample of their emissions.
"Designed for 'always on', accurate measurement and fast, affordable deployment at any scale, our next generation point instrument widens the accessibility to continuous methane monitoring for the industry, providing producers with a practical pathway to achieve a more complete picture of their emissions profile," said Kahina Abdeli-Galinier, emissions business director, SLB.
"Having this level of insight, with a new level of deployability, is becoming increasingly important for producers as pressure mounts from regulators and the public across the globe to address the near-term warming effects of climate change caused by methane."
Light and portable, the compact device contains an integrated solar panel, wind measurement and methane sensor.
The instrument can be self-installed in minutes, mounted on existing infrastructure and deployed at virtually zero cost—much like a self-installed home security camera. It enables operators to more economically scale up and quickly roll out continuous methane monitoring across their facilities.
The methane point instrument supports the reporting requirements of the Oil & Gas Methane Partnership 2.0, or OGMP.