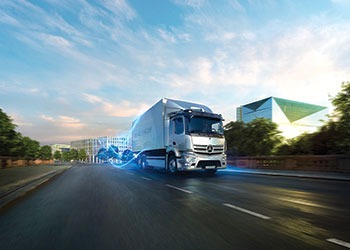 The eActros is a significant milestone in the pursuit of emission-free road transport
The eActros 300 L 4x2, the first battery-electric truck from Mercedes-Benz Trucks, has made its debut in Saudi Arabia.
Juffali Commercial Vehicles, the authorised general distributor for Mercedes-Benz Trucks, unveiled this heavy-duty electric truck, marking a significant milestone in the pursuit of emission-free road transport of goods.
The eActros ensures both safety and comfort for drivers and pedestrians alike. Its Acoustic Vehicle Alert System adds an extra layer of safety, making it audibly detectable by other road users at speeds up to 60 km/h.
The eActros is powered by the eAxle, featuring two integrated electric motors and a two-speed transmission, delivering unparalleled ride comfort and exceptional vehicle dynamics.
With its impressive battery capacity of 336 kWh, the eActros 300 boasts a realistic range of up to 300 km, making it ideal for distribution transport.
With its fast-charging capability, the truck can be charged up to 80 per cent in over an hour, ensuring it's always ready for demanding daily operations.
This cutting-edge all-electric truck is designed to be more than just a vehicle, it's a testament to the harmonious integration of innovation and efficiency. It is also a statement of Mercedes-Benz Trucks' unwavering dedication to a greener planet and a step towards Saudi Vision 2030's sustainable transportation goals, said a statement.
Heiko Schulze, CEO of Juffali Commercial Vehicles, added: "Launching eActros in Saudi Arabia marks a significant milestone for sustainable transportation in the area.
This reinforces our commitment to sustainability in transportation and the environment. The electric truck symbolises our dedication to responsible choices and a sustainable future, aligning with our core values."
Olaf Petersen, General Manager of Daimler Commercial Vehicles MENA, said: "Bringing the eActros to Saudi Arabia is a monumental leap towards sustainable transportation, aligning perfectly with Saudi Vision 2030. This state-of-the-art electric truck, equipped with advanced features like Stability Control Assist, Lane Keeping Assist, and Active Brake Assist 5, ensures not only a greener planet but also a safer and more comfortable ride for drivers and pedestrians alike. It's not just a truck; it's a symbol of our unwavering dedication to a greener planet and a cleaner future."
Juffali Commercial Vehicles has had a long and successful relationship with Daimler dating back to 1974 when a joint venture between Mercedes-Benz Commercial Vehicles and E A Juffali & Brothers established the National Automobile Industry (NAI) in Jeddah to manufacture Mercedes-Benz commercial vehicles in Saudi Arabia.