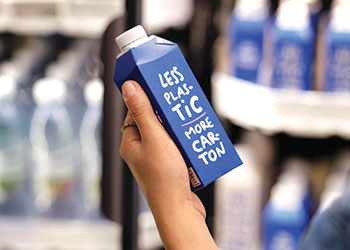 The SIG DomeMini bottle is designed for recycling
Catering to the growing 'paperisation' trend, SIG introduces its new on-the-go carton bottle, SIG DomeMini, offering all the convenience of a plastic bottle and the sustainability benefits of a carton pack.
The small-size carton bottle, designed for recycling, combines the convenience typically associated with plastic bottles with the environmental advantages of carton packs.
It aims to encourage consumers to opt for responsible packaging, while allowing beverage manufacturers to churn out less plastic.
SIG DomeMini is mostly made from FSC certified paperboard and produced using 100% renewable electricity.
With the high share of forest-based renewable material as well as a resource-efficient and space-saving design, SIG DomeMini offers several environmental benefits compared to alternative packaging options like plastic bottles.
Abdelghany Eladib, President and GM – IMEA at SIG, stated: "This innovative product is an exciting step forward - particularly amidst the urgent global challenges posed by pressing environmental issues - providing consumers and beverage manufacturers an opportunity to embrace sustainable packaging alternatives."
SIG DomeMini offers excellent ergonomic benefits to various consumers including travellers and commuters.
The centrally located SIG DomeMini cap offers a drinking experience akin to using a traditional bottle, combining ease of opening and secure resealing. This design ensures safe storage in bags, making the bottle readily accessible for drinking whenever required.
Christoph Wegener, CMO at SIG, said: "The market for on-the-go beverages continues to grow and offers immense potential. By combining convenience with sustainability, SIG DomeMini sets the stage and offers a new drinking experience for consumers, who can now enjoy their favorite drink on the move while helping reduce plastic waste."
SIG is set to unveil its new on-the-go carton bottle, SIG DomeMini, at Gulfood Manufacturing 2023 in November, marking its first unveiling in the Middle East and Africa region.
At Gulfood Manufacturing, the company will also present the SIG DomeMini 12 Aseptic filling machine, capable of aseptically filling 12,000 packages per hour across seven different volume sizes ranging from 180 to 350 ml, all within a rapid 15-minute volume change.
This capability not only enhances operational efficiency but also offers remarkable flexibility, delivering outstanding returns on investment for beverage manufacturers.
SIG is also gearing up to participate in COP28 to further showcase the environmental benefits of its products, contributing to the reduction of plastic waste and aligning with the rising consumer interest in eco-friendly and sustainable packaging solutions.