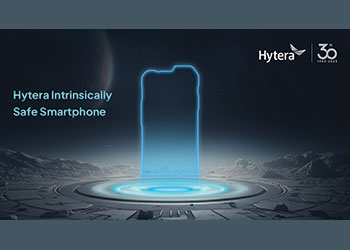 The push-to-talk devices are AI-powered
Hytera Communications, a leading global provider of professional communications technologies and solutions, launches a new generation of intrinsically safe two-way radios and smartphones.
The explosion-proof portfolio, covers all the mainstream two-way radio protocols and technologies used in the region and worldwide, including Terrestrial Trunked Radio (TETRA), Digital Mobile Radio (DMR) and Push-to-talk over Cellular (PTToC or PoC).
This makes Hytera the world's only vendor that is capable of offering such a diverse product line of intrinsically safe communications devices, said in a statement.
Intrinsically safe devices are designed for use where there is potentially explosive gas and combustible dust such as oil refineries, pipelines, chemical plants, and mining sites; electronic heat or sparking must be controlled to a stringent level to prevent catastrophic consequences.
Hytera's two-way radios and smartphones including PNC460U, HP79XEx, and PT89XEx are certified to be used in these potentially hazardous situations.
Even though the three devices have explosion-proof features, they are different in terms of protocols, feature sets and best-applicable scenarios. This provides the market and users with multiple choices to meet their different and specific conditions.
The PNC460U represents a new height for ruggedised smartphones that runs on Android 12 and has a dedicated push-to-talk (PTT) key to initiate instant group voice calls. The device is a smartphone and a PoC radio made in one.
The PT89XEx and HP79Xex, of TETRA and DMR protocol respectively, represent the optimal and industry-leading synergy of professional features of two-way radios and usability in hazardous environments. The AI-based noise cancellation feature in these devices helps quickly distinguish human voice from the background, empowering users to make audible calls from challenging sites.
Stanley Song, Deputy General Manager of Hytera Oversea, said: "We take pride in providing solutions to enhance workplace safety and efficiency and empower the workforce to communicate and collaborate seamlessly."