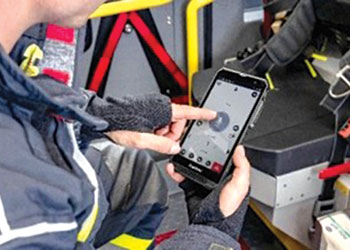 The RG880 can be operated worldwide on all networks
RugGear, a leading designer and manufacturer of rugged mobile devices for professional mission critical and industrial use, introduces a new LTE smartphone, RG880.
The new RG880 could support companies and public safety organisations in their digitalisation process and can be operated worldwide on all networks.
The smartphone is equipped with the PTT/MCPTT-optimised Snapdragon 680 4G Mobile Platform from Qualcomm Technologies and supports 3GPP Release 12.
The Android13 rugged device is slim and handy in design and has been completely adapted to the needs of users.
A large PTT button on the side, an SOS button for lone worker use (via third-party LWP app) and a switch button for individual or group PTT calls, as well as other freely assignable buttons, make everyday work easier.
Also, a clear 5.5-inch screen, speaker design and a fingerprint sensor complete the feature package.
Target industries include public safety, industrial production, energy, site construction and transport.
The powerful Snapdragon 680 4G Mobile Platform supports optimised transmission of voice, video and data information - important for safety-critical applications.
RugGear's R&D team has created high audio quality from the 103db speaker through a special, innovative design (the speakers are positioned across the full width of the device and sloped downwards for good audio distribution).
Even when the device is worn in use with the screen facing the body, very good audio transmission is possible in noisy environments.
With the 50 MP main camera, users can capture high-resolution images and videos in real time, which is particularly needed in the maintenance sector and for surveillance tasks. As a support, an additional flash offers better quality for night shots.
The RG880 can also be used in multi-shift operation, as the device can be quickly and easily fitted with a replacement battery.