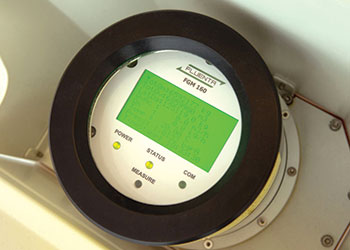 Fluenta FGM 160
Fluenta, a leader in ultrasonic sensing technology for measurement of flare gas, has completed work on the Dangote Refinery in Nigeria to install 18 ultrasonic flare gas meters on large pipelines around the plant.
According to Fluenta, it has spent more than four months working with its exclusive Nigerian representative, Daptem Engineering, and the Dangote project team to deliver flare measurement solution.
The wide variety of pipelines, ranging from 18 to 90 inch diameter, presented an engineering challenge due to their larger size, which can make accurate measurements difficult due to the further travel of the acoustic pulse, potentially resulting in less accurate readings.
In addition, flared gas expelled through these pipelines is high in CO2, a particularly difficult gas to measure using ultrasonic technology.
The team implemented a multitude of innovative solutions, each considered on a case-by-case basis, to ensure accuracy of the system.
Flare measurement in a refinery is essential, from a regulatory and environmental law compliance perspective, and for accurate emissions monitoring.
Under current Nigerian law, companies refining oil and gas must pay a 'tax' for flared gas, to encourage an overall reduction in flaring, underlining the importance of Fluenta's accurate, trustworthy flare measurement and management.
Nigeria is positioning itself as a world-leader when it comes to reducing its emissions, and flaring – the controlled burning or combustion of excess or waste gases that cannot be processed or captured for productive use – is a safety and environmental practice employed in the petroleum industry to prevent release of potentially harmful or combustible gases into the atmosphere.
Radek Kurkowski, Director at Fluenta, says: "Flare gas measurement and control is vital to ensure compliance with environmental regulations and to help identify potential safety hazards. This is especially true at a plant on this never-before-seen scale and with the world's largest flare pipe.
"Delivering this solution meant some close work with our local partner and the client project team, and we are delighted with the end result – which will support bringing energy security to Nigeria and the wider Africa region. Our team used a range of state-of-the-art technology, adapted meter software and special pipe gaskets and ball valves to deliver the pipe flare gas measurement solution."
The Dangote Refinery stands at the vanguard of Africa's and Nigeria's moves towards energy self-sufficiency. The West African nation currently imports refined petroleum products for its own use, even though it is Africa's biggest oil producer.
Dangote Refinery began operating in May 2023, is capable of refining 650,000 barrels of oil per day, enough to meet Nigeria's daily fuel supply requirements, with a daily surplus of 38m litres of refined products, already earmarked for export.