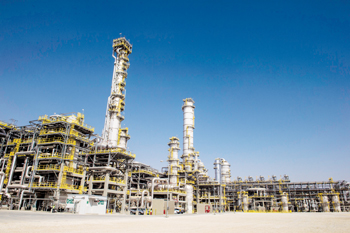 Sadara ... expected to produce strong volumes
The company expects strong volumes out of its Sadara joint venture facility with Saudi Aramco, with particular strength in the polyurethanes area

US-BASED DowDuPont now expects to complete the spin-offs 18-24 months after the completion of its merger versus an earlier timeline of 18 months.
The completion of the merger on September 1 kicked off the timeline for DowDuPont to spin off its Materials Science, Specialty Products and Agriculture businesses into three publicly traded companies. Materials Science would be the first to go, and inherit the Dow name.
Within days, DowDuPont announced it would shift some businesses from Materials Science to Specialty Products.
Because of that shift, DowDuPont may need more time to prepare the businesses for the spin-offs, said CEO Ed Breen, during the company's Q3 earnings conference call.
"When you look at what we are moving over to align it properly, it's parts of divisions, in many cases, of Dow," Breen said. Moving parts of divisions between two businesses is a more significant task than moving whole divisions, he said.
"We're doing that in multiple scenarios now on the Dow end, and that carve-out work, legal entity work, harmonisation of our IT systems, is really the extra work we now have to do," said Breen.
In the meantime, DowDuPont is seeing an accelerating global economic expansion with strength in the US and Europe.
"Global economic acceleration continues, led by the ongoing strength of the consumer across most major economics," said Andrew Liveris, executive chairman of DowDuPont.
"The US is maintaining its trajectory in line with what we have seen for many quarters. The positive change we see is the greater-than-expected performance of the euro area. Notably, for the first time in a decade, all 40-plus OECD countries are on track to grow this year," he added.
Liveris pointed to strong volumes out of its Sadara joint venture facility with Saudi Aramco, with particular strength in the polyurethanes area, and with demand pull from China, India, southeast Asia and central Europe.
In the packaging sector, demand for polyethylene (PE) continues to be robust while supply additions have been delayed and are coming on in a "more measured pace than expected", he said.
"These factors, taken together, support our long-held view of a short and shallow adjustment period," said Liveris.
"More importantly, our longer term outlook remains unchanged, as population growth, sustainable urbanisation, and a growing middle class in emerging markets drives continued adoption of consumer packaging," he added.
And DowDuPont is not concerned about potential plans by Iran to significantly raise methanol-to-olefins (MTO) capacity in the coming years.
"As far as Iran, and for that matter China, and all the other MTO projects, they've been consistently late, they've been consistently overcapitalised, and they've consistently not occurred," said Liveris. "We're not worried about that in supply/demand balances in the next five years."
Liveris responded to an analyst question on Iran's potential plans to convert all its methanol facilities into MTO plants, and for all new methanol projects to be targeted for olefins production.
"These moves they're talking about making now will take five years to materialise, and if they come on at that rate, we're in a very different market environment from an oil and gas perspective then," said Jim Fitterling, chief operating officer for the Materials Science division of DowDuPont.
Sadara Chemical has locked in ethane prices, which should protect the company from future increases, said DowDuPont, which owns a 35 per cent stake in the joint venture.