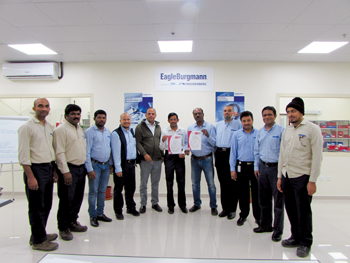 Th company has gained recognition as a key global manufacturer and service supplier to Sabic, which can be measured locally by equipment supplied

EagleBurgmann has been doing business in Saudi Arabia for over 30 years, and in late 2009 the company moved to a new manufacturing, sales and service facility in Al Khobar.
A catalyst to the company's growth was the gaining of the local manufacturer status (9COM) in 2010 from Saudi Aramco for its range of high-end mechanical seals, vital to the smooth operating of highly critical pumps and compressors at Aramco's many sites. In 2011, Aramco also issued a 9COM to EagleBurgmann for the manufacture of industrial gasket products in the kingdom.
EagleBurgmann has also gained recognition as a key global manufacturer and service supplier to Saudi Basic Industries Corporation (Sabic), which can be measured locally by equipment supplied, as well as projects completed on many Sabic affiliate sites in Saudi Arabia.
'Jubail, in the Eastern Region, has witnessed dynamic growth in recent years, so to support our growing customer base in this vitally important area, we expanded our new sales and service centre which enables us to offer our customers 'round the clock' support,' says Biju Chacko, senior sales director of EagleBurgmann Saudi Arabia (EBKSA).
EagleBurgmann has been successful in winning various multi-million-dollar equipment supply and maintenance contracts across the kingdom in the oil and gas, refining, chemicals, power and water sectors, where the company's global expertise on similar contracts played a big role in securing agreement, Chacko explains.
Sadara, a joint venture between Aramco and Dow Chemical Company, represents the largest foreign direct investment in the Saudi petrochemical industry. EagleBurgmann was awarded the mechanical seal package for all API pumps used in this project.
A major challenge to the EBKSA's growth plans is the in-kingdom drive by the Saudi Arabia government to nationalise the workforce (Nitaqat), which involves companies meeting stringent and compulsory targets in employing Saudi nationals.
EBKSA has embraced this and has actively recruited and trained Saudi nationals, utilising them in every area of the business, and holds the 'Platinum Status', the highest Nitaqat level, and has been recognised by the Saudi government for the company's commitment to the Nitaqat programme. EagleBurgmann is now firmly focused on aligning the business with the kingdom's Vision 2030 programme. EagleBurgmann Saudi Arabia is a joint venture between EagleBurgmann and GAS Arabian Services.