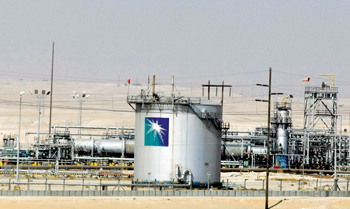 Aramco's IKTVA programme has a positive impact on the industrial sector
Privatisation is at the forefront of Vision 2030, as the kingdom aims to raise $10 billion through the sale of government assets over the next two years, with the most recent plans to sell sports clubs and a major desalination plant, among other state-owned assets

Saudi Arabia is witnessing major economic transformation after it started implementing the ambitious programme under Vision 2030.
Vision 2030 has been activated through supportive economic programmes, which will contribute to increasing the country's gross national product (GNP), say officials.
Mohammed Al-Jadaan, Minister of Finance, Saudi Arabia points to the remarkable progress of the kingdom's Vision 2030 economic development strategy saying: 'The world is expecting positive growth rates in both developed and emerging markets, which will increase expectations of improved economic growth in the kingdom, despite risks to global markets, and large and rapid changes in the oil market as well.'
The Saudi economy continues to be the focus of attention of major companies and investors around the world, due to its great economic significance on a regional and international levels and its huge and promising investment opportunities.
In its Executive Board Article IV Consultation with Saudi Arabia, the International Monetary Fund (IMF) praised the magnitude of the economic reforms being carried out by the kingdom's government, as well as the progress being made in achieving the objectives of the structural reform agenda under Vision 2030, particularly with respect to consolidating the country's fiscal position, which is beginning to bear fruit, the minister says.
He says the government was on-track to cut the budget deficit to 7 per cent of its GDP.
Shaikh Mohammed ... ambitious programmes
Privatisation is at the forefront of the strategy, as the kingdom aims to raise $10 billion through the sale of government assets over the next two years, with the most recent plans to sell sports clubs and a major desalination plant, among other state-owned assets, announced in April. The process was launched in 2015 soon after Custodian of the Two Holy Mosques HRH King Salman bin Abdulaziz Al Sa'ud appointed his son, HRH Prince Mohammed bin Salman, as Deputy Crown Prince and Minister of Defence. The Council of Economic Affairs and Development had identified 10 programmes of strategic importance for the government to achieve Saudi Vision 2030, which was approved by the Council of Ministers in April 2016.
The 10 new programmes will implement specialised plans in housing, improving the lifestyle of Saudis and residents, serving pilgrims and other programmes that support national leadership in industry and financial markets. The new plans will also strengthen national identity and bolster Saudi culture, arts and entertainment. It will be operational as soon as the plans are completed during the third quarter of 2017.
These programmes are extensions of the original plans approved in the National Transformation Programme 2020, and under the Financial Balancing Programme 2020. Their mechanisms were formulated in accordance with the vision's governance, which was approved in May 2016.
In addition, the role of the financial sector in driving sustainable growth in the kingdom is noteworthy. Tens of billions of dollars are entering Saudi Arabia ahead of a potential MSCI upgrade to emerging market status, and national and international investors are tracking the progress of the market with interest.
The privatisation programme has been implemented with a modern outlook overcoming all the negative aspects that have occurred in some countries.
Al-Jadaan ... Vision 2030 is making big progress
The government's decision to privatise 10 sectors such as housing, health, education, transport, Haj & Umrah and telecom highlights its intent to develop these services for the benefit of citizens and eliminate losses caused by their mismanagement, which resulted in falling state revenues.
The main objective the privatisation programme is to reduce dependence on oil as a key source of revenue for the national budget. Indicators show that its contribution to the GDP would reach SR13.14 billion ($3.5 billion) by 2020 while total government revenues from asset sales would reach around SR35 billion to SR40 billion. The state's net savings from capital expenditure and operating expenses are estimated at SR25 billion to SR33 billion. The programme is expected to create 10,000 to 12,000 jobs in the private sector by 2020.
Meanwhile, the In-Kingdom Total Value Add (IKTVA) programme of Saudi Aramco is having a positive impact. A significant number of arrangements have been entered into between Saudi Aramco and international companies as part of the IKTVA programme, including with McDermott, Schlumberger, General Electric, Honeywell, Jacobs Engineering and Siemens.
Recently, Saudi Aramco further expanded the IKTVA programme and strengthened its relationship with local industry players by awarding purchase agreements to 16 Saudi pressure vessels manufacturers.
The agreements, carrying a procurement value of more than SR26 billion, further enhances the company's ongoing support and commitment to empower local companies within the small and medium-sized enterprises (SMEs) realm under IKTVA, in tandem with Saudi Vision 2030.
The purchase agreements, signed on May 1, will focus on the supply of pressure vessels by local manufacturers, mandated under IKTVA goals as well as to actively pursue Saudisation targets. The 16 companies are expected to build up their capabilities and competitiveness throughout the 10 years agreement duration.
Saudi Aramco officials and experts confirmed the oil company will lead a new industrial revolution in the kingdom. Saudi Aramco officials and experts confirm that Saudi Arabia boasts huge technical investment opportunities that will create a new industrial revolution that will see the introduction of 11,000 robots that will carry out highly sensitive industrial and technical tasks.
They add that the market for industrial technology and applications will be worth billions of dollars in 2025.
Aramco made the announcement during a meeting at the Eastern Province Chamber of Commerce symposium on the '4th Industrial Revolution and IKTVA support'.
Aramco's technical experts say there are several opportunities in this sector given the low number of workers in this field. They explained that Saudi Arabia is seeking to normalize cloud services, a mission that requires several technicians, which will open up real opportunities for Saudis.
The new industrial revolution in the field of technology will lead to the introduction of 11,000 robots in Saudi industry. They will be tasked with carrying out highly sensitive industrial and technical tasks, stressed Aramco control and operations department member Mohammed Abu Sharifa.
In addition, he says that the market for mobile solutions and advanced analytics will reach $1.5 billion by 2025. He also highlights real opportunities in 3D printing, high-performance computing, and the number of robots and drones that will take on important services in industry, transportation and exploration.
Saudi Aramco's manager for industrial development and strategic supply, Abdullah Al-Thaali, explains that IKTVA has acted as an incubator for localisation investments, especially for small and medium enterprises.
He says that since its launch, IKTVA has achieved an average of 45 per cent localisation success rate.
Saudi Aramco reviewed the digital platform, SABB Arabia, for the registration of domestic and foreign companies, which is expanding its services to a number of major Saudi companies, such as Sabic, Marafiq, Sadara, and Satorp and Bahri.
Aramco officials says the platform will be expanded over the coming stages to include government institutions and, later, the Arabian Gulf region, in a move aimed at embracing new technologies and creating a unified platform for business development and sustainability.
The platform allows industrial companies or construction companies to offer their potential to enter the supply chain of various projects, with IKTVA alone providing investment opportunities estimated at $1.5 billion. Ahmed Al-Falih, of Aramco's Adaptation Program says that IKTVA, raised the level of the local product to about 45 per cent in 2017.
He points out that IKTVA increased local purchase to 50 per cent in 2017, the highest rate achieved in the history of Saudi Aramco. He adds that the programme has become a major requirement for business with Saudi Aramco and the company is keen to encourage its suppliers to invest in its future investment plans, which amount to about SR140 billion annually.
Meanwhile, IT and digital transformation officials at Aramco point out investment opportunities in the local market, stressing that the Middle East's e-security market would grow to reach $55 billion by 2022.
IKTVA is one of the leading models in Vision 2030. It aims to achieve 70 per cent of local content in industry and services in the energy sector by 2021. The programme reinforces Aramco's quest to develop an accessible global supply and supply system with a high degree of reliability and an advanced level of innovation to achieve its strategic goal of becoming the world's leading and integrated energy and chemical company.
Meanwhile, the architectural design for a world-class energy industry hub that will take shape in the Eastern Province of Saudi Arabia is now 20 per cent complete, with site preparation work having commenced last September.
The King Salman Energy Park (Spark) – as it is known – with Saudi Aramco as its main anchor tenant, aims to offer a platform for the development of a world-class energy industry hub for support industries directly related to the energy sector.
Spark is being developed on an area of more than 50 sq km located between the cities of Dammam and Al Hassa. It will be built in three phases and is expected to be completed by 2035.
Construction work for the infrastructure and other facilities will begin in the second quarter of this year. It is expected that land will be released to early tenants in Q3 2018 and the construction operations for the entire Phase One will end in 2021.
The mega-project with a globally designed model environment is meant to attract investors through common interest-oriented commercial arrangements, in line with the kingdom's Vision 2030 plan and the National Transformation Programme 2020, in addition to helping create jobs for local communities while serving as an economic catalyst.
Owing to its strategic location, big names synonymous with the energy sector, such as Schlumberger, Baker Hughes-GE, and Oilfields Supply Company Saudi, have signed memoranda of understanding with Saudi Aramco, signalling their intention to locate at the park.
According to Khalid Al Falih, Minister of Energy, Industry and Mineral Resources, chairman of Saudi Aramco board of directors, and chairman of Saudi Authority for Industrial Cities and Technology Zones, localisation of the energy industry is a top priority.