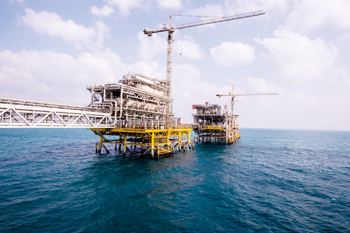 Aramco's Safaniya ... the world's biggest offshore field
Having an internationally recognised audit has become a key task for Aramco as it seeks to become the world's most valuable company

An audit of Saudi Aramco's oil reserves – an essential part of the preparatory work for its planned initial public offering – has found the state oil giant to have higher reserves than it previously reported, sources familiar with the matter told Reuters.
Saudi Arabia's reserves of easily recoverable oil have long been the world's largest.
Two sources, speaking on condition of anonymity, say the independent external audit has found the proven oil reserves to be at least 270 billion barrels, which is slightly higher than the 260.8 billion barrels the company reported in its 2016 annual review.
Having an internationally recognised reserves audit has become a key task for Aramco as it seeks to become the world's most valuable company when it lists a 5 per cent stake in an IPO later this year or early 2019.
Aramco's official reserves figures were "more than confirmed" says one source. "This is good for the company's valuation," another source says.
Aramco did not immediately respond to a request for comment. For nearly 30 years – despite rising production, large swings in oil prices and improved technology – Riyadh has annually reported the same number for reserves at around 261 billion barrels, according to BP's statistical review.
A reserves total significantly above or below the 261 billion figure would likely affect Aramco's potential market value in the listing and is being closely
watched by investors.
Dallas-based DeGolyer and MacNaughton, and Gaffney, Cline and Associates, part of Baker Hughes, are involved in the auditing, sources have says.
Baker Hughes and DeGolyer did not respond to a request for comment.
The sale of a stake in Aramco is a centerpiece of Vision 2030, an ambitious reform plan to diversify the Saudi economy beyond oil which is championed by Saudi Arabia's Crown Prince Mohammad bin Salman.
No decision about the location of the international share listing has been announced, fuelling market speculation the IPO could be delayed or shelved. But Prince Mohammad told Reuters in March the IPO could still take place at the end of 2018 or in early 2019, depending on financial market conditions.
The New York stock exchange is in the running for the IPO, alongside London and Hong Kong, but Saudi Energy Minister Khalid Al Falih has told Reuters that there was a risk of legal action if Aramco was listed in the United States.
The Aramco board meets next in early May in Houston where they will review the latest IPO developments, sources say.
Aramco says it has appointed new members to its board including a female executive, a milestone for Saudi Arabia and the oil industry where there are few women executives.