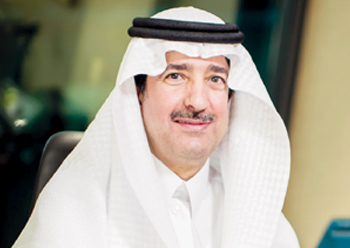 Abdulkarim ... focus on SMEs
Saudi Vision 2030 aspires to raise the contribution of local content in industry and to foster the economic role of SMEs as engines for innovation and sustainability

State oil giant Saudi Aramco has been spending $12 billion every year on more than 4,000 SMEs (small and medium enterprises) either directly or through its supply chain over the last few years, says a top official.
This is being mainly done by Aramco to highlight the importance of creating an ecosystem that enables SMEs to flourish and grow in order to achieve a sustainable economic development in the kingdom, stated Abdulaziz Al Abdulkarim, the vice president for Procurement & Supply Chain Management at Saudi Aramco.
He was speaking at the Armed Forces Exhibition for Diversity of Requirements and Capabilities (AFED), being held at Riyadh International Convention and Exhibition Centre.
"This exhibition is a great opportunity to explore avenues of partnership and collaboration to localise industries and increase the share of local content as outlined by the kingdom's ambitious roadmap Vision 2030," remarked Al Abdulkarim.
Saudi Aramco's In-Kingdom Total Value Add (IKTVA) programme, he stated, is a landmark initiative that catalyses localisation in the energy and energy-related industries, leveraging the economic role of SMEs and increasing their contribution to the GDP, and adds thousands of quality job opportunities.
According to him, the IKTVA programme aims at creating value from the opportunities offered by the Saudi energy sector.
"It is designed to increase the share of local content in energy-related products and services, increase exports, localise the energy value chain in the kingdom, create thousands of job opportunities for Saudis, and leverage the role of SMEs in economic development," he noted.
Through IKTVA, Saudi Aramco plans to deliver a world-class, locally-sourced supply chain in the kingdom, with an overarching objective of achieving 70 per cent of locally supplied content by 2021, he added.
Aramco says this is in line with the goals and objectives of Saudi Vision 2030 that aspires to raise the contribution of local content in industry and to foster the economic role of SMEs as engines for innovation and sustainability.
Currently, SMEs contribute around 20 per cent of the kingdom's GDP. Saudi Vision 2030 has set an initial target to increase that share to 35 per cent.
In addition to presenting Saudi Aramco's experience in localisation and local content, the company's pavilion at the exhibition presented King Salman Energy Park and Aramco Entrepreneurship Centre (Wa'ed).
Located between Abqaiq and Dammam, King Salman Energy Park offers a fully integrated industrial city with world class infrastructure and services developed to attract world leading manufacturing and service companies, supporting the energy sector.
The city will be developed, operated, and anchored by Saudi Aramco, and it is aligned with Saudi Vision 2030. Once operational, the Energy Park will contribute over $6 billion annually to the kingdom's GDP and create thousands of direct and indirect jobs.