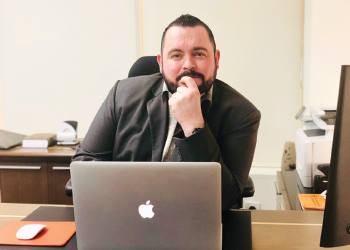 Hendry ... staying ahead of the game
Having made a reputable name for itself in the bunkering business, Saudi Shipping and Maritime Services Company will leverage its strengths to offer more services in the supply chain and become a single supplier service company
Saudi Shipping and Maritime Services Company (SSMSC) is expanding in a very orderly fashion with aims of becoming a single supplier service company providing bunker fuels, offshore transfer services, project and/or logistics support as well as vessel agency, marine surveys and husbandry services.
"Shortening the supply chain whilst offering a reliable product, delivered on time and on budget is a common goal for any operating company these days and we are well placed to provide just that," says Stewart Hendry, CEO, SSMSC.
As part of its growth and expansion, particularly into the Eastern Province, the company has already partnered with some of the larger oil and gas organisations to provide comprehensive logistics support, both within Saudi Arabia and, of late, internationally.
For 40 years, SSMSC was a physical bunker supplier, located in Jeddah. Today, it has new offices in Dammam, Yanbu and will in the near future have operational locations in Ras Tanura and Riyadh with consideration for further expansion thereafter.
The expansion was part of Hendry's plan from the beginning when he joined the company 18 months ago.
"Having a solid and reputable name in the bunkering side of our business was always going to be a great thing and the business continues to be a success as we lift cargoes from Saudi Aramco," he says
"The added value", he adds, "comes really from what else we can and will offer to our customers."
Hendry says they have chosen strategic locations to position themselves and in order to grow their business in these various service supply sectors. "Diversification is key!"
Currently, SSMSC operates two of its own tankers, which are based in Jeddah. But it has plans to increase its fleet size.
"Looking at our areas of growth and service implementation, naturally there has to be investment to support this. We will increase our vessel fleet capacity in the bunkering side of our business, as well as the purchase of new crew/vessel spares transfer vessels," says Hendry.
This will see offerings continue in the Red Sea (Jeddah and Yanbu) as well as in the Arabian Gulf (Dammam, Jubail and Ras Tanura).
Separately, SSMSC recently started offering a full portfolio of yacht management services in the French Riviera and is keen to establish itself as a provider of such services in Saudi Arabia to support new facilities and plans in place.
PAST AND FUTURE
For SSMSC, 2019 was both an interesting and exciting year.
Hendry says there was a touch of uncertainty in the local market, particularly in terms of the availability of low sulphur fuel oil (LSFO) to meet the legislative requirements of the International Maritime Organisation (IMO).
"And being a provider of a single service at that time, you could say that it supported our vision for expansion and service diversification throughout the kingdom sooner, rather than later!"
Last year also saw the company's staff headcount increasing 100 per cent to support the expansion and restructuring overall.
SSMSC recruited a new quality, health, safety, security and the environment (QHSSE) manager.
This move led the company successfully achieve ISO 9001:2015, ISO 14001:2015 and ISO 45001:2018, further demonstrating the plan to bring up the company to recognised international standards within four months.
Furthermore, by partnering with engineering, procurement and construction (EPC) and drilling companies, SSMSC secured some large contracts and were afforded opportunities to demonstrate its service capabilities.
"Since then, great working relationships have been established and have seen us secure long-term contracts," Hendry says.
For 2020, SSMSC, in line with the Kingdom's 2030 Vision, will continue to focus heavily on Saudisation, diversifying its service offerings, increasing existing fleet capacity and forming local partnerships and joint-venture opportunities with international companies that seek an opportunity to have their own footprint here locally.
Hendry notes that many companies have entered the market in the recent years and there is no sign of slowing down in the foreseeable future as productivity remains high.
He says Vision 2030 itself has many mega projects and such affords opportunity for these organisations to reposition themselves in support of such causes, as well as ourselves.
Regarding Saudisation, Hendry seems keen more than ever. He has over the years worked with some remarkable individuals in the Kingdom and is committed to providing as much work as possible for the generations to come.
"As an expat working in Saudi Arabia, it may perhaps sound strange, but this has my full attention. We are totally committed to Saudisation and always give preference to Saudi nationals for any vacancy which arises throughout our organisation," he says.
Hendry understands the changing market dynamics very well. For him the key is to keep on top of the market, communicate well and regularly, and understand why the changes come into effect and, of course, even try to stay a step ahead of the game.
Understandably, this is no easy task, he says. "We are however blessed to have a team of experts within each of our company operating sectors and who are highly experienced as well as being well connected with the market and the key drivers which surround us," he adds.
He further says: "Having taken the opportunity to demonstrate our capabilities to some substantial projects of late and with request for quotations (RFQ) under review, we have to maintain our vision, work hard and deliver nothing short of complete quality and satisfaction to our customers.
"Doing so, I am confident that our reputation will continue to grow, and we can look forward to many successful years ahead."
In conclusion, Hendry says his vision for the company is "to provide leadership and innovation in our business sectors throughout Saudi Arabia by increasing our existing portfolio of services, all of which are built on quality, honesty safety and with our continued commitment to long-term business relationships".