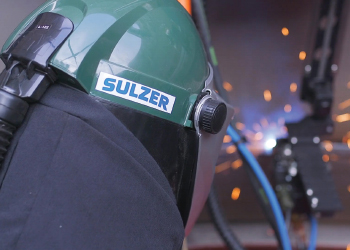 CladFuse advanced automated welding technology protects towers and vessels
Sulzer's expertise in mass transfer technology and field services have proved fundamental in supporting maintenance operations at a large refinery and petrochemical complex in India.
The automated weld overlay (AWO) CladFuse technology offered an ideal solution to reinstate and extend the service life of the refinery's delayed coker unit.
The leading Indian business, specialised in oil refining and manufacturing of refined petroleum products, was able to restart its delayed coker unit, which processes 3.3 million tonnes of feed per year.
This was made possible by the comprehensive maintenance and repair service offered by Sulzer, a leading provider of specialised field services for mass transfer technologies.
The performance of the unit was compromised, due to the presence of radial bulges and cracks on its coke drums, caused by cyclic thermal stresses.
To address these issues and restore the initial capabilities of the unit, extensive investigations, testing, repairs and associated treatments were necessary.
Sulzer, a leader in separation and mixing technology, was able to offer the refinery a one-stop-shop for all these activities.
More precisely, Sulzer was able to conduct non-destructive testing, finite element analysis, cutting-edge repairs, modular scaffolding, heat treatments and grit blasting.
Sulzer's CladFuse AWO technology was used to restore the thickness of the vessel shell quickly and accurately.
In addition, by modifying the surface structures, the overlay has reduced the potential impact of future thermal-mechanical loads. The delayed coker unit is now more robust and can run at peak performance again.
According to Andrew Petticrew, Head of Global Sales for Automated Weld Overlay at Sulzer: 'Coke drums are particularly susceptible to damage, due to the harsh cyclic thermal and mechanical loads they need to withstand.
'Being able to offer our customers a solution that can extend the service life and performance of this key piece of equipment in a cost-effective way is essential.
'Thanks to our automated weld overlay technology, combined with the extensive expertise of Sulzer's engineers, we can provide just this.'