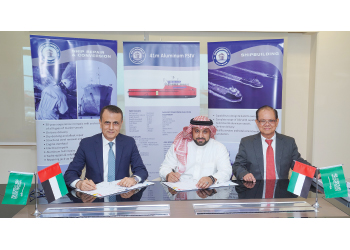 Grandweld and HSM officials during the signing
Grandweld Shipyards has secured a contract to build four 41-m Fast Support Intervention Vessels (FSIV) for Saudi-based offshore oil and gas service provider, High Seas Marine Industrial Services Company (HSM).
The first of its kind design will be built as per Saudi Aramco standards and will meet all necessary offshore oil field regulations. All four FSIVs are expected to be completed in 14 months, with deliveries made in two week intervals.
The official signing ceremony of the contract took place at Grandweld's headquarters in Dubai Maritime City (DMC). The contract was signed by Jamal Abki, General Manager of Grandweld Shipyards, and Fawaz Talal Ali Al Tamimi, Vice-President of Tamimi Group, in the presence of Ibrahem Al Saeed, Managing Director, HSM.
According to Abki: "We are pleased to collaborate with HSM. Throughout Grandweld's history, we have prided ourselves in adequate representation of the UAE, as well as going above and beyond our customers' expectations. This has been essential in driving both operational growth, and maintaining strong business partnerships.
"That said, we are confident that this new affiliation will follow the same blueprint. Moreover, in the same manner that the UAE and Saudi have historical ties, we are optimistic that our alliance with HSM, and ultimately Tamimi Group, will evolve to be similar in nature."
On his part, Al Saeed, Managing Director of HSM says: "Recovering prices and strong demand from the transportation industry are becoming increasingly prevalent within Saudi Arabia. Furthermore, modern developments of oil and gas exploration and production activities is another key factor that seems poised to drive Saudi Arabia's oil and gas market growth."
He says HSM has built and developed a specific reputation, and is ensuring the market remains satisfied with the services delivered to them is of the utmost importance.
"Grandweld's provision of four new top-of-the-line FSIVs will assist in maintaining the company's operational efficiency, as well as this distinctive recognition," he says.
In January 2019, the UAE and Saudi Arabia unveiled a seven-point co-operation plan to reinforce the countries' collaborative efforts for a brighter future. Among the various laid out objectives, procurement opportunities for small and medium-sized enterprises (SMEs) was a key area of focus. The initiative is seen as a key way to stimulate the post-oil economy.
Al Saeed elaborates: "Despite the UAE and Saudi being among the world's oil leaders, both countries have demonstrated admirable foresight by seeing beyond current success to begin steering their economies into the next sustainable phase of existence."
He says the agreement with Grandweld will contribute in realising HSM's current potential, while also understanding that diversification is vital for future growth.
"As we develop our capabilities and witness the example both our countries are setting in regards to diversifying and partnership, we are hopeful that this one-time union may lead to a strategic business relationship that benefits both Grandweld and HSM for many years to come," says Al Saeed.
Grandweld is a fully integrated shipyard providing shipbuilding, ship repair, and engineering solutions to serve the offshore and marine industry around the world. Established in 1984, the company has developed into one of the region's most established and versatile shipyards, providing both quality and value. Grandweld Shipyards is established to handle repair, refit and conversion for all types of marine vessels.
HSM is wholly owned by Ali A Tamimi Group, located at Ras Tanura, Saudi Arabia. It specialises in vessel chartering, shipping agency, ship chandlery, crew change and taxi boat services with a specific focus on the needs of the offshore oil and gas sector.