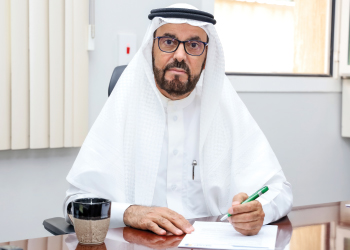 Al Shahrani ... 'nothing but the best'
In its revisited vision of becoming a 'globally best-in-class institute', Saudi Petroleum Services Polytechnic is focussing on developing the Saudi professionals of tomorrow
Saudi Petroleum Services Polytechnic (SPSP) has its sight set firmly on training future professionals for Saudi Arabia by aiming to create a world-class training institute, in line with the kingdom's Vision 2030.
The institute has undergone transformation, showing it is in tune with changing market dynamics.
'SPSP's transformation is part of the Vision 2030 wave of transformation in the kingdom through the National Transformation Program,' Saad Al Shahrani, Director of Maintenance and Operations Training Center, SPSP, tells Abdulaziz Khattak of OGN.
He says SPSP's seven corporate values—Integrity, Development, Accountability, Teamwork, Citizenship, Excellence, and Safety—are aimed at reinforcing governance and expanding strategic partnerships with all major stakeholders in the field of oil, gas and energy.
In its pursuit of excellence and the commitment to satisfy the needs of its customers and sponsoring companies, SPSP has revisited its vision statement to be a 'Globally Best-in-Class Institute'.
To achieve this vision, SPSP has taken on the following aims:
• To establish an international certification hub in Saudi Arabia.
• To become a benchmark institute in vocational training.
• To develop into a premiere global institute for global leaders.
• To develop today and tomorrow's critical thinking skills.
• To evolve into an economically sustainable organisation.
• To become an employer of choice and a customer-preferred partner.
• To establish capital venture to manage knowledge and operational excellence.
'The above aims are fully in line with the Kingdom's Vision 2030, wherein the first aim is to make the kingdom a pioneering and successful global model of excellence,' says Al Shahrani.
Keen on raising the quality of the Saudi workforce, SPSP employs various methods to reach that objective. It does so by:
• Enhancing their general and technical English language and technical mathematics proficiency.
• Exposing them to the latest trends in the industry.
• Use of latest instructional technologies (iPads, LMS, various apps, etc).
• Raising safety awareness at all times, both theoretically and practically.
• Reinforcing discipline, punctuality and the meeting of deadlines.
One of the most important programmes introduced at SPSP is 'Employability'. Al Shahrani says the programme was developed based on feedback from major SPSP sponsoring companies expressing their need to have employability and soft skills as part of the training programme.
'Four employability courses have been developed and are being delivered in iBook format. These courses prepare SPSP trainees for their future work environment by introducing them to concepts like punctuality and time management, teamwork, hardships at work, work expectations and citizenship.
'They also cover soft skills such as communication, stress management, creative thinking and problem solving,' he adds.
Al Shahrani says this programme is always open to development to be constantly up to date with the latest work trends and concepts.
SPSP'S CONCEPT
SPSP emphasises on rigorous practical training imparted at the workshops
up until graduation
The idea of SPSP came about when former Minister of Petroleum and Mineral Resources Eng Ali Al Naimi conceived the idea of an institute to serve the oil and gas services sector.
The result was SPSP, established as part of a strategic partnership between the then Ministry of Petroleum and Mineral Resources, The Technical and Vocational Training Corporation (TVTC), Saudi Arabian Chevron, Saudi Aramco and Aramco Gulf Operations.
Ever since its inception, SPSP has expanded from one training centre in Dammam to three centres in Dammam and Al Khafji.
SPSP has also developed its satellite training capabilities to be able to serve its partners in their own environments. Satellite training courses are tailored based on the needs and requirements of the client. SPSP delivers all aspects of the training, starting from needs analysis and course design and ending with course delivery, evaluation and feedback.
SPSP had an outstanding satellite training partnership with Petro Rabigh that lasted for four years. Currently, SPSP is delivering satellite assessment and training programmes to the Saudi Aerospace Engineering Industries (SAEI) in Jeddah.
'SPSP plans to expand its satellite training services as we are confident that this will be the trend of training services moving forward,' says Al Shahrani.

TRAINING PROGRAMMES
SPSP currently offers programmes in maintenance, operations, construction and drilling specialisations, in addition to a range of technical and safety short courses.
Some new training courses at SPSP include the Contractor Workforce Qualification Assurance Program (CWQAP); and Accelerated Competency Transformation Program for Engineers (ACT)
For female students, an ambitious technical training programme is planned to start this year.
The programmes (academic or technical) are designs based on certain criteria, which inlcude:
• Labour market and business line needs.
• Industry trends and updates.
• Feedback from stakeholders and sponsoring companies.
• SME feedback.
• Statistical analysis of performance and result data.
• Washback from practitioners through classroom experience and feedback from trainees.
'After the general aims and specific goals and objectives of the programmes are set, materials are chosen/developed, commercial or in-house. Pacing schedules, teaching schedules and test materials are created accordingly,' says Al Shahrani.
In addition to rigorous practical training imparted at the workshops up until graduation, SPSP also employs strategies to promote practical training. These include using a variety of learning media, ranging from textbooks, audios, animated videos to hands-on training, and simulation. iPads are now being used for training delivery in the workshops
All the technical trainers at SPSP industry experience and come from the relevant fields.

ENROLLMENT & PROGRAMMES
Enrollment at SPSP happens through a transparent, fair, effective and timely admission process wherein it accepts applications on a countrywide, with admission open to all eligible candidates.
For the two-year diploma programme, an applicant must be a Saudi National under 26 years of age and a high school graduate (science stream) with a minimum high school cumulative average score of 70 per cent and minimum Qiyas score of 60 per cent. He must not have previously received any Human Resources Development Fund (HRDF) support, must not be currently employed, and must be physically fit.
The selection criteria for other programmes and short courses vary according to the nature of the programme/course.
CAREER DEVELOPMENT
SPSP established the career development programme mainly to develop new Saudi diploma graduates in the technical training department. There are both in-house and foreign development programmes.
After graduation, these candidates start as technical trainer I and go through a fast-track development programme to become senior Instructors. In the case of high-potential candidates, they are promoted as technical training managers.
The new young, motivated, proactive, knowledgeable and skilled Saudis serve as an excellent example for all our students showing them that success has no limits. This is in addition to applying new methods of working and knowledge of new technologies gained abroad.
Since 2011, SPSP has managed to develop 3 batches of Saudi trainees (a total of 28 participants), who were selected against strict criteria, including GPA, attendance, commitment, attitude and proactivity, to go through a two-year in-house extensive training programme to become a technical trainer II.
In 2015, SPSP awarded scholarships to the top three performers of the first batch for BSc studies in the UK. In 2016, SPSP increased the number of grants to four. Most of these awardees have returned and are now working at SPSP in various capacities.
A large number of SPSP trainees have climbed to higher positions in both SPSP and the sponsoring companies, some having progressed to supervisory/managerial levels.
'After over a decade of serving the oil, gas and energy sectors, and after graduating over 8,000 trainees, the examples are too many to count,' concludes Al Shahrani.