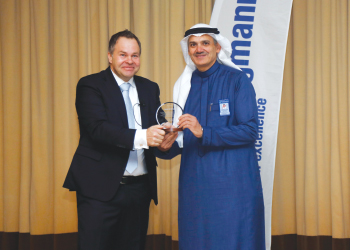 Raps presents a memento to Al Dabal
EagleBurgmann's new dynamic test and repairing facility for its dry gas seals not only brings valuable manufacturing know-how to Saudi Arabia, but it will be instrumental in enhancing local technical skills, says Andreas Raps, CEO, EagleBurgmann
It is good news for Saudi Arabia's manufacturing sector and especially for oil and gas after EagleBurgmann inaugurated a new dynamic test and repairing facility in the kingdom for its renowned dry gas seals (DGS) technology.
Gone are the days when DGS were sent to Germany for repairs, costing facilities time and money due to downtime.
With the recently inaugurated new facility in Khobar, Saudi Arabia, EagleBurgmann and its local partner for 17 years, Gas Arabian Services (GAS), have brought valuable knowhow locally, thus marking a strategic milestone for both companies.
In addition to a manufacturing facility, EagleBurgmann has also installed a test rig, allowing it to enhance local technical skills so that customers can be served rapidly, lead times be reduced drastically, and be more flexible and efficient for its customers, Dr Andreas Raps, CEO, EagleBurgmann, Germany, tells Abdulaziz Khattak for OGN.
Aref Al Dabal, Senior Vice President, GAS, Saudi Arabia, thanked EagleBurgmann for its commitment to Saudi Arabia. He says: "More important than financial investment was the transfer of valuable know-how, which many were not willing to share."
He adds: "More than 170 years of knowhow of expertise (of the Freudenberg group) is now coming locally, and that's something you can achieve only with a partner like EagleBurgmann."
According to Al Dabal, DGS technology has undergone tremendous transformation since the 1980s. "Now you have more safety features, considering that these seals are used in highly critical oil and gas installations especially in terms of pressure and leakage," he says.
Al Dabal says the new seals are also state-of-the-art when it comes to emission control.
About the test rig, he says the dynamic facility serves a dual purpose—servicing the existing population through local repairs, but also manufacturing new DGS and supplying locally.
Al Dabal continues: "We could have manufactured earlier as well, but for the customer, testing is a requirement since you are dealing with high speed, critical machines, and especially for gas, which is more critical than oil due to its high pressure and flammability.
"So from the point of safety, of people, equipment and the plant as well, the product has to be top of the class technology."
Al Dabal says EagleBurgmann has been in the industry for over 130 years, and it undertakes a lot of research and development into the manufacturing of the DGS, considering not only its functionality, but also in the material used to make them.
"EagleBurgmann has always maintained a leading edge in this area, using innovative high technology designs and material, which enables the seal to work in harsh environments and have a long life," he says,

FUTURE VISION
EagleBurgmann's commitment to Saudi Arabia in the long-term is evident from its willingness to transfer premium knowledge, says Raps.
This is also in line with Saudi Vision 2030 and the in-Kingdom Total Value Add Program (IKTVA), which the company takes very seriously, he adds.
Commenting on the company's IKTVA efforts, Raps says they are helping customers through localisation (of manufacturing and services).
"We are also helping other local OEMs, such as the compressor manufactures because for them the seal is a pivotal part of their products. So in addition to helping ourselves, we are benefitting the industry as a whole."
Raps sees the Middle East of strategic importance and especially Saudi Arabia. In the last 20 years, EagleBurgmann has created a remarkable track record in the region as it has grown year on year.
About the future plan of EagleBurgmann in Saudi Arabia, Raps gives one simple answer—growth.
"We want to grow our business and reach the next level of business relationships with our customers and become their preferred partners."
Raps sees an outstanding cultural match between EagleBurgmann's German-based values and the culture here in Saudi Arabia.
"When we look at our long-term relationship in the JV, we see at how remarkably the engineers communicate with each other, and we see diversity in the workplace. And we are very confident that we will have a prosperous business in Saudi Arabia in future."
He says the company had received a lot of positive customer feedback from customers.
When asked about Saudi Arabia's foraying into fracking, Dr Raps says EagleBurgmann is very well prepared for it.
"Fracking for us is nothing new. It started many years ago in the US and in Canada and we have a proven track record, and so we can refer to our existing solutions and modify them for the local needs and requirements. So we are very happy if this is kicking off and we are ready to contribute."
About the business environment in Saudi Arabia, Al Dabal says the Saudi economy depends a great deal on oil and gas. So if there is a fall in international oil prices, you see reduction in capital investment and spending.
He notes here that a decrease in CapEx (capital expenditure) actually leads to an increase in OpEx (operational expenditure).

SUSTAINABILITY
Environmental concerns is heavily focused on in EagleBurgmann's business, which is everything about leakage and reducing leakage.
Raps says they actively support customers in meeting their sustainability targets. "We take the CO2 topic very seriously and help our customers reduce their carbon footprint by using cutting edge innovation developed with our technical capabilities and strong R&D activities."
He says the company recently announced a new innovative DGS seal called the DGS Coba. "We call this the zero emission seal because it reduces methane emissions to almost zero."
Furthermore, Raps says they at EagleBurgmann have divided environmental concern into 'handprint' and 'footprint'.
"Footprint is whatever we do in our facilities, where we work with renewables and employ many initiatives to bring down energy consumption, reduce waste, and have sustainable cycles in place," he says.
"But of even more importance is the handprint, which include the products sold to the customers. And this is fully in line with the mindset to drive sustainability and to have an impact on carbon intensity."
The globally-operating EagleBurgmann Group employs about 6,000 people. A German-Japanese JV company, the organisational headquarters are in both Germany and Japan. Its parent company is the 170-year-old Fruedenberg Group based in Germany.
EagleBurgmann's annual sales are to the tune of $900 million.
In Saudi Arabia, the main headquarters is in Khobar, with service centres in Jubail and Yanbu, a sales office in Jeddah and a new sales office opened in Jizan.
EagleBurgmann is strongly committed to employing Saudis into its workforce. The number of local workers now make over 30 per cent of its employees, with a commitment to bring that up to 50 per cent, says Raps.