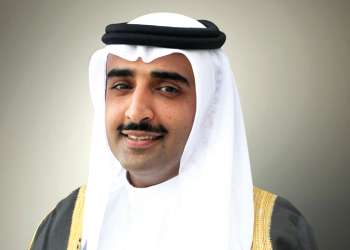 Shaikh Mohammed ... Noga leads in decarbonisation
Oil companies under Bahrain's National Oil and Gas Authority (Noga) have implemented several initiatives to rationalise and promote energy improvement, reports our sister publication Gulf Daily News.
This has contributed to reducing carbon dioxide emissions of at least 0.25 million tonnes per year, Bahrain's Oil Minister Shaikh Mohammed bin Khalifa Al Khalifa has said.
Speaking during the first edition of the International Carbon Capture Utilisation and Storage Conference (ICCUS 2020) in Riyadh, Shaikh Mohammed also spoke about the rationalisation of energy consumption and the utilisation of more than 3,500 billion cu ft of natural gas, which contributed to avoiding the release of more than 0.2 gigatons of carbon dioxide.
Noga was the first national oil authority in the region to join the World Bank's initiative to reduce the burning of gas (flaring) in 2016. Arab Shipbuilding and Repair Yard Bahrain (Asry) of Bahrain has also committed to maintaining the maximum sulphur gas produced by marine fuels at 0.5 per cent by installing a gas washing machine for sulphur oxide, becoming the first regional company to install such a device.
Referring to the Bapco Modernisation Project, the minister said one of the aims of the project is to improve the standard of energy efficiency by about 28 per cent and the reduction of emissions of sulphur dioxide by 50 per cent and nitrogen oxides by 5 per cent.
The oil sector has also implemented a number of mitigation initiatives, such as the construction of a model mangrove plant nursery, as well as the Hunainiya project and the wetland project, which will help reduce the release of 100,000 tonnes of carbon dioxide per year, said Shaikh Mohammed.
The minister took part in a ministerial discussion session in which he referred to the strategy of switching from linear model of production to the circular economy model through material recycling, which is based on six key components of the carbon economy, namely: energy conservation, clean energy at affordable prices, capture the remaining carbon, safely store it, use carbon in products, and finally process carbon with solutions derived from nature. The event was organised by the Saudi Energy Ministry with support from Noga, Saudi Aramco, Bahraini oil companies and a number of international companies.