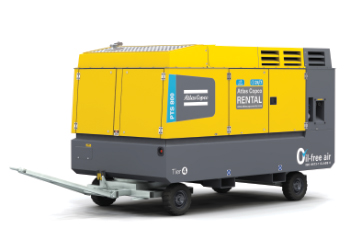 PTS 800 and PTS 1600 (right) ... 100 per cent oil-free air compressors
Atlas Copco Rental Middle East offers some of the most cost- and energy-effective solutions, for both short- and long-term demands, for planned contingencies or unexpected emergencies in the energy sector.
Running a large fleet, the company offers complete industrial rental solutions for every application in the oil and gas industry (upstream, midstream or downstream), petrochemicals, manufacturing and power plants.
'In addition to a wide range of industrial machinery, we carry all the required accessories such as hoses, pipes and manifolds,' says Akram Tamari, Regional General Manager, Middle East, North Africa and India.
Atlas Copco possesses state-of-the-art methods to design tailor-made solution to meet customer needs. Its wide range of specialised solutions include class zero compressed oil-free air, high-pressure compressed air, offshore equipment, compressed air treatment solutions and on-site nitrogen and power generation.
Tamari ... offering a total solution
The company also offers flow pressure range, including 1600 cfm, 10 Bar Atlas Copco 100 percent oil-free PTS 1600, its unique 25 Bar PNS 1250 cfm and the complete range of electrical-driven 100 per cent oil-free air compressors.
Worth mention is the unique portable diesel-driven 100 per cent oil-free air compressor, the PTS 800, which completes the range of the Atlas Copco oil-free electrical and diesel-driven air compressors.
'Our innovative approach sets new standards in energy-efficiency and autonomy for a steady onsite nitrogen supply of industrial quality, suitable for a wide variety of applications. The supply comes in different shapes, sizes, purities, pressures and flow rates for both onshore and offshore,' says Tamari.
Atlas Copco's equipment is designed, manufactured and tested to comply with ISO-1217 regulations, and built with API specifications in mind.
'We offer DNV crash frames for offshore deployment, corrosion-proof products for marine environments as well as Atex-certified compressors operating in offshore areas,' Tamari says.
The company's sales engineers, located all over the region, work closely with customers to find the most efficient and cost effective solution to match the requirements of their application. They are backed by a team of dedicated service engineers, available 24/7, to ensure full support for the project from installation and maintenance to decommissioning and transport.
Atlast Copco is setting new standards in on-site nitrogen and power generation
Furthermore, Atlas Copco Rental Middle East has been proudly operating with zero downtime (related to work accidents) for more than 10 years. Safety is key in everything the company does and the way it does it, Tamari maintains.
In order to maintain its target of zero accidents, training and certification programmes are held on a regular basis for team members.
In addition, Atlas Copco Rental Middle East's near miss reporting initiative ensures the best safety practices are followed by all team members during daily duties and in a proactive approach.
'We understand our customers' needs and can provide a total solution for any industry, no matter if it is for emergencies or planned projects. Our passionate experts have extended application as well as equipment knowledge,' says Tamari.
Atlas Copco Rental Middle East has operations throughout the region—from North Africa to India—and is well represented in all regional countries, either through customer centres or through distributors. Meanwhile, the head office is located in Abu Dhabi, United Arab Emirates.

SPECIALITY RENTAL
Great ideas reinforce sustainable development. 'At Atlas Copco Specialty Rental, we team up with our customers to set up state-of-the-art temporary air, power, flow, steam and nitrogen solutions. Our passionate experts have extended application as well as equipment knowledge. We understand our customers' needs and can provide a total solution for any industry, no matter if it is for emergencies or planned projects. We are a division of the Power Technique business area, headquartered in Boom, Belgium and offer specialty rental solutions under several brands around the globe.'