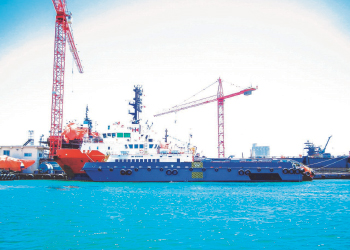 Through modernisation, Basrec has boosted dry docking capacity
Considerable expansion has taken place at Bahrain Ship Repairing and Engineering Company in the last 10 to 15 years. The company has through the decades continued to add value to the GCC's shipping sector, offering a plethora of services
Bahrain Ship Repairing and Engineering Company (Basrec) has strived to maintain its pioneering position in the region's ship repair and engineering industry.
The company has in recent years spent more than $16 million on improving its facilities, as well as modernising its equipment and boosting dry docking capacity to further support ship owners' requirements. A fully-equipped, specialised independent workshop has also been built for the repair and overhaul of all types of marine diesel engines.
Founded in 1962 at Mina Salman Port, the shipyard—built on an artificial island—takes advantage of the depth of water in a natural deep water pool.
It was initially designed to cater for Gulf based tugs, which previously had to voyage to Bombay or Karachi for routine dry-docking – a voyage time of 14 days. In the years that followed, Basrec's activities increased and diversified, according to a company spokesman.
'Considerable expansion has taken place in the last 10 to 15 years. Though the core business has been and remains ship repairing and allied engineering services for commercial and naval ships, Basrec is also engaged in the repair of small boats, inspection and repair of containers as well as service and repair of marine and industrial pumps through its subsidiary,' he says.
Basrec has been recognised for its excellence
Basrec has through the decades continued to add value to the GCC's shipping sector, offering a plethora of services including ship repairs, metalock cold stitching, welding, bollard pull test, small boat repairs, electrical and electromechanical works, steel and aluminium repairs, pipework, fitting, laser and optical alignment, fibreglass works and repair, machine shop, propeller repairs, helifusion welding/cladding, painting/ coating, machining works, hydraulic repairs, pump repairs, container repairs, hull thickness gauging, service agency appointments and the provisions of a mobile repair team.
As the region's most established and well respected repair yard, Basrec has been recognised for its excellence through a host of awards bestowed by prestigious bodies and industry groups from across the Arabian Gulf.
The company complies with ISO 9001:2015 (Quality Management), ISO 14001:2015 (Environmental Management), OSHAS 18001:2007 (Safety Management), and the ISPS (International Code for Security of Ships and Port Facilities).
'Going forward, Basrec will continue to provide high-quality and customer-focused services, with an enduring emphasis on safe operations and environmental protection,' the spokesman says.
Additionally, he adds, the board of directors and management have set goals to diversify the business within the engineering industry and expand across the region.

TEAMS-BAHRAIN
A key division of Basrec, Technical Engineering and Marketing Services (TEAMS-Bahrain) has successfully executed the largest number of pumping stations in Bahrain in partnership with ABS pumps.
The company specialises in the engineering, assembly, testing and commissioning of the control panels for pumping stations.
According to a company spokesman, the modular motor control centres from Hensel of Germany (polycarbonate enclosures) was the first of its kind adopted by Teams-Bahrain.
Established in 1975 as a division of Bahrain Ship repairing Company (Basrec), Teams-Bahrain is a specialised electrical engineering company that offers technical engineering and marketing services.
The company is associated with many leading electrical and mechanical engineering product brand names, serving the needs of its clients.
'Our choice of partners has always been based on the basic parameters of reliability, durability, continuity and safety,' the spokesman says.
Basrec has set goals to diversify business
Among the mechanical products it offers include sectional GRP Water Tanks (assemble type) from Hayoung Corporation of South Korea, and Ministry of Worksapproved; industrial, commercial and domestic sewerage pumps from Ebara Pumps of Japan; U/L FM listed fire water pumps; pumps (Aqua Flow); mechanical pipe fittings and accessories; door closers (doorking); welding electrodes (Taishan brand); and oil filtering, recycling and maintenance (Europafilter)
It offers a diverse range of electrical products that include plugs, connectors, sockets and combination units from Mennekes, Germany; motor control centres, sub main distribution boards, and distribution boards (local assembled and customised); electrical switchgear and controls from Schneider Electric; low voltage electrical equipment from Sassin International Electric Shanghai Co,pany; SE universal enclosures from Schneider Electric; metal enclosures (TIBOX); electric water heaters (Fresh - Egypt); cables (MESC); cables from Nuhas Oman); various electrical range of products from Rexton, UAE; Multiplast Dubai (PVC conduits and accessories); GI conduits, conduit fittings & strut systems (SMARTr); LED Lighting from Luker, US; solar system from Jinuha Sunmaster Solar Lighting Company; energy and automation from Lovato; bus duct from Wilmar; ceiling fans from Marc Enterprises; and exhaust fans and industrial stand fans from Mistral.
Teams-Bahrain also offers services for solar power electricity equipment; water supply Solutions; 11-kV switchboards; capacitor banks; main distribution LV switchboards; aircraft warning lights panels; and motor control centres.
The company has got a facility for assembly of all kinds of customised LV products.