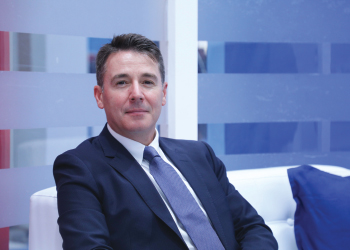 Gourlay ... dynamic vision
Experience has taught me that you need to be always reviewing your core competencies, so as not to fall into the trap of becoming complacent, George Gourlay, the new CEO of AYTB, tells Abdulaziz Khattak of OGN
George Gourlay, the new CEO of Al Yusr Industrial Contracting (AYTB), has an ambitious vision for the company: He wants to see AYTB equipped with the state-of-the-art technology; raise competition in the maintenance sector, ensure Saudi Arabia's Vision 2030 is meticulously followed through; and employ, train and develop its Saudi workforce to be the future leaders.
Barely a few weeks into his new role, Gourlay has already set out clear strategies to take AYTB to the next level.
He states: "Businesses cannot rest on their laurels, not even a company like AYTB with a 40-year history. Experience has taught me that you need to be always reviewing your core competencies, so as not to fall into the trap of becoming complacent that you will always get business on the strength of your good reputation."
This is where Gourlay's international experience will come in handy.
During his time in the oil and gas industry, Gourlay has travelled the world. His experience includes 10 years in Singapore, 7 in Dubai, 3 in South America, and 3 in Saudi Arabia.
"My efforts will be to capitalise on my international experience and core competencies and try and implement them here," he says.
According to Gourlay, AYTB has five different businesses that are all run in five different ways and while they are doing good business, all apart from its Housing & Catering division pretty much offer similar industrial services.
Gourlay visiting his team at the AYTB booth in Sabic Conference 2020
"What we need to look at is diversification. But not diversification that will take us to different markets. I am talking about concentric diversification, which means utilising the strengths we have in these different businesses and pulling them together, and then putting a tier above that which complements them," Gourlay remarks. "My strategy is to implement centralisation and shared services, so that internally things are more efficient. These efficiencies will inevitably save the company money," he reveals.
As part of his internal strategy, which focuses on structural change, he believes there is a need to improve the company's systems and processes; these will naturally enhance the service offered to clients and move the company to the next tier, he says.
The external strategy includes how clients are served.
He continues: "As plants in the region start to become older, they need more maintenance. But before maintenance comes integrity management.
"So as a natural bolt-on for us, we need to look at how we do work with our clients to help them plan and maintain their plants: through inspection and engineering, look at the lifecycle and life expectancy of the equipment and then help them plan their maintenance."
So, Gourlay says, AYTB is changing from offering singular services to clients to providing turnkey services.
AYTB has been known to be primarily a maintenance company and it's this core strength that he aims to build on rather than undertaking business that entails high risk.
"We will benchmark AYTB against some of the best asset management & maintenance companies in the world, so that we are ahead of the next level of competitors. This is a long-term strategy," he adds.
A key focus of Gourlay for 2020 is to modernise the company's fabrication plant through automation, a move, he says, is the way forward to remain competitive.
"Currently, our fabrication workshop is highly manual, however, we've decided to heavily invest in automated fabrication.
"By being fully automated, you improve efficiency and output and you reduce the risk of errors. Additionally, and more importantly it keeps you competitive," he adds.
This will be done both externally - to serve clients - and internally by investing in a new ERP system.
Gourlay says his sector is facing competition from companies that have traditionally done large construction projects but have entered the maintenance market and are offering lower prices but where standards of work maybe not at par.
"That's one reason why we need to step up to the next tier of the supply chain. So when the clients look at us, they don't look at us as competing with these new market entrants, but rather as companies that offer an additional service and more value."

PROJECTS
AYTB is already bidding on large work scopes. A recent success was at the Saudi Aramco Total Refining and Petrochemical (Satorp) refinery in Jubail, Gourlay's first major turnaround project at AYTB, which was a major challenge.
"Satorp was a little nervous about our ability to execute such a fast-paced, high-impact project. So I pledged with the team that we would deliver our best performance, giving high priority to safety and delivery."
And that hard work paid off in February, when AYTB was awarded the safety award from Satorp.
"We finished with zero incidents and ahead of schedule. And now Satorp are utilising our project teams to work on other sectors within the refinery," Gourlay says proudly.
Now, Satorp is the model on which AYTB is moving forward. "Everything that we have done to get it right has been a huge lesson for us and this is how we will take on every major shutdown from here on," he adds.
Referring to the Satorp project, Gourlay cites the cohesiveness between the AYTB and Satorp teams.
"It wasn't like a traditional client-contractor relationship; it was more of a partnership, all the way through. So they were as committed to seeing us succeed as we were, and that partnership is what made that such a success for us both."

VISION 2030
This is one key area, Gourlay says, AYTB is strongly committed to. He says Saudi Arabia's Vision 2030 has been key to offsetting the fluctuating oil and gas prices, which have had an effect on the supply chain.
He explains: "Vision 2030 presents an opportunity for companies to grow within the kingdom. Due to the fall in oil and gas prices, Saudi Arabia can't keep spending money to bring all the expertise from outside. The expertise and the spend needs to remain in the kingdom.
"Growth in the kingdom is essential for the growth of AYTB. And as a Saudi company, we are committed to the vision because it is how we will actually continue to make business and grow."
Another focus for AYTB is the petrochemicals business. Gourlay says while the thirst for oil will dwindle, the need for petrochemicals will continue, and a thriving petrochemicals sector is essential for companies like AYTB and the kingdom as a whole.
Saudi Arabia is smart as it is growing its petrochemical business, he remarks.
AYTB recently participated along with its partners on a large scale at the Sabic Conference 2020, which was held from February 17-20 at the King Abdullah Cultural Center in Jubail, Saudi Arabia. It used the event to increase engagement with its clients and ensure its alignment with the kingdom's vision and strategy.

SAUDISATION
Gourlay's strategy for Saudisation is focused and different from other CEOs; he wants to do more than just follow a directive.
He wants Saudis to be hired, trained and developed at all levels and believes the future senior management of AYTB will be Saudis.
"Saudis, from the workshop to the engineering and management, is how you need to look at it to build the line of succession at AYTB; because in 10 years' time, most senior executives will be Saudi, not expats. It has to be this way in order to meet the vision and to keep Saudi Arabia competitive," he emphasises.
Gourlay says this is part of AYTB's human resource development and goes back to the shared services strategy, where there will be a focused training and development department within.
AYTB, he says, has a very aggressive training development plan wherein it is going out to colleges and universities, and hiring apprentices, and engineering and business management graduates.
"Contrary to many companies that are only focusing on the lower level, AYTB is focusing on the next line of leaders who need to come from here as well. So if you don't train them, they will never meet the vision, which can only be achieved by engaging Saudis," he remarks.

CONCLUSION
"During my 30 years in this industry, from being a contractor and then into senior management, this is the first company where I have found everyone committed to the company," says Gourlay.
"It's incredible. Yes, there are improvements that have to be made in the company's systems and the processes but not with the people."
Gourlay is also planning to outline the company's official core values.
"Everyone loves AYTB, but what is AYTB about?" he asks.
"We're about to organise a town hall, where everyone in the company will get an opportunity to put forward what they think the core values of the company should be. We will then narrow them down to the four or five core values and everyone will embrace them," he concludes.