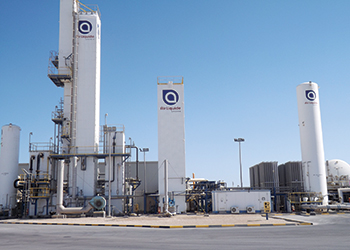 ALAR hydrogen production site in Yanbu
Air Liquide Arabia (ALAR) had recognised Saudi Arabia's potential as a catalyst for hydrogen production early on and began discussions with the Jubail-Yanbu Royal Commission and the Ministry of Energy back in 2008.
The company's vision for both industrial cities was underpinned by a need to increase the Kingdom's competitiveness and drive efficiencies, while developing a class-leading network of infrastructure that would appeal to future investors.
'Jubail and Yanbu industrial cities are amongst the largest refining and petrochemical sites in the world. We chose to set up operations as we, along with the Jubail-Yanbu Royal Commission, saw an opportunity to further develop the existing infrastructure to facilitate better integration between industries in both sites. The underlying goal was and still is to ensure efficient use of natural hydrocarbon resources while reducing CO2 emissions,' Olivier Randet, Vice President of Middle East and India at Air Liquide, tells Abdulaziz Khattak of OGN.
Upon receiving approval from the authorities, we entered a development phase, before constructing what today includes a hydrogen production site and 16-km-long pipeline network in Yanbu and a 21-km hydrogen transportation pipeline in Jubail. Operations in Yanbu and Jubail officially commenced in 2015 and 2017 respectively.
ALAR today is Saudi Arabia's leading hydrogen partner, with the infrastructure, capabilities and experience to deliver on its promises on innovative gas solutions and efficiencies and help Saudi Arabia to sustain its energy leadership.
With an unrivalled hydrogen pipeline infrastructure and network, ALAR is directly contributing to the Kingdom's Vision 2030 goal of increasing domestic production. It is providing a consistent and reliable source of hydrogen to customers, enabling them to develop downstream sectors and supporting local supply chains.
Randet says ALAR also actively contributes to develop local talent, by hiring young and experienced Saudis and providing them the platform to build up and hone unparalleled engineering skills and expertise. The company's IKTVA score of 63 per cent and Saudisation rate of 65 per cent with an annual increase of 5 per cent is a testament to its efforts.
He adds: 'Our business is local, not only in terms of Saudisation or hydrogen production, but also in the value that ALAR adds to the Kingdom, especially where optimising resources is concerned. In Jubail for example, we convert fuel grade off gases, which would otherwise go to waste, to premium products that are used by refining and chemical sectors. Beyond this, we are also working on several R&D projects with key Saudi stakeholders.'

ALAR & Covid-19
'Like our customers and partners, we are fighting this pandemic daily, with the health of our employees and continuity of our business being of the utmost importance. The fact that we are very much a local company, means we are self-sufficient from an operational standpoint,' says Randet.
'Our customers know they can rely on us to be completely mobilised. We also leverage digital tools to ensure that employees can work remotely when possible, and that leadership can provide expertise and stay connected.'
Additionally, ALAR benefits from the global presence of the Air Liquide group, and draws from experience gained by its colleagues in China. This has allowed the company to implement several precautionary measures ahead of time that are now common practice.
Ultimately however, our ability to persevere is the result of the safety-first mindset, and dedication of our teams here in Saudi Arabia. We remain ever vigilant and will continue to be flexible and adapt for as long as needed,' concludes Randet.