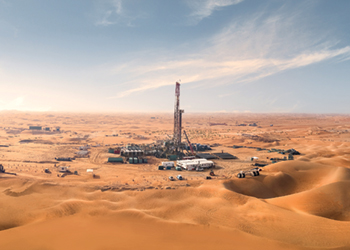 The Al Dhafra region ... potentionally rich in oil and gas
Adnoc has made significant progress in creating a more profitable upstream business and a more valuable downstream, by leveraging technology to reduce costs and maximise performance
The Abu Dhabi National Oil Company (Adnoc) has entered 2021 with much zeal and promise, shored up by its achievements in the last quarter of 2020. New finds, exploration contract awards, and a significant investment budget are clear telltale signs of assuring prospects.
The company has made significant progress in creating a more profitable upstream business and a more valuable downstream, by leveraging technology to reduce costs and maximise performance. In the past five years, advanced technologies have allowed Adnoc to save over $2 billion in cost savings.
It was good news for Adnoc when Abu Dhabi's Supreme Petroleum Council (SPC) said it had discovered more than 22 billion barrels of unconventional oil 2 billion barrels of conventional oil, boosting the country's reserves to 107 billion barrels.
Dr Al Jaber ... pursuing smart growth
This was followed by a series of exploration rights to international companies. In December, Occidental of the US was given rights to the Abu Dhabi Onshore Block 5 covering 4,212 sq km. The company will invest AED514 million ($140 million) in exploration, with a right to a 35-year production concession in the event of a discovery.
Adnoc has the option to hold a 60 per cent stake in the production phase of the concession. This is Occidental's second award after 2019, when it got exploration rights to Abu Dhabi's Onshore Block 3 that covers 5,782 sq km in the Al Dhafra region of Abu Dhabi.
In the same month, a consortium led by Eni Abu Dhabi and PTTEP Mena said it would invest AED1.51 billion to explore Block 3's offshore area of 11,660 sq km northwest of Abu Dhabi city. The companies collectively have a 100 per cent stake in the exploration phase.
Latest 3D seismic data suggests the concessions in mention have promising oil and gas potential.
In November, Adnoc made an important announcement when it along with Total delivered the Middle East's first unconventional gas, from the Ruwais Diyab Unconventional Gas Concession located 200 km west of Abu Dhabi city.
The achievement marks a significant milestone towards UAE's self-sufficiency in gas, and it came only two years after both companies signed the unconventional gas concession agreement.
The Panorama Digital Command Centre ... leveraging on big data
Adnoc's performance has been hailed globally. Last month, Adnoc became the only major oil industry player in the world to retain AA+ standalone and AA Long-Term Issuer Default Credit Rating with a stable outlook. According to Fitch, the rating reflects Adnoc's high upstream production and vast oil reserves, very low cost of production, integration into downstream operations, very conservative financial policies, high financial flexibility and low leverage, and its strong unit profitability.
Fitch also commended Adnoc's successful strategy of bringing in minority partners into its operating companies to attract funding pools and improve access to international markets. Notably, the rating agency highlighted the fact that Adnoc raised $15.9 billion through a series of large-scale energy infrastructure transactions during 2020, led by a groundbreaking $20.7 billion transaction in select gas pipeline infrastructure assets with a consortium of leading global institutional investors, infrastructure operators and sovereign wealth and pension funds. This deal alone unlocked $10.1 billion in foreign direct investment into the UAE.
The rating affirmation supports Adnoc's 2030 smart growth strategy, built on the strategic foundations People, Performance, Profitability and Efficiency. These remain the common principles through which all strategic decisions at Adnoc and its group of companies are taken.
IN-COUNTRY VALUE
Adnoc has in the recent past made a series of strategic announcements that highlighted its drive to capture greater value across its portfolio and build long-term resilience as it pursues smart growth.
At Adnoc's Private Sector and ICV Forum in December 2020, Dr Sultan bin Ahmed Al Jaber, UAE Minister of Industry and Advanced Technology and Adnoc Group CEO said: 'The ICV target represents a substantial financial spillover impact that will create more opportunities for the private sector and support post-Covid economic growth.'
He said: 'ICV is a powerful mechanism for ensuring more economic value remains in the UAE from the contracts we award. In short, we want to make sure that what we spend here, stays here, and helps stimulate the growth of the private sector and local economy. Today's forum is all about reinforcing the critical symbiotic relationship between Adnoc and the private sector to realise the simple goal of creating even more economic value for the UAE.'
Dr Al Jaber stressed Adnoc is doubling down on ICV to deliver greater value to the UAE. Last year, Adnoc spent $1.36 billion on more than 400 local micro, small, and medium enterprises (MSMEs) through the programme.
As Adnoc looks to further unlock value through technology, it is driving growth by expanding its downstream business. In November, Adnoc and Abu Dhabi Holding Company (ADQ) unveiled Ta'ziz, their joint-venture established to drive the development of industrial projects within the planned Ruwais Derivatives Park and act as a catalyst for the UAE's economic diversification and technology-led growth.
Contracts have been awarded for the first stages of development for the park site, and work is already underway. Several design and engineering contracts will be awarded early 2021 for the design of the chemical plants as well as the required ecosystem.
Ta'ziz will explore potential projects to manufacture a number of chemicals at a global scale, with opportunities for additional investors and partners to participate. The total investment in these projects is expected to be over $3 billion, with most of the chemicals produced in the UAE for the first time.
Adnoc's downstream expansion provides a great opportunity for partners to invest alongside Adnoc as it strengthens the UAE's industrial base and increases in-country value.
Furthermore, an industrial ecosystem will be created by Adnoc and ADQ, including a new port, utilities, infrastructure, feedstock supply and shared services at a total cost of well over $2 billion. These facilities will be made available to new investors under a 'plug and play' concept, meaning that new projects can be plugged into the existing park infrastructure, lowering the cost of investment and further enhancing the Ruwais Derivatives Park's competitiveness.
Launched in January 2018, the ICV programme has driven more than $20 billion back into the UAE's economy and created over 2,000 private-sector job opportunities for Emiratis. Over 4,200 suppliers are certified in the programme which has more than 20 certifying bodies.

LEVERAGING TECHNOLOGY
Adnoc continues to leverage technology to maximise performance and drive down costs. In December, it signed an agreement with ExxonMobil to jointly identify areas where advanced technologies can further increase operational efficiencies, strengthen HSE management and unlock value. In this regard, the company has achieved cost savings of $2 billion over the past five years by leveraging advanced technologies and digitalisation to enhance drilling efficiencies and optimise operations.
Initial areas identified include advanced non-metallic solutions, field testing and integrity management, smart reservoir management and well monitoring systems, and innovative emergency response systems.
This agreement is just one of many innovation initiatives by Adnoc to embed cutting-edge technology across its entire value chain. Other initiatives include its Artificial Intelligence (AI) and big data-driven Panorama digital command center, its smart subsurface data analytics 'Thamama Subsurface Collaboration Centre;' and its use of computer vision technologies, big data modeling tools for value chain optimization, and blockchain for hydrocarbon accounting.
Adnoc's real time data monitoring centre (RTMC), which uses big data and oversees up to 120 well sites simultaneously, has helped reduce well duration by 30 per cent, equal to cost savings of about $1 billion. The RTMC collects information to track drilling performance and well delivery progress, enabling Adnoc to optimise drilling operations by reducing non-productive time and enhancing productivity.
In November, Adnoc awarded a $519-million contract to further expand the scope of the world's largest combined three-dimensional (3D) onshore and offshore seismic survey, which is currently underway in Abu Dhabi.
The contract was awarded to BGP, a subsidiary of China National Petroleum Company (CNPC), represented in the UAE by Al Masaood Oil Industry Supplies and Services.
This new award brings the total area to be covered by the survey up to 85,000 sq km and reinforces Adnoc's commitment to unlocking the full potential of Abu Dhabi's vast hydrocarbon resources.
The expansion underscores the important role seismic surveying plays in enabling Adnoc to identify and explore new hydrocarbon resources as highlighted by the recent major discoveries of recoverable unconventional oil resources and conventional oil reserves announced by Abu Dhabi's Supreme Petroleum Council (SPC) earlier this week.
It was this mega seismic survey that helped discover conventional oil and gas reserves and unconventional gas resources in 2019.
The seismic acquisition will capture high-resolution 3D images of the complex subsurface structure at ultra-deep locations and help to pinpoint potential hydrocarbon reservoirs by deploying industry-leading technologies to provide high-density survey data which is analysed at Adnoc's Thamama Subsurface Center.
This data is being leveraged by all of the successful exploration partners in Abu Dhabi's first block bid round and the data will also be available, for a cost, to the successful bidders in the second bid round, which will begin to be awarded this year following the SPC's recent approval.
In addition to advanced technologies, Adnoc unlocked the cost savings and efficiency gains by harnessing fully integrated drilling services (IDS) and innovative techniques. Adnoc Drilling has also delivered over 100 IDS wells since 2018, achieving an efficiency improvement of more than 35 per cent, resulting in over $170 million in savings.
Furthermore, Adnoc has completed Phase 1 of its large-scale multi-year predictive maintenance project to maximise asset efficiency and integrity across its upstream and downstream operations. The predictive maintenance project uses artificial intelligence (AI) technologies such as machine learning and digital twins to deliver maintenance savings of up to 20 per cent.
Phase 1 covers the modeling and monitoring of 160 major turbines, motors, centrifugal pumps and compressors across six Adnoc Group companies. All four phases of the project are expected to be completed by 2022 and the project will enable the central monitoring of up to 2,500 critical machines across all Adnoc Group companies.
The predictive maintenance platform is an integral part of Adnoc's Panorama Digital Command Centre at its headquarters and is implemented in partnership with Honeywell, using the Honeywell Asset Performance Management and predictive analytics enterprise solutions.
Another key project is the Virtual Energy Center, a first-of-its-kind online platform that provides an immersive experience across Adnoc's full value chain and is available to members of the public
Designed within a 3D environment, the centre gives a first-hand explanation of how Adnoc is delivering on its 2030 strategy to create a more profitable upstream, more valuable downstream, and a more sustainable and economical gas supply, all supported by more proactive and adaptive marketing. The center will be continuously updated to reflect the progress Adnoc is making as it executes its strategy.

REDUCING EMISSIONS
Dr Al Jaber while calling upon the industry to do more on climate change, said Adnoc is one of the least carbon intensive producers in the world.
He said Adnoc aims to reduce its greenhouse gas intensity by a further 25 per cent in the next 10 years. 'We are expanding our carbon capture programme so that it annually stores 5 million tons of CO2. More importantly, we will explore the potential of new fuels such as hydrogen.'
In November, Adnoc and Total agreed to explore joint research, development and deployment partnership opportunities in the areas of CO2 emission reductions and carbon capture, utilisation and storage (CCUS).
The potential for collaboration in CCUS complements Adnoc's CCUS program which has seen the company establish the Al Reyadah facility, the first commercial-scale CCUS facility in the Middle East. Currently, the facility has the capacity to capture 800,000 tons of CO2 annually.
Adnoc plans to expand the capacity of this program six-fold by capturing CO2 from its own gas plants, with the aim of reaching 5 million tons of CO2 every year by 2030 – the equivalent of the annual carbon capture capacity of over 5 million acres of forest.
Total currently collaborates with Adnoc across the full value chain, from offshore and onshore exploration, development and production of oil and gas, to gas processing and liquefaction, product marketing, research and development (R&D), and National Talent development.

TRADING ARM
Hoping for brighter days ahead for the industry, Al Jaber said there is even more value to be captured. 'At Adnoc, we are discovering this truth as we move into active trading.
In September, Adnoc completed its first derivatives trade. And in December, it officially launched its second trading arm. Adnoc Global Trading (AGT) is a joint venture with Eni and OMV, and it focuses on the trading of refined products globally.
And in March, Adnoc will the launch Ice Futures Abu Dhabi (Ifad), which will be the first exchange to include futures contracts based on Abu Dhabi's popular Murban grade.