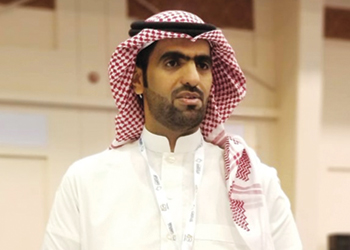 Alfhaidi ... leading a diversified DLPS
The company's reputation has grown through the creation of long-term partnerships, joint ventures and subsidiary companies with globally renowned manufacturers, OEMs and technology providers, Rajeh Salem Alfhaidi, CEO, DLPS, tells OGN
What started 19 years ago as a small contracting and trading company in Abqaiq, Saudi Arabia, Diversified Lines Petroleum Services (DLPS) over the years evolved and expanded into new industries, pioneering many products and services along the way.
DLPS is today known as a highly diversified company in the Kingdom with activities in various segments of the industry. Its core business activities include engineering, advanced supply chain, construction, manufacturing, and providing professional solutions, products and services in the areas of hydrocarbon, petrochemical, power systems, electrical, energy and water industry.
"DLPS is a dynamic and diverse business group involved in the growth of the national economy by taking a lead role in providing high quality and innovative products and construction services," Rajeh Salem Alfhaidi, CEO, DLPS, tells OGN.
The company's reputation has grown through the creation of long-term partnerships, joint ventures and subsidiary companies. These include globally renowned manufacturers, OEMs and technology providers that have allowed DLPS to offer world-class solutions to customers in the region. The company along with its principals has started the transfer of technological knowhow.
Alfhaidi says the company has widened the spectrum of services and products over the past years with the support of local and global partners to better cater to the emerging needs of a growing client base.
DLPS has long-standing relationships with a diverse client base across the region, including both public and private sector organisations. Headquartered in Khobar, the company encompasses a regional presence in Saudi Arabia, Bahrain and Egypt.
DLPS prides itself on a loyal workforce. "There is no asset better than loyal employees," says Alfhaidi.
DLPS significantly invests in human resource development, which is in line with supporting the business growth and challenges.
Alfhaidi elaborates: "Over the years, we have successfully hired employees, who share our values of integrity, innovation, quality, fairness and continuous development. We have consistently carried on with the implementation of a Saudisation programme that enables young Saudis to grow and develop their careers within our working environment while also maintaining their work-life balance."
He says DLPS is pursuing every possibility of promoting Saudis in all job categories available in the industry.
Concurrently, Alfhaidi supports the participation of women in the workforce. "No country can ever truly flourish if it stifles the potential of its women and deprives itself of the contributions of half of its citizens," he remarks.
He adds: "We are committed to supporting national growth through women empowerment by giving them equal opportunities in every sector in the industry along with relevant professional training."
In 2020, DLPS saw a drastic growth of 200 per cent in women employees in its ranks. Currently, it has a male-female workforce ratio of 15:1.
Meanwhile, the overall Saudisation rate at DLPS stands strong at 35 per cent, which is a notable figure for any private contracting company in the region. "We are working hard to raise our overall Saudi labour workforce to 50 per cent by the end of 2021," says Alfhaidi.
As the Covid-19 pandemic continues to have a significant impact on economies around the world, many companies in Saudi Arabia have been confronted by numerous challenges as well.
The combination of reduced demand and a fragile business environment has created uncertainty for many companies. However, despite the challenges, DLPS has continued to deliver its best and maintained its routine business.
"Our company's resilience during these unprecedented times is a direct consequence of continued commitment. As such, I want to thank our employees for their dedication and customers for their cooperation as we not only strive to deliver positive results, but also contribute to an even greater tomorrow," says Alfhaidi.
And even in such conditions, DLPS along with its foreign partners have showcased a new range of industrial solutions, including:
• Ultrasonic pipeline inspection.
• Metering management information system (MIS).
• Non-metallic valves for extreme corrosive application.
• Pipeline rehabilitation.
In the coating segment, DLPS is a leading provider of quality products. Its Coating Division offers endless coating solutions from Germany, the US, Mexico and Brazil. "Our focus is on growth through technological development. We provide end-to-end solutions to bring substantial value to our customers in the field of coating," says Alfhaidi.
And irrespective of the requirements, DLPS can offer a complete range of liquid and fusion bonded epoxy (FBE) coating for external, internal, and custom coating solutions along with our field girth weld coating services.
Its state-of-the-art coating facility in Abqaiq is one of the largest in the GCC that provides multiple coating and repair solutions at a single location. And its oven holds a capacity to handle large and heavy vessel for heat cured coating.
Alfhaidi says DLPS is fully capable of meeting regional requirements and is open to the GCC markets starting Q2 2021.
With respect to the prevalent pandemic and despite the uncertainty it holds, Alfhaidi forecasts signs of recovery in Q2 2021 due to developing economic activity.
His advice: "With Covid-19 still a concern, it's the responsibility of everyone to remain vigilant when it comes to health and safety. This includes continuing to wear face masks while practicing good hygiene and safe distancing."