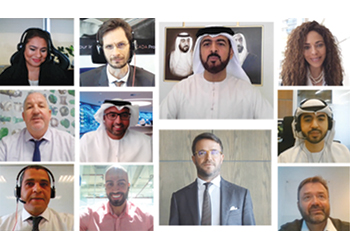 A screenshot of the French Energy Days digital event
Several French companies showcased solutions to Adnoc in an exclusive event, which was held to honour the strategic partnership between France and the UAE in the oil and gas sector across 75 years.
The event, the first virtual edition of the French Energy Days, was aligned with the industrial and digital transformation roadmap of the UAE, and organised in December alongside two leading oil and gas oil and gas: Total and TechnipFMC.
It was held under the patronage of Xavier Chatel, Ambassador of France to the UAE and Dr Saif Sultan Al Nasseri, CEO of Adnoc Gas Processing.
Twelve French companies highlighted promising solutions in the field of digitalisation, energy efficiency, oil and gas 4.0 technologies, and robotics. The solutions focused on energy and cost-savings across the entire energy production value chain such as installation, maintenance, energy consumptions, targeting a more efficient and sustainable industry.
In line with 'La French Fab' values, the companies emphasised their efficiency to achieve the growth potential of the 4th oil and gas industrial revolution, in order to play an active role in accelerating digital transformation.
Powered by Business France, along with the French energy community in the UAE, part of the French Business Group Abu Dhabi, the French Fab companies tend to respond indeed to the following context: how to enhance Adnoc operational efficiency and maximise its performance while driving profitability?
Foued Kefif, Head of Industry and Cleantech department at Business France in the UAE commented: "We strongly believe the industry needs more innovators and entrepreneurs specialized in cutting edge technologies like artificial intelligence, big data, IOT and energy efficiency; by bringing such fast growing tech companies, we wanted, through the event, to meet Adnoc's top priorities."
Dr Saif Sultan Al Nasseri, CEO of Adnoc Gas Processing, said: "Reflecting our ambitious growth plans against our current operating realities, sustainable energy sector development requires boundaryless collaboration, new business model innovation and creative partnerships that can unlock value across the entire oil and gas ecosystem."
Adnoc employees attended the event to understand how French expertise could contribute to the ambitious Ruwais Transformation Program aiming to become a fully integrated refining and petrochemicals Hub in the Middle East.

FRENCH SOLUTIONS
The French company, Febus Optics, discussed about its distributed optical fibre sensing. From silicon integration to breakthrough analysers, Apix Analytics covered the reinventing gas chromatography in oil and gas sector. How to get more from data, every day, at every plant, on every line was the focus presented by Braincube; while Metron talked about how to unlock new energy saving opportunities with its platform for energy efficiency. The performance management for the energy and maritime industries was brought to Adnoc employees by Opsealog.
TechnipFMC, during a keynote, unveiled Cybernetix, its autonomous solutions and robots to reduce costs and CO2 emissions. iXblue introduced its surface drone, a multi-mission survey platform designed for new challenges at sea. Edge Tech spotlighted the launch of its intelligent & connected sensors for process industry.
PcVue Solutions showcased its technology focused on mastering interfaces between human, systems and connected things; Suez provided an overview of Water, Wastewater, Waste (HZW) solutions and integrated services; Nexson presented its design and fabrication of compact welded heat exchanger; Inertia talked about its engineering expertise in drilling assets.
Highlighting the company's motto "focused on doing essential things", Veolia spokesperson, talked about its sustainable and innovative solutions to meet operational performance and environmental compliance goals.
"French Fab companies are delighted to be part of the industrial and digital transformation of the UAE with such a prestigious and major player. Business France is very grateful for Adnoc's commitment by its side for organizing such an event", added KEFIF.
According to Massimo Bianchi, TechnipFMC Managing Director for UAE: "Through our Technip Energies segment's continuous presence for almost four decades in the country, we have played a pivotal role in local project development. We have been supporting investments in the local UAE industry in line with the UAE vision and objective to encourage and support local businesses, as well as the Emiratization drive through training, education and employment."