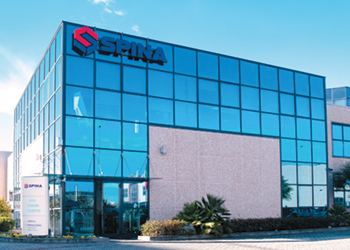 Spina Group offices and facilities in Italy
At 30 years, Spina Group sets new global growth targets, investing in product and service innovation, by controlling all stages of the process: production, distribution and assistance, says a company spokesman
With over 30 years of experience in the oil and gas, energy, industry, petrochemical, infrastructure and naval sectors, Spina Group of Italy manages important projects for the development and maintenance of industrial plants.
The company controls all phases of the process: from the analysis of project needs to the make or buy strategy, up to delivery and on-site assistance. The three made in Italy product lines: Atex, manufacturing explosion proof material for hazardous areas; Eurocavi, producing standard and special cables; and Schiavetti Tekno for cable trays, represent a distinctive feature of the company, characterised by continuous growth and technologically advanced innovation, a company spokesman tells OGN.
Being not only a supplier, but also a manufacturer allows for prompt and flexible performances in accordance with the specifications of each project provided by the customer. Tests and inspections on products are carried out in collaboration with the customer.
Spina Group celebrated 30 years of activity last year. Strengthened by important milestones achieved at the internationalisation and export level of Made in Italy, it sets new goals in terms of growth, excellence and innovation.
The company, founded in 1990 by Franco Spina, was born as an agency representing electromechanical materials. With a turnover of €26 million ($31.69 million), of which 80 per cent are exports, and with 100 collaborators, Spina aims primarily to increase its presence worldwide. The company has its headquarters in San Giuliano Milanese, in the south-east of Milan.
Now more than ever in a challenging and rapidly changing scenario, also because of the coronavirus, the company led by the Spina family looks to the future with determination. A new office in Santo Domingo will open in the Americas supported by the branch already active in Mexico.
In Africa, after the landing in Mozambique, interest will also be directed to Nigeria and Algeria, while in the Middle East the focus remains on Saudi Arabia. In the East, it has just signed a commercial agreement in Malaysia.
"An international development that goes hand in hand with the important affirmation of the group as an industrial contractor specialised in the production and supply of material for industrial plant engineering," the spokesman says.
In addition to internationalisation, it invests in innovation, technology and quality. Excellence and experience are further improved in terms of technical and post-sales assistance, execution, tests and inspections. Moreover, trust and collaboration that are the basis of the relationship with customers, with whom the company establishes a real partnership, guaranteeing the best personalised solution.
The company is ISO 9001:2015 certified, which means performance measurement, analysis and continuous improvement as well as constant boost towards excellence. Spina collaborates with the major certification bodies, such as UL, IMQ and CESI.