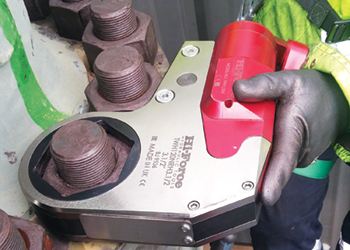 TWH-N hydraulic torque wrenches
Hydraulic torque wrenches operate at maximum 700 bar, and complementing the bolting tools are hydraulic bolt tensioners to ensure tolerances needed for operating at 1,500 bar, explains Laura Thompson, Hi-Force Marketing Director
Hi-Force, the UK's leading manufacturer of high-pressure hydraulic tools, offers a wide range of bolting equipment, suitable for use in almost every bolt tightening or loosening application, that are regularly required in many industries worldwide.
Designed and manufactured at the state-of-the-art manufacturing facility in Daventry, UK, and in line with the accredited ISO 9001:2015 procedures, the first-class range of torque tools offer fast and easy operation, and allow for accurate and consistent tightening and loosening of bolts.
STS bolt tensioners
"With bi-directional torque control, the manual torque wrenches operate at torque capacities between 10 and 2,000 Nm, and are available in a choice of square drive sizes from 3/8 inches to 1 inch," Laura Thompson, Hi-Force Marketing Director, explains.
"In cases where high output torque is required, the TWS-N square drive and TWH-N low profile hydraulic torque wrenches are available in torque capacities up to 48,181 Nm and operate at maximum pressures of 700 bar."
Compatible for use with hydraulic torque wrenches is the leading-edge range of TPA air and TPE electric driven hydraulic torque wrench pumps. Designed with a high flow three-stage pump unit and a multi outlet block for simultaneous operation of four hydraulic torque wrenches, these torque wrench pumps have been created with speed, reliability and versatility in mind.
Complementing the bolting tools range are the Hi-Force hydraulic bolt tensioners manufactured using only the highest quality materials, which ensure the tolerances needed for operating at pressures of 1,500 bar are accurately maintained. The STS topside and SBT spring assisted return bolt tensioners are specifically designed for user-friendly operation in single- and multi-tensioning applications. Available in capacities up to 2,649 kN, the tensioners are suitable for imperial bolt sizes up to 4 inches and metric bolt sizes up to M100.
Hi-Force also offers single acting design sub-sea tensioners suited to meet the demanding requirements of divers operating in harsh sub-sea environments.
With an easy to operate two-piece design comprising of a quick fit/release threaded puller and a hydraulic load cell with integral bridge and an extra-long 30 mm piston stroke to reduce re-setting operations, Hi-Force STU series sub-sea bolt tensioners offer a consistent, reliable and cost-effective method of tensioning sub-sea bolted joints.
Suitable pumps for the bolt tensioner ranges include the AHP275BTU and AHP2-237BTU air-driven pumps as well as the HPX1500BTU manually-operated pump. Each pump operates at a maximum working pressure of 1,500 bar and is supplied complete with a pressure gauge and quick connect couplings for ease of use.
"In addition to supply, Hi-Force offers a first-class on-site service package, which includes bolting services from a simple bolt up of a single flange joint to major construction, and maintenance shutdown projects," says Thompson.
"Combined with the expertise of a highly trained and experienced workforce, Hi-Force has established an excellent reputation for carrying out efficient, safe and competitively priced on-site jobs, well within client specified time periods," she concludes.