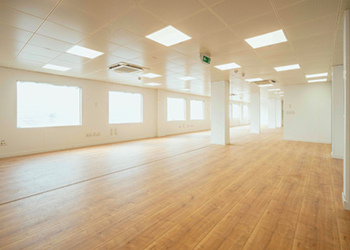 Technical modular buildings by Specialist Services
With a proactive approach, throughout the challenging times, the company has been continuously working on innovative solutions that maximise efficiency for its clients, while optimising its costs, as clients are hugely price conscious in these uncertain times, Ian Rogers, Specialist Services CEO, tells OGN
Specialist Services, a leading engineering and manufacturing company, produces a range of modular buildings for the oil and gas, utility, petrochemical, power, renewables and defence industries, as well as oilfield equipment.
Founded in Abu Dhabi 38 years ago, and still headquartered in the Emirate, the company has developed an international capability in engineering, manufacturing, installation, and support services. With facilities located in the Middle East, Asia, Europe and North America, Specialist Services supports clients' requirements worldwide.
The company has over 100 standard products and services, but due to changes in demand in recent years, it shifted its core products focus to custom design solutions, including customised modular buildings, technical buildings, blast-resistant buildings, and process equipment, among others.
As Chris Ridley, Group Sales and Marketing Director, explains: "During the last few years, we had a significant increase in demand for production and process equipment from the downstream sector, including early production facilities, oil and gas metering skids, and pressure vessels, as well as for customised modular building solutions, modular buildings rental and refurbishment works from several clients.
"At the same time, with a growing safety awareness and resulting more stringent industry standards worldwide, we have also seen an increasing demand for blast-resistant buildings, but also for modular solutions in the security and defence industry."
This change in focus has enabled Specialist Services to better serve its clients by providing required products in line with their specifications and project-specific requirements. With its forward-thinking approach, the company has been continuously responding proactively to client and market demands and changes.
In the last decade, the global economy in general and the oil and gas industry in particular, have faced significant challenges; from the great recession in 2008 and the oil crisis in 2014, to the current crisis caused by the Covid-19 pandemic. Throughout these challenging periods, Specialist Services has adapted quickly to the changes in market conditions and demand.
"With our proactive approach, we have been continuously working on innovative solutions that maximise efficiency for our clients, while optimising our costs, as clients are hugely price conscious in these uncertain times," said Ian Rogers, Specialist Services CEO.
With an increase in the use of modular construction solutions in various industries, Specialist Services has built a reputation of excellence and reliability in providing high quality and safe modular buildings, with its in-house engineering and manufacturing capabilities, using a fast track method for production and installation.
Rogers explains: "With our high quality engineering services from our widely-experienced teams based in the UAE and India, we are able to satisfy the increased demand for one-off, highly engineered solutions. In addition, the excellent production teams working in our facilities manufacture high quality products in line with stringent international certifications and standards, while our service and facilities management solution teams provide required service, installation, refurbishment and other high quality support services for our clients on site or in our yards."
With continuous high customer satisfaction levels in all segments of the company's operations and solutions for various industries, Specialist Services has in the last few years expanded its international operations and penetrated new industries with its innovative solutions.
"To properly serve our clients in various regions, we now have offices based in the UAE, Saudi Arabia, India, Singapore, UK, the Netherlands, and the US," says Ridley.
He adds: "In Saudi Arabia, for example, we have a close business partnership with Sendan International Company, where we focus on modular buildings for sale and hire in the local market. We also work in two joint ventures with RedGuard from the US."
Ridley further notes: "RedGuard Specialist Services is our UAE-based joint venture company focused on providing blast-resistant and ballistic-resistant modular buildings in the Middle East, Europe and Asia. Meanwhile, through the Specialist Services RedGuard joint venture company based in the US, we provide Zone 1 modular buildings, accommodation modules and other custom design solutions for oil and gas industry clients in the Western Hemisphere."
Furthermore, Specialist Services forms close business partnerships in other countries as well, in order to properly serve local clients from various industries.
In addition, backed by its reliability and strong track record in providing high quality, on-time solutions, the company also has long-term agreements with several key players in the oil and gas industry in the Middle East and Europe.
Ridley explains: "These three- to five-year contracts enable us to focus on developing great added value to our clients, which result in long-term cost effectiveness and product enhancement. At the same time, with these ongoing projects on specific products and services, we are also able to speed up projects at various stages, which brings both parties further value."
Among other long-term contracts, Specialist Services has a five-year call-off contract with Adnoc Offshore for all accommodation upgrades and refurbishment works for a period of five years. "We were able to secure this contract based on our competitive advantages, including our great performance at many projects with Adnoc, where they continuously expressed their high satisfaction levels with our work," says Ridley.
Specialist Services continues its development and expansion in the Middle East, Europe and Asia even in the current industry situation. Just a couple of months ago, the company completed the acquisition of rental assets from HB Rentals outside the Americas. Comprising offshore accommodation modules and Zone rated office modules, HB Rentals have serviced their clients with these units from their two locations in the UK and the UAE.
"The geographic footprint, as also HB Rentals' high quality assets, are very similar to our own rental fleet. By acquiring a sizable quantity of 8 man offshore ABS certified accommodation modules, we were able to significantly increase our capacity to offer lager temporary living quarter solutions to our international clients," says Rogers.
Along with the rental assets, the company also took over a series of new and existing clients that have been renting modular buildings from HB Rentals.
After these acquisitions, the company is relocating its UK office to a larger facility to accommodate the increased rental fleet, and cater to the increasing demand for modular buildings rental and support services.
"In the past four years, our UK subsidiary, Labtech Services, has been focused on providing modular offshore accommodation and office modules for rental, as well as service works. In response to the increased rental fleet and demands in Europe, the company has now relocated to a larger facility in Aberdeen," says Rogers.
Despite very challenging market conditions, Specialist Services continues working on ongoing projects, developing new solutions, and penetrating new industries. "Just last month we completed the installation of a large living quarters project for our client in Malaysia. There have been some delays due to Covid-19-related restrictions, where we had to postpone the installation for a few months. However, our team has been working tirelessly on site to complete the projects in line with the revised schedule," says Ridley.
"As for new projects, among other projects from all our regions, in Q3 2020, we have been awarded a large project from Adnoc. This is for the fast track supply of a 150 man offshore accommodation complex, which is planned to be completed this month in Abu Dhabi. This project award shows that there is still work to be done despite the current situation, and we are here to support our clients at all times," adds Ridley.
Leading through challenging times, the company has no plans to slow down, and as Rogers emphasises, further growth and expansion strategies are already underway.
"In 2021, we will be focused on a significant expansion into the accommodation market in Europe, as well as into the modular accommodation for the offshore market, including renewables, vessels and other offshore facilities. At the same time, we plan to penetrate further into the data centres market and the defence and military industry in all regions," he says.
Rogers concludes: "We will continue expanding our international reach in various industries while developing products that support our clients. Our key focus is to provide compliant and reliable products within short timeframes to support our clients in creating value and greater returns on their investments."