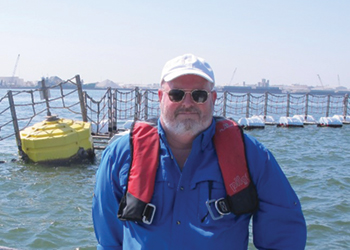 Ritter ... no compromise on security
With maritime threats increasing at an alarming rate, it's important that facilities are adequately protected to avoid catastrophic business interruptions and loss of life, Luke Ritter, HALO's VP of Business Development and GM Middle East, tells OGN
HALO Maritime Defense Systems, a world-leader in the design and installation of maritime security barriers, is busy protecting oil and gas industry critical infrastructure throughout the GCC.
Having been working in the region for over seven years, HALO offers waterfront security technology for a variety of oil and gas industry assets, onshore and offshore, naval ships and bases, ports, airports, power plants, and other critical infrastructure located on the water.
Luke Ritter, Vice President of Business Development and GM Middle East, tells Abdulaziz Khattak of OGN: 'We are working hand-in-hand with the oil and gas industry to protect waterfront assets from terrorist attacks and sabotage. Threats are growing at an increasing rate right now and HALO has a permanent commitment to security in this region.'
Global maritime security risks are persistent and pervasive. As geopolitical agreements and working relationships among the nations in the Middle East change rapidly, the requirement to protect critical infrastructure has never been more important.
In this interview, Ritter discusses HALO's role related to enabling technology solutions for security, defense, and law enforcement applications:

Please explain the contribution of HALO Maritime Defense Systems to the protection of the oil and gas industry?
Triton ... a heavy-duty maritime barrier designed to operate in the harshest
marine environments
In the last 18 months, HALO has made some significant progress with regard to providing protection for the oil and gas industry. We are now protecting, or are in the process of building protection for bulk plants on both the eastern and western sides of Saudi Arabia. We were recently selected to design and install a protective solution for a refinery intake. Negotiations also underway for other protective projects including a refinery port, fuel transfer dock, and a single point mooring. There is an important point to be made here: HALO offers a comprehensive barrier portfolio that has been engineered to anticipate all of the various security requirements that exist in the waterfront. From inland waterways to open ocean applications, HALO's barrier portfolio has a solution that is suitable for a wide variety of oil and gas industry security requirements.

What constitutes business risk for the oil and gas industry?
Vulnerability is an operational attribute that renders a facility open to exploitation or susceptible to a given hazard. Security managers must continually evaluate natural and man-made risks that have the potential to disrupt operations, or threaten critical infrastructure. There are many assets on the water in this industry that support core business functions, and if lost, could result in catastrophic damage to the business: fuel transfer docks, single point moorings, tanks, etc. Terrorists and criminals tend to adapt quickly and we have seen them take advantage of conditions of instability in order to perpetuate violence.

Why should security executives in the oil and gas industry be concerned about maritime security?
Threats to businesses in the maritime domain are increasing, and at an alarming rate. In the last 18 months, we have witnessed terrorist attacks on maritime critical infrastructure using drone boats, unmanned aerial vehicles, and mines. When facilities are not adequately protected, these attacks can result in catastrophic business interruptions, and loss of life. By incorporating maritime security barriers into a physical security plan, security managers gain a trusted and reliable protective asset. As threat profiles change, barriers can be used, over and over, or even on a continual basis, to mitigate risks and leave nothing to chance.
A Heritage Foundation security project pointed out: 'The challenges for maritime security are complex and growing. Addressing vulnerabilities, ensuring access to the maritime domain, and maintaining economic competitiveness will be no easy task. The strategic nature of the challenge requires a strategic response.' Barriers are an excellent security investment.

When is the best time to upgrade security technology?
Security risk exposure has two primary elements that must be considered when pursuing risk mitigation strategies: likelihood and consequence. Risk management metrics can be difficult to calculate. The amount of risk exposure that an organisation is willing to accept, in a normal course of business, is referred to by the insurance industry as 'risk appetite'. Tolerance for risk exposure can vary greatly from one company to another within the industry. It is not uncommon to find that a company's exposure to risk is not aligned with the associated security policies, plans and procedures. This is where maritime security barriers can be very valuable. Our barriers close off sensitive areas and provide stand-off distance from threat objects and represent a tangible first line of defense.

What features and functions should executives look for when shopping for barrier technology?
Maritime security barriers must provide adequate protection. In most cases, stopping power against boat attacks, as well as being seaworthy to operate effectively in harsh maritime conditions. The ocean is a unique environment, which requires specialised engineering attention. HALO specialises in designing and installing security barriers that work with the water to provide protection. We are the only barrier company in the world that has designed and independently tested an offshore barrier system in the open ocean. We employ advanced modeling tools to examine various configurations of the floating barriers, specify optimum configurations, and verify designs. In order to optimise security performance, managers should be looking for barrier solutions that incorporate the following features and functions:

• Designed to stop a fast-moving vessel on impact by transferring the kinetic energy to the water.
• Capable of stopping multiple waterborne boat attacks.
• Designed, engineered and tested to withstand harsh ocean conditions and heavy sea states.
• Designed with modular and redundant parts to minimise maintenance and expedite repairs.
• Constructed from non-corrosive, marine-grade materials that enable a minimum 15-year lifecycle.
• Operated with anti-tamper features to prevent cutting, unbolting, or other unauthorised activity.
• Capable of being integrated with other security technologies: lighting, radar, cameras, and signage.

Are maritime security barriers an investment or an expense?
Meeting this decision point head-on, and taking action accordingly, can potentially mean the difference between success and failure. The textbook definition of an expense is: 'Money spent in order to buy something'. However, an investment is: 'Money used to earn more money'.
Effective investments lead to an associated return. I believe security barrier technology is a much better fit as an investment. The risks to maritime assets in the oil and gas industry cannot be completely eliminated, but employing barriers can provide an excellent return on investment.
From the minute they are installed, HALO barriers contribute to the process of deterring and avoiding the impact of a maritime security event. In an increasingly competitive global marketplace, oil and gas companies can't afford to ignore opportunities to invest in risk management. A one-time investment of a few days' profits has the potential to protect revenues for years. And in the worst cases, CEOs may be betting their company's entire long-term viability by leaving themselves exposed to an attack. The six most dangerous words in risk management are: 'it will not happen to us'. The bottom line is: manage risk before it manages you!

What trends are you seeing in maritime security within the oil and gas industry?
First of all, we are seeing a significant increase in the scope and scale of inquiries about barrier technology. For some reason, walls and fences are always installed to protect the landside perimeter of these facilities. But this isn't true on the waterside.
I've done dozens of site surveys in the last two years. It isn't uncommon for me to see that the landside perimeter of an oil and gas facility is an absolute fortress. In fact, depending upon where in the world the plant is located, there may be double perimeter fencing surrounding that site. I'm always shocked when I see that the same facility has minimal protections from the waterside.
I do believe that there is an increased awareness lately about how important it is to protect both the landside and waterside perimeters. Secondly, we are seeing interest in establishing barriers around a wide variety of critical infrastructure assets on the water.
In the last year we worked on protecting bulk plants, refineries, power plants, fuel transfer docks, and SPMs.
Finally, it appears that companies are finally starting to budget more aggressively for maritime security requirements. In today's environment, if your security budget only accounts for landside security, you are missing a major component.

* HALO Maritime Defense Systems is headquartered in Newton, New Hampshire (US), and the Kingdom of Bahrain. It was founded in 2008 with a vision to protect vital assets by extending physical security to the waterside. HALO designs and installs protective solutions that comprise walls, fences and gates in the water. The barrier portfolio at HALO offers waterfront security technology for naval ships and bases, ports, airports, power plants, and other critical infrastructure located on the water.