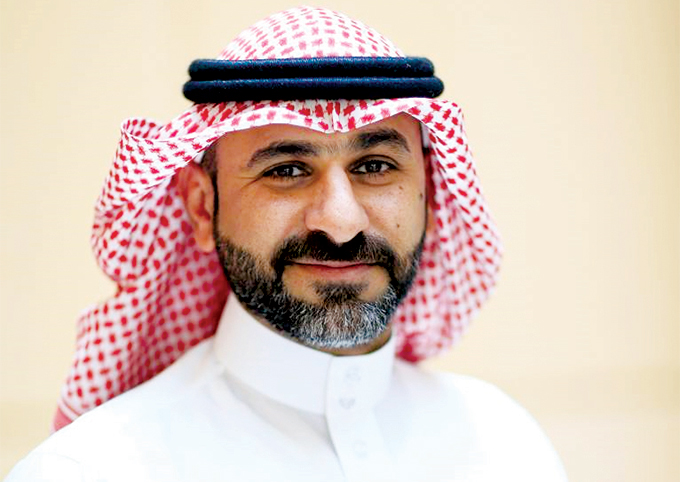 Al Shehri ... leading innovation
In the past 12 months, Engie has secured nine contracts in facilities management, a seawater reverse osmosis plant and provision of energy services in partnership with Saudi companies, Turki Al Shehri, CEO, Engie Saudi Arabia, tells OGN

Despite the world experiencing a downturn as a result of the pandemic, Engie on the other hand has managed to keep its expansion in the Kingdom of Saudi Arabia on track, building its asset and project value to over $8 billion, with plans to invest an additional $6.34 billion in the Kingdom by 2025.
In 2019, the France-headquartered leading low-carbon energy and service solution provider expanded its presence in Saudi Arabia by establishing a dedicated holding company to bring all the group's assets in the Kingdom under one umbrella.
For Engie, Saudi Arabia has been a strategic market for decades. In recent years, this imperative has grown tremendously alongside the economic transformation of the Kingdom. The company has been present in Saudi Arabia for over 20 years and provides 10 per cent (7,600 MW) of the Kingdom's total installed power capacity and 11 per cent (176 MIGD) of its desalinated water capacity.
'The capabilities of Engie are massive, and our technological innovation is never-ending. Our innovation provides the foundation for the enhanced growth of our workforce,' Turki Al Shehri, CEO, Engie Saudi Arabia, tells Abdulaziz Khattak of OGN.
In 2020 alone, Engie secured more than 20 projects with a total value of $960 million using technologies focused on increasing energy efficiency across the Kingdom.
Engie is contributing to the Saudi economy by providing energy efficiency solutions
A few examples of the cutting-edge technology Engie utilises are control system optimisation, alternative indoor climate control measures, advanced chiller plant management, operation control of pumps and fans, direct and indirect evaporative cooling, sensor-based control systems and solar thermal water heating systems.
Engie has won nine contracts for facilities management projects, more than six projects for energy efficiency, along with electricity supply distribution projects through its service suppliers and in collaboration with Saudi stakeholders.
In February last year, Engie was awarded a reverse-osmosis seawater desalination plant by the Saudi Water Partnership Company (SWPC) for the Yanbu 4 IWP projected to produce 450,000 cu m per day of potable water with renewable energy.
Engie was also awarded the Fadhili IPP combined cycled gas power plant with a capacity of 1,507 MW, producing the electricity consumption for 1.4 million people, in addition to 1,447 tons per hour of steam and 768.8 tonnes per hour of feed water.
Both projects fall in line with Engie's strategy in the Kingdom to provide low-carbon solutions that utilise renewable energy and gas for power generation. Engie and its partners continue to play a major role in deploying high level expertise in the Kingdom to support existing and upcoming projects.

CLEAN ENERGY DRIVE
'Engie is a major player in the development of Saudi Arabia's renewable energy, co-generation, energy efficiency and other green initiatives,' says Al Shehri.
The company is well aligned to provide a wide range of services to a cross section of business and projects driving the Kingdom's economy, from clean energy power generation to efficient energy consumption, as well as services targeting water, agriculture, transpiration, and energy storage.
Al Shehri says the direct and indirect medium- and long-term economic gains of energy efficiency are often overlooked in favour of the short-term capital-cost savings available with cheaper equipment and work practices.
'Saudi financial institutions have yet to make major investments in energy efficiency projects.
Despite many projects offering two-three year payback periods, committing capital to investments in new energy technologies is still considered an adverse risk,' he adds.
He says in order to make sustainable reductions in energy use, consumers must see clear financial benefits; subsidised energy prices mean consumers have little incentive to save energy. Although the government recently decided to abolish electricity price subsidies, and costs to consumers have risen, environmental costs are still not reflected in energy tariffs.
The Kingdom's rapid economic growth from increased industrialisation and rapid urbanisation from a growing population has placed considerable stress on existing energy systems, and require massive investment to meet growing energy demands.
Energy efficiency has become a national necessity, not just to defer the investment requirements, but also to address the growing awareness of the finite nature of energy resources.
Al Shehri says Engie's work in providing energy efficiency solutions continues to be a high value contribution to the Saudi economy and he expects to see greater demand for technological innovation in this area.
Engie has been awarded contracts for multiple energy efficiency projects including the Fadhili IPP, which is considered one of the most efficient cogeneration plants in the country.
In Saudi Arabia, Engie has added 7.6 GW of thermal capacity, 9920 Gj/h Steam capacity, 276 MIGD desalination capacity along with 50 MW renewable energy production.
Engie maintains a strong focus on cost reduction and energy efficiency, which has resulted in the contribution of $3.7 billion being added to the Kingdom's GDP.
The company is determined to make positive contribution towards the National Energy Efficiency Programme (NEEP) and the targets of Vision 2030 to increase localisation of the team within the industry sector.
'Engie remains steady in its ambition to develop local projects, bring foreign direct investment to the Kingdom, and enhance the efficiency of human capital while transferring knowledge to the local workforce in line with the Group's strategy for growth and the objectives of the Vision 2030,' says Al Shehri.
Engie strongly believes in the model of private, public partnerships (PPPs), which has been successful in attracting foreign investment into the Kingdom over recent years and sees it as a primary driver of investment for years to come.
Al Shehri says PPPs encourage global companies like Engie, who bring with them decades of expertise in financing and executing large scale infrastructure projects, to partner with local stakeholders, who offer talent and presence and whose involvement allows for greater costs efficiencies.
'Together, these consortiums are able to offer large scale projects that meet the highest global standards at highly competitive cost to the
end-user.'

LOCAL TALENT
In its growth this year, the company has hired 62 new employees bringing the total of Engie staff in the Kingdom to 2000.
Engie's most recent acquisition of Saudi-based facilities management firm, Allied Maintenance Company (AMC) adds 1,300 more employees to Engie's workforce.
Al Shehri says Engie plans to expand its workforce to over 5,000 employees by 2025, with a particular focus on employing and training Saudi nationals. The new hires will be joining various service providers and project development entities under the domain of Engie across the entire Kingdom.
A key area of Engie's development in Saudi Arabia lies in supporting local talent acquisition and career development through dedicated and continuous training programmes to lead the way for value-added services of a foreign company.
In this effort, Engie has formed three partnerships with local entities including the Saudi Industrial Development Fund (SIDF) and the Ministry of Investment to support with practical and vocational training programmes both in and outside of the Kingdom, ensuring that Saudi's workforce can meet the long-term demand of the labour market.
Al Shehri states: 'We have seen great success in the training and upskill of young Saudi talent and are positive that the Kingdom will reap the rewards of cultivating growth in their local workforce in the coming years ahead.
He adds: 'As part of our long-term commitment to the Kingdom, Engie offers widespread training and knowledge transfer opportunities to our Saudi staff through all areas of our operations, from engineering to efficiency solutions. We pride ourselves in being a long-term positive partner to the Kingdom and benefit from sharing our level of international expertise with our Saudi trainees.'
In its commitment to add value, support growth and enrich the Kingdom, Engie donated $500,000 to the Kingdom's Health Endowment Fund to support the government's anti-coronavirus drive.
Engie has also partnered with the United Nations Development Program (UNDP) to promote and progress the United Nations Sustainable Development Goals, further enhancing efforts to build a more prosperous and sustainable future for the Kingdom and its people.
Engie is a global reference in low-carbon energy and services. It aims to accelerate the transition towards a carbon-neutral world through reduced energy consumption and environment-friendly solutions, reconciling economic performance with a positive impact on people and the planet.
Globally, it employs 170,000 employees, and relies on key businesses (gas, renewable energy, services) to offer competitive solutions to customers.
In the region, Engie has had a presence for almost 30 years. In Saudi Arabia, it undertakes activities in partnership with Saudi stakeholders in the sectors of energy production, seawater desalination, district cooling, energy efficiency, and facilities management.
In 2019, Engie had a turnover of €60.1 billion ($73 billion).