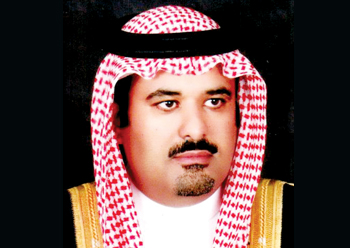 Khaled Bin Adwan ... commitment to innovation
The company wants to be recognised as a leading regional electrical and industrial supplier that strives to meet customers' demands through commitment to innovation, service and value

Adwan Marketing Company (AMC) has been a prime source of electrical materials and test instruments to the Saudi market since 1978.
Today, it has grown to become a leading electrical distributor providing electrical materials and complete technical solutions to most projects in the Saudi market.
The company has over the years built a wealth of experience serving the electrical construction industries, electrical power utilities, instrumentation and petrochemical industries and oil and gas projects as a supplier of quality products.
'Our professional services are extended to clients, contractors and consultants to keep them updated on all new developments and high-tech products. A team of qualified electrical engineers is on hand to help clients identify their electrical requirements and provide solutions,' says Khaled Bin Adwan, AMC CEO.
AMC says it has positioned itself to accept the challenges of the future. As a result, AMC was awarded the ISO 9002 certification in early 1999. Subsequently, in 2018 it was upgraded to the new 9001:2015 standard, thus being the first company in its category to achieve this certification in Saudi Arabia.
'The certification enforces our firm belief and commitment to provide quality service to our valued customers,' Bin Adwan adds.
With over 10,000 sq m of covered warehouse space and 5,000 sq m of paved storage area in each of its three warehouses located in Riyadh, Jeddah and Khobar, AMC carries a substantial inventory of electrical, industrial and instrumentation products.
Each warehouse has its own adequate inventory of more than 21,000 line items in stock that are managed by an online SAP network. The automated information system links all the branches, and provides an efficient service for sales, purchase, inventory control, invoicing and products selection.
These stocks cover the supply requirements of many key contractors engaged in the development of Saudi Arabia's oil and gas, petrochemical and industrial sectors.
Some of the new innovations AMC has introduced include smart grids controls, online monitoring and digitisation. To help clients get the best, AMC offers them technical assistance in addition to designing products that are specific to the region's industry.
Some of the latest projects AMC has undertaken include Maaden Ammonia III for Maaden where it supplied instrument valves from Hy-Lok; Waad Al-Shamal for Sabic (lighting fixtures and poles from Omega, Bartec & NLC); Rabigh SS 380/132 kV BSP for the Saline Water Conversion Corporation (TFFR & DSM from Qualitrol); Wasit GOSP for Saudi Aramco (electrical cables & junction boxes from Oman Cable & Appleton); JIGCC Utilities - Common Area, Package 5 for Aramco (grounding & lightning materials from Furse, RCG & Crouse Hinds); and West Qurna I for Exxon (grounding materials from Furse), among numerous other projects.
AMC aims to be 'recognised and respected as one of the leading regional electrical and industrial supplies companies and strives to satisfy its customers' needs of electrical and industrial supplies through commitment to innovation, service and value in a mutually profitable relationship. We will achieve this within a business culture of ethical integrity and respect for our customers, employees and long-term relationship with our suppliers', AMC says in its mission statement.