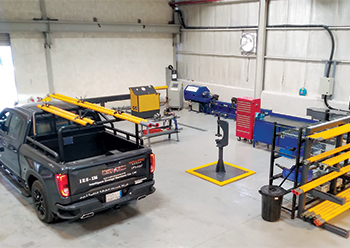 Wellpro Group facility in Dammam
In its commitment to the Kingdom, Wellpro has signed a long-term agreement with i-Energy as part of a significant investment in a full country start-up business plan
Wellpro Group, a leading global well intervention company, has significantly enhanced its expansion in the Middle East by announcing its entry into the Saudi Arabian oil and gas market.
The thru tubing, inflatable packer and well intervention service specialist has enjoyed significant growth since its formation in 2018. This has especially been the case in the Middle East, where it has been fully operational for two years.
In 2019, Wellpro acquired Hunting Energy Services' thru tubing service business in Dubai and invested in a new regional workshop for its high quality tools and the delivery of best in class support from its industry renowned experts.
The latest exciting chapter in Wellpro's growth has seen the company signing a long-term agreement with leading Saudi energy services company i-Energy as part of a significant investment in a full country start-up business plan and a large-scale long-term commitment.
A truck loaded and heading to location to support client
The agreement will involve the provision of complete operational asset and field support in Saudi Arabia, including Wellpro's industry-leading downhole tools, exceptional personnel and service delivery to the well site.
According to Jim Thomson, Wellpro Group CEO: 'We've established a strong foothold in the Middle East, and have identified significant opportunities in Saudi Arabia for our quality products. Our vastly experienced personnel will be able to save our clients valuable time and money in solving their most complex thru tubing, inflatable and intervention challenges.'
As part of its commitment to provide the highest quality support to the Saudi market, Wellpro has made a large investment in equipment including a dynometer machine. This allows flow and torque testing of downhole motors, meaning Wellpro can provide pre-mobilisation and post run motor performance verification checks.
The dynometer machine also allows the company to establish a flow-loop test system for non-routine operational testing and trials.
Mark Fraser, Wellpro Group's Middle East Region Manager, says: 'The Saudi oil and gas market remains one of the biggest in the world and it has been a long-term ambition for Wellpro Group to enter it.
'Our agreement with i-Energy provides the ideal platform for us to showcase the benefits we can bring to the Saudi Arabian thru tubing, inflatable packer and well intervention market by supplying safe, cost-effective solutions and services coupled with innovative cutting edge technology.'
The expansion will create 10 jobs initially, including the appointment of Sean McCluskey as Field Support Coordinator for the Kingdom. McCluskey has 20 years' experience in well intervention having held supervisory and senior management roles covering Middle East and Asia.
Last year Wellpro announced a collaborative agreement with Inflatable Packers International, a leading manufacturer of inflatable technology to the oil and gas industry, to enhance its existing portfolio of products and services initially in the Middle East with full exclusivity in Saudi Arabia.
Wellpro Group has established itself as a leading provider in the Eastern Hemisphere for thru tubing, inflatable packer and well intervention services including operational design, project management, rental, service and sales.
Its operations cover fishing, milling, severance and manipulation along with a wide range of inflatable technology solutions suited for open-hole and cased-hole applications. Along with its DNV certified quality management system, Wellpro Group's focus is on providing a dedicated and responsive service along with industry leading tooling and technologies. The extensive experience, knowledge and intervention expertise of the Group team is strengthened with in-house design engineers thus maintaining the highest level of customer service, quality and quick turnaround. The company employs a total headcount of over 30 across the world with expectations of continued growth.