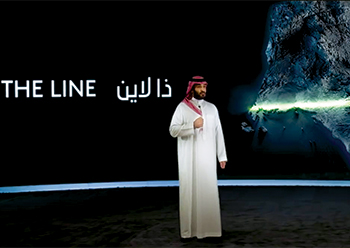 The Crown Prince announcing The Line
As scripted in the Vision 2030 framework, Saudi Arabia wants to be a green energy powerhouse, and it is one of the few countries to have the vast resources needed to achieve that ambition, writes Abdulaziz Khattak

If there is one thing clear from recent Saudi overtures in the energy domain, it would be the Kingdom's ambition to be a key player in green energy. It wouldn't be wrong to say that just like Saudi Arabia's global undisputed position in oil production, the Kingdom wants to be acknowledged as a powerhouse in cleaner and more sustainable energy systems.
The main driver of this ambition is the Vision 2030, a strategic framework to reduce Saudi Arabia's dependence on oil, diversify its economy, and develop public service sectors such as health, education, infrastructure, recreation, and tourism. And no one wants to see this through more than His Royal Highness Crown Prince Mohammed bin Salman.
Last month, he himself appeared in the launch video of 'The Line', a revolutionary idea of an urban living concept at Neom that will 'reshape the urban design of next generation cities', as Yasir Al Rumayyan, Governor and Board Member, Public Investment Fund (PIF), said at the Future Investment Initiative (FII).
Hyper-connected future communities, no cars and roads and built around, zero emissions and run on 100 per cent renewable energy, the 170 km stretch will drive diversification and contribute 380,000 jobs of the future and SAR180 billion ($48 billion) to domestic GDP by 2030. There will also be big spending; infrastructure alone will cost up to $200 billion.
Al Rumayyan says renewable energy is one of 13 sectors where international partners will find great investment opportunities.
The plan was further endorsed at the G20 summit, presided over by Saudi Arabia in Riyadh in November 2020. There the Kingdom showcased the circular carbon economy (CCE) concept, which builds on the idea of a circular economy, with a focus on energy and carbon flows. Hydrogen plays a major role in the CCE.
Hydrogen production and its use in industrial applications are not new. In 2019, various countries, including the European Union (EU), Canada, the Netherlands and Australia, announced hydrogen-supportive policies. Japan has also been at the forefront of promoting a hydrogen society' and is one of the first countries to roll out a hydrogen strategy.
Currently, around 75 million tonnes of pure hydrogen is produced globally. But over 95 per cent of all production is sourced from fossil fuels, emitting 800 million tonnes of CO2 per year.
According to BP's Energy Outlook 2020, the role of carbon-neutral hydrogen is currently negligible, but it will constitute 16 per cent of the total primary energy consumption by 2050. However, large investments ($11 trillion according to BloombergNEF) are required to scale-up hydrogen production to make a meaningful contribution to mitigating carbon emissions.
Saudi Arabia is one of the few countries fortunate enough to have the vast resources needed to produce blue and green hydrogen at low cost, meaning that it would play a vital role in scaling-up hydrogen production.
According to a paper by the King Abdullah Petroleum Studies and Research Center (KAPSARC), the Middle East and North Africa (Mena) region is ideally situated for hydrogen development, as it has vast amounts of low-cost hydrocarbons. It also has a significant amount of pore space and saline aquifers for storing carbon, making it ideally placed to supply blue hydrogen. Coincidentally, the Mena region is endowed with renewable energy resources and is home to projects with record low renewable energy costs.
Given its low-cost hydrocarbon base, Saudi Arabia also has the opportunity to supply blue hydrogen, which is currently cheaper to produce than green hydrogen, the Kapsarc paper said.
On July 7, 2020, Saudi Arabia announced the world's largest green ammonia project at its mega project Neom, establishing itself as an important hydrogen player. In partnership with Air Products and ACWA Power, the project will have the capacity to produce 650 tonnes per day of green hydrogen, utilising 4 GW of renewable energy for water electrolysis. This will enable the plant to produce 1.2 million tonnes of ammonia per year.

RENEWABLE ENERGY
Saudi Arabia has the world's cheapest solar power. In 2018, the Kingdom's installed renewable energy capacity was 142 megawatts (MW), with wind power accounting for 3 MW, and photovoltaic (PV) 139 MW. Saudi Arabia accounted for 20 per cent of total GCC installed renewable energy capacity.
Energy Minister Prince Abdulaziz bin Salman said at the FII Saudi Arabia dreams of becoming 'another Germany when it comes to renewables'. He said the country plans to convert half its power sector to gas, while the remainder would be fueled by renewable energy.

INVESTMENT IN TECHNOLOGY
In a bid to diversify its economy and reduce its dependence on oil, Saudi Arabia last November announced that it would invest $20 billion in artificial intelligence projects in the next 10 years.
'Saudi Arabia will invest $20 billion (in artificial intelligence) from now until 2030. We aspire to have artificial intelligence as a component of an alternative economy through startups and innovation companies... and view artificial intelligence as a source of savings and additional income,' Abdullah al-Ghamdi, Chairman of the Saudi Data and Artificial Intelligence Authority, said.
He also said Saudi Arabia plans to establish more than 300 startups in artificial intelligence by 2030. Shares in the startups will be open to both foreign and local investors.
Furthermore, Saudi Aramco unveiled its Dammam 7 supercomputer, which it said is among the top 10 most powerful in the world. Dammam 7 will push beyond the traditional boundaries of exploration and production, and is the next step in Aramco's digital transformation, complementing a suite of advanced technologies that are reshaping core operations, driving efficiencies and reinforcing its industry leadership in geoscience.

OIL CUTS, KSA & THE OPEC+
In January's Opec+ meeting, members saw a surprise announcement from Saudi Arabia to undertake additional cuts in February and March bringing total cuts during these months to more than 8 mbpd as compared to 7.2 mbpd during January-2021.
According to investment strategy and research firm, Kamco Invest: 'There was reluctance from several members to continue with the current production cuts to avoid giving an opportunity to shale producers in the US to raise production backed by higher prices.' The move helped raise Brent oil prices by more than 7 per cent this year to around $55 a barrel.

CONCLUSION
The recent developments signal Saudi Arabia's commitment to transitioning to cleaner and more sustainable energy systems. This is particularly important as Vision 2030 mandates the development of new industrial sectors and leveraging existing sectors' supply chains to increase the country's local content provision.