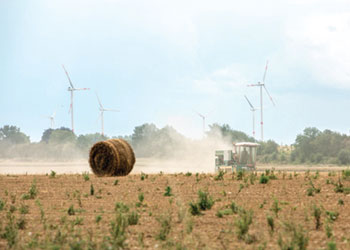 Renewables are key to the EU's move to climate neutrality
The EU announced itself as a potential early climate champion in 2018 by pledging to reach climate-neutrality by 2050.
Yet, rules and regulations are needed to bring emissions down sufficiently to make 'climate neutrality' a feasible reality.
A lot of work has been done but much is still on the agenda. Politics clashes with policy, continuing to influence what degree of legislative ambition can be pursued, stated the Clean Energy Wire.
The EU is close to finalising the laws and regulations that will determine the climate and energy policy agenda until to 2030 – the so-called "Fit for 55" package.
How Europe's regions will transition toward the green economy will also be crucial as significant disparities still endure.
Programmes like the Just Transition Fund, and other well-established financial assistance in the form of cohesion funding will aim to help bridge the gap. How regions spend that money will be crucial.
The energy sector is responsible for around 25 per cent of the EU's greenhouse emissions, making it the most polluting part of the bloc's economy. Emissions have, however, fallen more than 40 percent since 1990.
In 2022, nearly 40 percent of power generation was provided by renewable energy sources – wind, solar, hydro and biomass – narrowly ahead of fossil fuels, which provided a little under 39 percent. Nuclear power contributed nearly 22 percent of production.
The EU's new 2030 renewable energy target stipulates a renewables share of 42.5 per cent of gross final energy consumption. The initial benchmark written into law in 2018 was just 32 per cent but a 2021 proposal aimed to increase that to 40 per cent.
In 2022, as part of a sector-wide strategy to reduce the EU's dependence on Russian energy imports, a 45-per cent target was proposed. Governments and members of the European Parliament eventually settled on a 42.5 per cent compromise in March 2023.
Each government must submit updated energy and climate plans (NECP) to detail exactly how they will meet all the new 2030 targets, including the renewables benchmark.