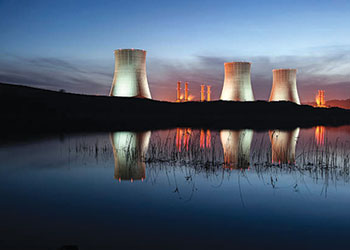 Grossi.... it was an important, historic, and auspicious occasion
Bangladesh officially joins the world's nuclear countries with the arrival of the first batch of nuclear fuel at the Rooppur nuclear power plant.
The Rooppur plant, 160 kilometres from the capital Dhaka, features two Russian VVER-1200 reactors.
Construction of the first unit began in November 2017 and it is scheduled to be commissioned in 2024.
Construction of the second unit began in July 2018. They have an initial life-cycle of 60 years, with a further 20 year extension possible.
Bangladesh's Prime Minister Sheikh Hasina, Russian President Vladimir Putin and International Atomic Energy Agency (IAEA) Director General Rafael Mariano Grossi have taken part in a ceremony to mark the arrival of the first batch of nuclear fuel, according to world nuclear news.
In his address, via weblink, Grossi said it was an "important, historic" and "auspicious" occasion.
He congratulated Bangladesh's Prime Minister on fulfilling her father's dream of nuclear energy in the country, and said that the IAEA had been, and would be, with the country "every step of the way".
He said that the IAEA, which seeks to ensure the safety and security of the peaceful use of nuclear technology, understood the "indispensable role nuclear plays in development".
Rosatom Director General Alexei Likhachev, speaking at the ceremony, said: "This day marks a new stage in the development of Russian-Bangladeshi relations. For Rosatom, it is a great honour to implement a project which will ensure stable power supply and will help to preserve the unique nature of Bangladesh for future generations."
Architect Yeafesh Osman, Bangladesh Minister for Science and Technology, said: "We've been waiting for this special moment for a long time. It is a celebration not only for the people of Pabna district but also for the entire nation. On 5 October we received the fuel delivery certificate, which itself speaks about our achievements as a nation. Bangladeshi people are vibrant and colourful and we are going to celebrate it in a very colourful manner. The entire nation is in festive mood."
During the ceremony, the leaders of the two countries, appearing via weblink, gave symbolic permission for the delivery of the nuclear fuel to the site.
The fuel was manufactured at Novosibirsk Chemical Concentrates Plant in Russia, part of Rosatom, and transported by air and road under the supervision of the Bangladesh Atomic Energy Authority.
In his speech, President Putin noted the close ties between the two countries, and said that once at full capacity the plant would supply about 10 per cent of Bangladesh's energy needs while also helping to cut carbon dioxide emissions, which would provide benefits for the environment and people's health in the country.
He said that 20,000 people - mostly from Bangladesh - were currently involved in the construction project with many more jobs resulting from the local firms used to "carry out construction and installation work, supply materials, provide transport and other services".
With the growing number of nuclear students and specialists from Bangladesh being trained, he said "we are creating not just a nuclear power plant, we are creating in Bangladesh together ... an entire nuclear industry, an industry of peaceful atoms".
The president added: "Russia is not just building a station - we will provide assistance to our Bangladeshi partners throughout the entire life cycle of the nuclear project, including obligations for the long-term supply of reactor fuel, maintenance of the nuclear power plant, as well as for the management of spent nuclear material."
According to the The Business Standard, Bangladesh's Prime Minister Sheikh Hasina thanked Russia for its friendship and said the country was committed to using nuclear power for peace and prosperity and said the plant would be part of the country's vision for a "Smart Bangladesh".
World Nuclear Association Director General Sama Bilbao León, also at the ceremony, said: "This delivery represents the moment when Bangladesh joins the 32 other countries around the world utilising nuclear power for 24/7 clean energy - and represents a significant contribution to helping Bangladesh reach its carbon emission reduction targets whilst strengthen energy security and reliability."
León added,"The significance of this moment extends beyond Bangladesh, with the global nuclear community committed to accelerating new build projects the Rooppur power plant is a powerful symbol of this shared commitment ... the completion of this project in under 10 years - for a newcomer country - is a testament of international collaboration and demonstrates that we can build nuclear reactors efficiently ... let us renew our commitment to working together towards a sustainable future and creating a better world for all."
In addition, twenty countries have committed to nuclear energy to achieve their net zero emission targets and agreed on a number of guiding principles to increase momentum in their nuclear new build projects.
At the Roadmaps to New Nuclear conference, organised by the French Ministry for Energy Transition and the OECD Nuclear Energy Agency (NEA) in Paris, the energy ministers of 20 countries agreed on a joint communiqué in which they highlight the need for nuclear energy to meet global energy challenges.
Nuclear energy is already a key part of the pathways to net zero in many countries, and it can play a much larger role, both through the continued operation of existing installations and the large-scale construction of new nuclear power plants.
This will require significant international co-operation, in particular to unlock access to financing, to harmonise and enable policy and regulatory frameworks, to support research and development, and to foster stable supply chains, including for nuclear fuel.
Achieving these goals will depend on the further training of a skilled workforce and continued public engagement through transparent, inclusive and responsible democratic decision-making processes.
During the Roadmaps to New Nuclear conference, nine industry nuclear bodies also came together to sign a joint communiqué setting out their readiness to work together with policymakers to rebuild leadership in nuclear energy across the world.
They committed to deepening their existing co-operation to meet climate and energy security goals.
The communiqués and the discussions at the conference, which included energy ministers and leaders from industry, will help set the stage for joint, focused action by policymakers, utilities and the private sector.
This is particularly important in the run-up to the 28th United Nations Climate Change Conference (COP28) to be held in Dubai on November 30 to December 12.