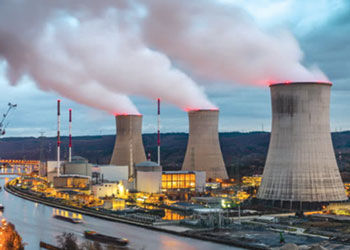 The prospects for nuclear power have improved
The International Energy Agency (IEA) World Energy Outlook 2023 (WEO), shows an increased recognition for nuclear energy in their Net Zero Emissions by 2050 (NZE) scenario, the most ambitious aiming to limit global warming to 1.5 deg C.
At the same time, this trajectory, to keep the goals of the Paris Agreement within reach, still underestimates the potential of nuclear energy to meet climate, energy security and sustainable development goals.
Commenting on the report, Dr Sama León, Director General, World Nuclear Association (WNA), said: "While we are encouraged by the growing role of nuclear in the IEA NZE scenario to more than double today's capacity, this still does not reflect the opportunities 24/7 carbon-free nuclear energy offers to decarbonise electricity systems and the entire economy. In the lead up to COP28, through our net-zero nuclear initiative, the global nuclear industry is calling for the tripling of the global nuclear capacity by 2050 as a key pillar to meet net-zero goals."
The WEO report recognises that the prospects for nuclear power have improved in leading markets, with support for lifetime extensions of existing nuclear units and for new nuclear projects.
It also highlights the important role nuclear has, with other baseload low-emissions technologies, for ensuring affordability, electricity security and the resilience of clean energy systems.
The NZE scenario projects more than a doubling of global nuclear capacity from 417 GW, increasing to 916 GW, up from 871 GW in the 2022 edition, by 2050.
Large-scale reactors remain the dominant form of nuclear power in all scenarios, including advanced reactor designs, but the development of and growing interest in small modular reactors (SMRs) increases the potential for nuclear power.
The report also notes the rising number of countries that have announced plans to support new nuclear investment.