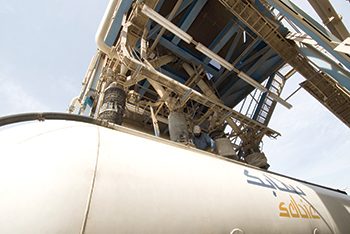 Sabic ... going ahead with expansion
Sabic plans to launch this year the $3.4 billion Al Jubail Petrochemical Company (Kemya), a joint venture between Sabic and the US energy company ExxonMobil
Saudi Basic Industries Corp (Sabic), one of the world's largest petrochemical companies, will plough ahead with projects in Saudi Arabia despite the halving of oil prices, the company's former chief executive said. It is also considering expanding in China and the US.
Brent last year fell 48 per cent to about $57 a barrel because of an oil supply glut, weaker demand in Asia and Europe and a strong US dollar, dragging down profit margins for petrochemical firms. Brent has since fallen to below $50 a barrel so far this year. The oil price drop will be temporary, said Mohamed Al Mady, adding that the firm takes a 20-year view on oil price trends for its long-term investments. The oil price decline will benefit producers that rely on refinery liquid naphtha as feedstock, unlike Sabic, which uses gas as feedstock. The Saudi government sells gas at a fixed price of $0.75 per million British thermal units (btu). US gas prices are about $3 per million btu.
'The price of natural gas, which Sabic depends on for feedstock, remains stable and is of competitive advantage to us,' Al Mady said. 'Nevertheless, we could expect a drop in the price of end products in the near term because of lower oil prices, but this is expected to be minimal because of healthy operating rates in the industry. Low oil prices usually stimulate economic growth, so we expect demand to improve while the oil price remains low.'
Sabic's third-quarter net profit fell 4.4 per cent to 6.18 billion Saudi riyals (Dh6.05 billion) because of lower quantities sold and a decrease in other income.
Sabic plans to launch this year the $3.4 billion Al Jubail Petrochemical Company (Kemya), a joint venture between Sabic and the US energy company ExxonMobil. Also in the works is Saudi Arabian Fertilizer Company's (Safco) $533m expansion, known as Safco V.
Kemya will produce 400,000 tonnes a year of synthetic rubber products, which are mainly used for automotive products, and Safco V will produce 1.1 million tonnes a year of urea.
Sabic is in the final stages of preliminary studies for the development of the world's first oil-to-chemicals complex in Saudi Arabia, which is envisaged to be operational by the end of the decade. Sabic expects to use about 10 million tonnes of crude oil at the complex per year.
The company is still looking at investment opportunities in China and the US, as the limited gas supply in Saudi Arabia drives Sabic to look abroad for new projects.
'Sabic is eyeing investments in shale gas-based feedstocks from a strategic standpoint. Future investments will focus on converting shale gas-based feedstock and coal into chemicals. We are currently in negotiations with some US companies for investments in shale-based feedstock,' said Al Mady.
'For now we have already begun capitalising on shale gas-based feedstock opportunities in the US by modifying our cracker at Teesside, England, into a gas cracker. The cracker upgrade is scheduled to be completed during 2016.'
In China, Sabic has a $1.7 billion joint venture with Sinopec of China, Sinopec Sabic Tianjin Petrochemical Company, which produces 260,000 tonnes a year of polycarbonate.
'As the growth engine for Sabic is Asia, we continually explore new opportunities for China, in China and with China. We are supporting reform by providing customers and markets with the solutions they need as China progresses along its unique path of development,' said Al Mady.
Sabic expects petrochemicals demand to increase annually at 4.6 per cent until 2020, while capacity growth is forecast to decrease at 4.2 per cent per year, according to available data and Sabic's own analysis. During this period, 50 per cent of the additional demand is expected to be from China, he said.
'North America is projected to replace imports and become a substantial exporter,' said Al Mady. 'The Middle East is expected to continue to grow capacity and exports, while Latin America, the states of the former Soviet Union and sub-Saharan Africa will probably not impact global trends significantly.'