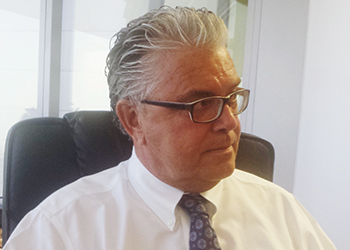 Bakker ... improving competitive edge
The company has evolved in many ways over these many decades, always looking to improve its efficiency, on the surface costs and safety for its customers
Despite falling oil prices adversely affecting the industrial sector, Pittsburgh Corning, a global manufacturer of sustainable, high performance glass based products for the building, energy and industrial markets, has found its overall market share improving.
"The price of oil has affected all of the companies engaged in our industry in a negative way this year, but this is an expected part of the ebbs and flows we have become accustomed to over the years. Our overall share however, is improving, which is testament to our team's technical performance," says Peter Bakker, regional manager Middle East, Pittsburgh Corning.
The company, which recently emerged from Chapter 11 protection in the US Federal court system, is the foremost global supplier of premium quality, cellular glass insulation, with a unique combination of properties that make it one of the highest performing insulations materials available. Its Foamglas Insulation is used around the world as protection in commercial building envelopes and in critical industrial processes, including piping for oil and gas production and as the foundations for liquid natural gas storage tanks.
With its regional headquarters in the UAE, Pittsburgh Corning feels that there are lots of projects in the region which cannot be delayed for much longer. As expected, the business is already showing signs of recovery, says Bakker.
"We're an established and reliable company with great products and technical support. Our track record of performance with our clients is second to none," he says adding: "In 2015, we opened a new manufacturing facility in China, which utilises much of our most recent technology. It is a world class facility and will significantly improve our supply chain and competitive edge in the Asia Pacific region."
The company's popular product in the region, the Pittsburgh Corning Foamglas Insulation, in addition to its energy-conserving characteristics, offers exceptional strength, is waterproof and will not burn. Billions of feet of Foamglas Insulation have been installed throughout the world in thousands of buildings and industrial plants. Pittsburgh Corning offers a full range of Foamglas products and technical consulting services for building and industrial applications, including blocks in numerous densities, boards for various building applications, fabricated and tapered components, complex assemblies and a range of adhesives, coatings, clips and jackets that create complete insulation systems. The company provides customer support, including technical experts and training centres, on every continent.
Referring to the Chapter 11 issue he says: "Like most insulation manufacturers, we had a relationship with asbestos which had significant legal costs associated with it. We have been able to conduct business uninterrupted during this time, but now that this issue is behind us, we can move forward with less restrictions."
Pittsburgh Corning employs thousands of people globally, operates five global manufacturing facilities, and has sales offices on most continents. "We have been in business since 1937, operating in the Gulf region for 50 years, and have had an office in the UAE for over 10 years," he adds.
Pittsburgh Corning Corporation had a promising start in 1937, with one innovative product, architectural glass block, and the support of two renowned companies – Pittsburgh Plate Glass Company and Corning Glass Works. When the company was founded, its sole purpose was to produce and sell glass block products to the building and construction market. Until the development of Foamglas insulation some years later, this was its only business. Its architectural glass block business continues to this day.
The company has evolved in many ways over these many decades, always looking to improve its efficiency, on the surface costs and safety for its customers. Those improvements include innovations in glass technology, glass production and fabrication of the insulation elements. Pittsburgh Corning has also been devoted to supplying high quality insulation accessories, which provide the final piece in solving the puzzle of longevity and safety.