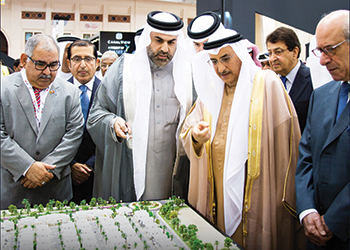 Bin Faqeeh ... unveiling Al Sidra at Bipex
Alsidra presents a unique concept of blending regional, Bahraini, Moroccan, modern (two types) and contemporary designs that offer a plethora of choice
The privately-owned real estate investment company, Bin Faqeeh, officially announced the launch of its latest innovative real estate project 'Alsidra' located at Diyar Al Muharraq. Alsidra welcomes a change in lifestyle within Bahrain as a first of its kind luxury gated community. The project's various facilities, strategic location, prestige and affordability combine to promote a regionally unique property development that caters to expatriates and locals alike.
Alsidra is an impressive luxury villa community with an astonishing 465 villas of varying designs and capacities. It provides 2 bedroom, 3 bedroom, 4 bedroom and 5 bedroom villas that draw the perfect home for families of all sizes bringing them closer together with its community ambience.
Bin Faqeeh continues to enthrall with its harmonious balance of regional-meets-modernistic design themes. The villas are either modern or a modern version of traditional designs. Alsidra presents a unique concept of blending regional, Bahraini, Moroccan, Modern (two types) and Contemporary designs that offer a plethora of choice to interested buyers to opt for a villa design closer to their vision of their dream home.
Each villa comes equipped with a garage that has the space for two vehicles, living quarters for the help and a laundry room. Certain signature villas are fitted with a personal swimming pool. This particular community development seeks to embrace and nurture a welcoming environment for families to settle in and grow. The common facilities include exciting fountain concepts and a flamingo park adorned with majestic flamingo statues at the ponds, which is complimented with several unique themes for the seating areas.
The property was officially launched at Bahrain's leading property show, BIPEX 2016 where Bin Faqeeh Real Estate Investment was the Prime Sponsor. As Bahrain's leading property show, BIPEX holds a significant spot in the kingdom's real estate industry calendar of events.
Being a professionally organised non-profit event, it serves as a trendsetter for the industry, offers a platform to its current happenings and the directions it is heading to, and promotes the region's major infrastructure and real estate properties.
BIPEX is the perfect stage for investors, builders and buyers to discuss the difficulties facing the industry. It also provides analysis that result in timely solutions and suggestions for a more profitable future. At the same time, developers get a golden opportunity to weigh the demand and provide finance, legal norms, taxation and returns on investment information to buyers.
Bin Faqeeh continues to the raise the bar of expectations with their illustrious property launches. BIPEX 2016 saw the creation of a unique stand to launch the Alsidra property. The stand contained the Al Sidra Tree with as many as 6 screens, which displayed 360 tours of the interiors and exteriors of the property. "Alsidra is a wonderfully fresh concept that represents modern architecture with traditional roots and Bin Faqeeh is proud to officially launch it on the BIPEX platform," says Faisal Faqeeh, chairman, Bin Faqeeh Real Estate Investment Co.
"Our priority has always been housing. We are focusing all our efforts in developing state-of- the-art housing projects that supersedes the current offering in today's real estate sector. Gratitude towards our clients' support and their trust in us will always be a driving force for us to keep innovating and turn their realty expectations into reality."
"Bin Faqeeh Buildings have mesmerising innovative concepts. They are situated in prime locations and have practical, easy to live-in apartment designs. A Bin Faqeeh building is always associated with finesse and luxurious lifestyle, you would be able to identify our properties without a doubt," says AbdulRahman AlKooheji, general manager, Bin Faqeeh Real Estate Development. "Alsidra is yet another representation of the strategic direction we believe in and we look forward to being every family's first choice."
Alsidra is to be completed by the first quarter of year 2019 at a cost of BD85 million ($218.17 million).