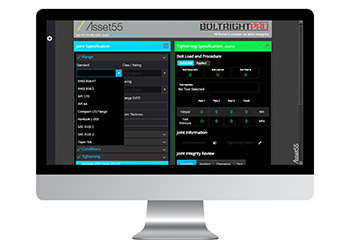 Hi-Force's BOLTRIGHT PRO
Primarily designed for use in the oil and gas industry, the programme is designed to assist engineers, with the provision of accurate bolt load calculations
Hi-Force, the UK's leading manufacturer of hydraulic tools, is totally committed to manufacturing products of the highest quality, fully supported by the best technical support and after sales service available.
In support of its extensive range of hydraulic bolt tightening tools, Hi-Force has recently launched BOLTRIGHT PRO an innovative, bolted joint integrity software programme, designed to assist engineers, with the provision of accurate bolt load calculations, based on key input data, related to each specific bolted joint.
Primarily designed for use in the oil and gas industry, where the safe movement of hydrocarbons, in a leak free environment, is absolutely critical, BOLTRIGHT PRO can also assist in many other industries, where bolted joints are present.
The user enters all available data about the joint such as flange size, material and rating, gasket type, bolt size and material grade, lubricant type and operating temperature. BOLTRIGHT PRO will then analyse this data and produce a comprehensive calculation of the required torque or tension to be applied to all of the flange joint bolts, to achieve a leak-free joint.
Additionally BOLTRIGHT PRO will produce a clear and easy to follow bolt tightening procedure, which will include the correct Hi-Force tool selection, along with the correct sequence of applying the loads onto the respective flange joint bolts.
The methodology of the BOLTRIGHT PRO software calculations is fully traceable to industry standards, ensuring that the latest best practice procedures are followed at all times. As part of the software joint integrity review process, BOLTRIGHT PRO will also display all of the relevant combined stresses, within the joint, once the bolt tightening is completed. This includes not only bolt stress but also gasket and flange stress, to ensure all of the stresses, within the joint, are within acceptable levels -- not too high and not too low.
The flexibility of the BOLTRIGHT PRO software enables the user to change any of the input data, in order that optimum integrity can be achieved within each and every joint. As an example, a change of bolt and gasket material, or lubricant in torque applications, can and will affect the BOLTRIGHT PRO software calculations and bolt tightening procedures.
For multiple joint applications BOLTRIGHT PRO is also able to compile and store a Flange Joint Register, which can be utilised to control the issue and return of specific work packs, to the bolting crews. Provided these are kept updated within the programme, the software can also maintain a live update of the work as it progresses.
BOLTRIGHT PRO is evidence of Hi-Force desire to remain at the leading edge of currently available hydraulic tool technology and technical after sales support services. Further evidence of the company's commitment to technical support can be found within its multiple worldwide training facilities, offering Engineering Construction Industry Training Board approved (ECITB) mechanical joint integrity (MJI) training courses. These training courses delivered by the company's ECITB approved in-house trainers, are ideally suited for all personnel carrying out bolting activities in the oil and gas, petrochemical, power generation and construction industries.
During a recent global gathering of Hi-Force employees for their bi-annual conference, Hi-Force Global Head of Bolting, Patrick Wright emphasised the need for combining MJI training and practical experience, with the built in accuracy and reliability of BOLTRIGHT PRO software. Wright also highlighted the need for companies and individuals to take full ownership of asset management, in order that a potentially catastrophic incident with possible injuries and loss of life, as well as significant damage or loss of asset, can be avoided.
With continued investment in manufacturing facilities, combined with the provision of internationally recognised training courses and now BOLTRIGHT PRO joint integrity software, Hi-Force is certainly a company that can be trusted. BOLTRIGHT PRO is available for download across all operating systems.