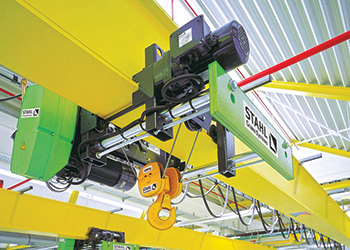 STAHL wire-rope hoist
Steady business with valued and existing contracts this year weathered the oil price for the comapny. It also won major service contracts for a number of companies
Eastern Morris Cranes (EMC), a joint venture company between Saudi Arabia-based Al Zamil Group and Germany's Stahl CraneSystems, after posting a record year, sees further growth in the region.
"We are aggressively competing in the market with our competition and at the same time developing and improving our quality, standards and reputation further. EMC has a great reputation in the market place and we will ensure that we improve on this," says David Higgins, aftersales director, EMC.
The company's service department has had a record year. "Even with the fall in the oil price at the beginning of the year, we have the diversity in the range of markets that has allowed us to ride out the tougher oil and gas environment," says Higgins.
Steady business with valued and existing contracts this year weathered the oil price. EMC also won major service contracts for a number of substantial government companies, oil and gas and petrochemical companies in Saudi Arabia. This gave EMC huge stability within the region and developed the Western Province.
Higgins says customer service and response time is a huge focus for EMC's business, along with developing the company's footprint within the more remote regions of Saudi Arabia, with focus on the Northern and Southern parts of the kingdom.
"Our new crane sales division has also experienced a record year. We are proud of the frequency of awards from international recognised EPC contractors from: Spain, Italy, Japan, South Korea and the USA. Growth has been achieved by working on competitiveness coupled with more efficient processes. Increasing quality levels and customer satisfaction with a more competitive cost structure has allowed us to improve on our market dominance. Customers want reliability in their lifting equipment and we deliver on a reliable product with an impeccable aftersales back up."
EMC, which is specialising in explosion-proof products and is trained to deliver periodic maintenance and inspection on explosion-proof products, has implemented a full and comprehensive HSEQ policy, and has made HSE a priority for the company. "We won a major contract recently within the western region of Saudi Arabia. We have to be at the forefront of what we do, and ensure we have the knowledge and skills to react to market conditions, at the same time we have to ensure our employees and customers are more than satisfied with our approach to Health and Safety " he says.
Established in 2000, EMC manufactures industrial cranes for a variety of industries in Saudi Arabia. From 2011 onwards, German hoist manufacturer Stahl CraneSystems has taken over the supply and has strengthened EMC as a lifting specialist for all types of industrial cranes and lifting equipment.
With an extensive knowledge in explosion protection, EMC becomes the main premium lifting equipment provider for the oil, gas and petrochemical industries.
EMC has a fabrication and service centre in Saudi Arabia. Operational procedures and factory layout are based on well proven and efficient practices developed over the years.
The company is an accredited supplier to all major Saudi companies and government enterprises. In 2003 it was awarded the certificate of compliance in Quality Assurance of Management ISO 9001:2000.
"We offer a wide range of standard cranes and hoists for every industrial application. For customers requiring a non-standard crane, EMC designs and manufactures specifically for the application," he says.
EMC's partner, Stahl CraneSystems, which has been around for over 130 years, ranks among the leading manufacturers of hoisting technology and is a global specialist for explosion-protected crane technology. The company boasts one of the most comprehensive product portfolios worldwide, consisting of chain hoists, wire rope hoists, winches and jib cranes, and perfectly complements EMC's high-quality service and lifting equipment.